Entertainment Technology
Entertainment Technology - BA-MDST Major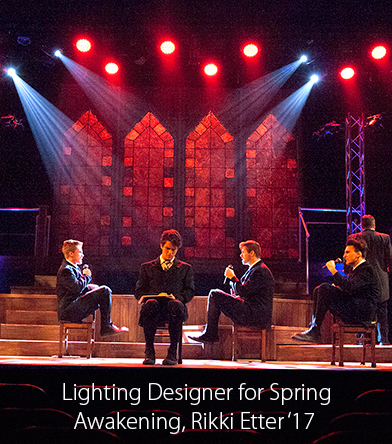 Today's media world of live concerts, television, film, web-casting and theatre incorporates vast amounts of complex technology combined with the artistic demands, discipline and dedication of armies of employees. Now and in the foreseeable future, those students who are equipped with the balance of technology and the performing arts and all the related problem-solving skills will be in high demand.  

By choosing the Entertainment Technology Program you will:
Become competent with advanced lighting and sound equipment in a newly renovated shop
Gain experience with a wide range of technical production for a variety of musical and dramatic events
Work with accomplished professionals in a variety of venues
Compile a career-ready resume/portfolio

Prepare for a career you're passionate about in lighting design, videography, scenic design, stage management, technical direction, sound design and more
Learn more about Millersville Contact the Program Coordinator 
Core Program 1 (18 credits)
Foundations of Theatre
THEA 120: Stagecraft 
THEA 220: Lighting and Sound 
THEA 312: Principles of Stage Design 
THEA 412: Stage Management  OR THEA 350: Theatre Management 
COMM 121: Introduction to Audio Video 3cr
COMM 321 Television Production I OR COMM 320 Radio Production*
*may substitute COMM 422: Advanced Audio and Sound
Core Program 2 (18 credits)
Foundations of Technology
ITEC 130: Production Materials & Processes
ITEC 241 Drafting Communications
ITEC 261 Electronic Systems
ITEC 262 Semiconductor Electronics
ITEC 325 Power Conversion & Control
ITEC 466 Wireless Communication Systems 
Capstone Experience (3 credits)
Select From:
ITEC 498: Independent Study in Applied Engineering & Technology
THEA 498 Independent Study in Theatre
ITEC 300: Co-op/Internship in Applied Engineering & Technology 
THEA 300 Co-op/Internship in Theatre
General Education (45 credits)
Millersville University's General Education curriculum is designed to cultivate the intellect by educating students to reason logically, to think critically, to express themselves clearly, and to foster an understanding of the human condition. The General Education requirements are detailed here
Electives (36 credits)
All baccalaureate majors require students to complete a minimum of 120 credits.  Completing Core 1, Core 2, the Capstone Experience, and all General Education requirements typically requires 84 credits.  Students therefore need to take an additional 36 elective credits to reach the requirement of 120. Students work with advisors to select additional courses, minors, or second majors as part of this elective block.  For students in the MDST in Entertainment Technology Studies, it is suggested to take 3 or more courses from the following list:
Select From:
ART 245 Creativity, Innovation, and Human Centered Design Thinking
MUSI 103 The Language of Music I 
PHYS 101 Survey of Physics
PHYS 205 Musical Acoustic
ENTR 201 Art of Entrepreneurship 3cr
OSEH 120 Fundamentals of Safety and Health
Take a Virtual Tour!
From new residence halls to high-tech facilities, learn why students refer to MU as a "home away from home."
Take the tour