Ensembles
Ensembles in the Tell School
join a tell school of music ensemble!
Ensembles are open to all students with previous musical experience. 
Click on the ensemble links below for more information.

The Orchestra is conducted by Dr. Vera Volchansky, is an ensemble dedicated to advancing the performance experience of its members and performs at least twice a semester.
Performing established repertoire as well as new and interesting music, the orchestra's concerts will cultivate interdisciplinary connections, building a wide and varied audience.

The Concert Band (Dr. Christy Banks, conductor) seeks to broaden the musical horizons of its members and audiences by performing a variety of quality literature including original wind band classics, transcriptions, and music from the jazz and popular genres. The Concert Band is comprised of approximately 70 wind and percussion players and is open to all students with previous band experience.
Placement auditions are held at the beginning of each semester to determine part assignments. Membership is available on a semester-by-semester basis for which students may earn academic credit. Typically, the Concert Band presents two concerts on campus each semester and also performs as part of the Glorious Sounds of the Season concerts each December. 
The Wind Ensemble is the premier concert ensemble of the MU band program. Conducted by Dr. Joe Cernuto, the band is comprised of the most accomplished woodwind, brass, and percussion players at Millersville University.  The 50 members of the Wind Ensemble perform the finest existing and emerging wind band literature. The Wind Ensemble is dedicated to the furtherance of wind band music as one of America's leading art forms. 
Members are selected by audition at the beginning of each semester. The Wind Ensemble presents two on-campus concerts each semester as well as clinics and performances off-campus at schools and community events in the region.  Performances regularly feature nationally-recognized guest artists.  Academic credit is available to all members of the Wind Ensemble.

The University Choir is the largest ensemble at Millersville. A mixed ensemble of both men and women, the choir numbers around 80-100 singers and sings music from the vast history of the choral repertoire, focusing on masterpieces and modern composers. Performing widely on campus and in the greater community, past appearances have included conventions and festivals across central and western Pennsylvania, Carl Orff's "Carmina Burana" with the University Orchestra, and collaborative efforts with groups such as the Bethlehem Bach Choir in a performance of J.S. Bach's "B Minor Mass." In addition to these choral masterworks, the University Choir premieres a new work each year, specifically written for them. 

University Chorale reflects the high standards of the University community and the music department. Each year, Millersville's choirs perform a wide variety of challenging, stimulating and exciting repertoires, singing both on and off campus in concerts, tours, University events and at the annual holiday concert. Memberships in all ensembles are by audition.

Women's Chorus is a select group of approximately 24-30 women's voices. Cantilena means "song," specifically a work with a lovely, lyrical line, and is a perfect description of the finely sculpted sound these ladies produce. Founded in 2000 as the Millersville University Women's Choir, Cantilena has given acclaimed performances both on and off campus, performing on music series and on tour throughout the region. There is a strong bond that forms among members of this choir which transcends music and often develops into lifelong friendships. No audition required.
Marauder Men's Glee Club is the newest vocal ensemble at Millersville University. It was conceived as part of the great tradition of men's collegiate singing. The club's repertoire includes works written especially for them. The Marauder spirit is alive and well and the quality of the music speaks to the dedication of its members. The club's motto, Semper Fratres ("always brothers"), speaks to the sense of community that is a common feature in all our choral ensembles. No audition required.

The MU Jazz Ensemble is comprised of 18-20 players based on a "big band" instrumentation. Membership is open to all students who are selected by audition each fall.  In March 2018, the MUJE will be performing in New Orleans as part of the Crescent City Jazz Festival.  The band's repertoire includes classic swing, jazz standards, and contemporary fusion styles. Guest artists, who appear regularly with the band, have included Byron Stripling, Ernie Watts, John Fedchock, Larry McWilliams, Dean Sorenson, Ellen Row, Sharrie Maricle, Chris Vadala, Dan Tepfer, Russ Peterson, Pete McGuinness and Mark Buselli.
Maintaining an active performance schedule, the MUJE has appeared on concerts sponsored by the Central Pennsylvania Friends of Jazz, the Villanova University Jazz Festival, and the Les Brown Jazz Festival. Academic credit is available to all students. 

The Jazz Lab Band is an ensemble of flexible instrumentation (woodwinds, brasses, strings, piano, bass, drums, guitar) that accommodates a wide range of student experience levels. No previous jazz experience is required, but students are asked to audition individually during the first two rehearsals to determine ability and part assignment. Less experienced musicians develop reading and interpretation skills while more advanced players are given a considerable opportunity to further develop their improvisational abilities. Varied opportunities for performance are available. Academic credit is available for all students.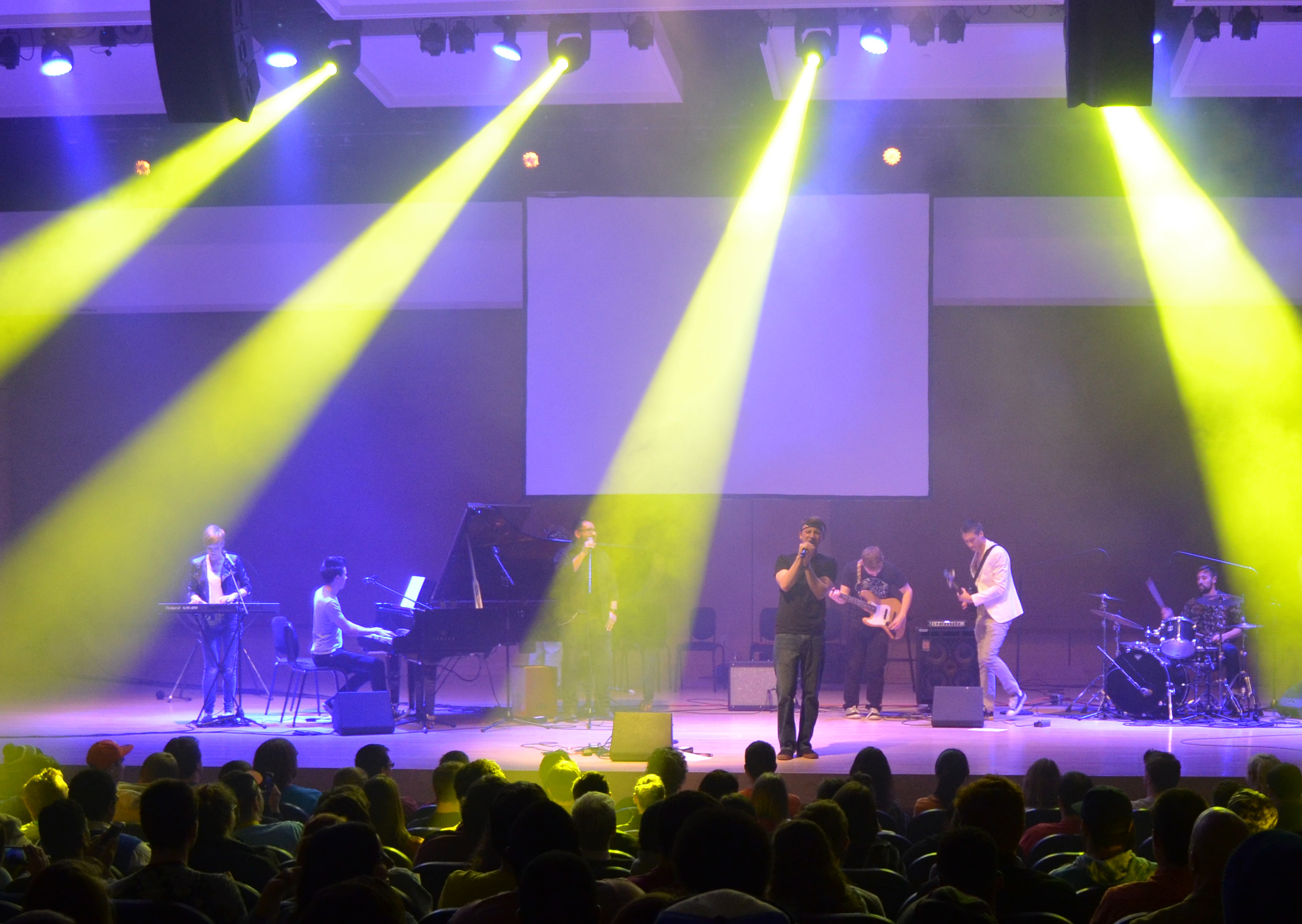 The Music Department has two relatively new ensembles - Commercial Music Lab Band and Commercial Music Ensemble. These ensembles are currently open to Music Majors only, by audition, and are available for academic credit.
These ensembles will enable students to improve their ability to rehearse, arrange, perform, and record commercial popular music repertoire in a collaborative environment. Song selection, arrangement duties, individual rehearsal schedules, and recording goals will be arranged at the beginning of each semester. 

The Marauder Marching Band brings to Millersville students the exciting music and spectacular effects of a corps-style collegiate marching band. The band performs at all home football games in addition to periodic appearances at away games and collegiate and high school marching band exhibitions. Membership is open to all students, regardless of major. There are no auditions for instrumentalists; color guards should contact Dr. Cernuto for specific audition information.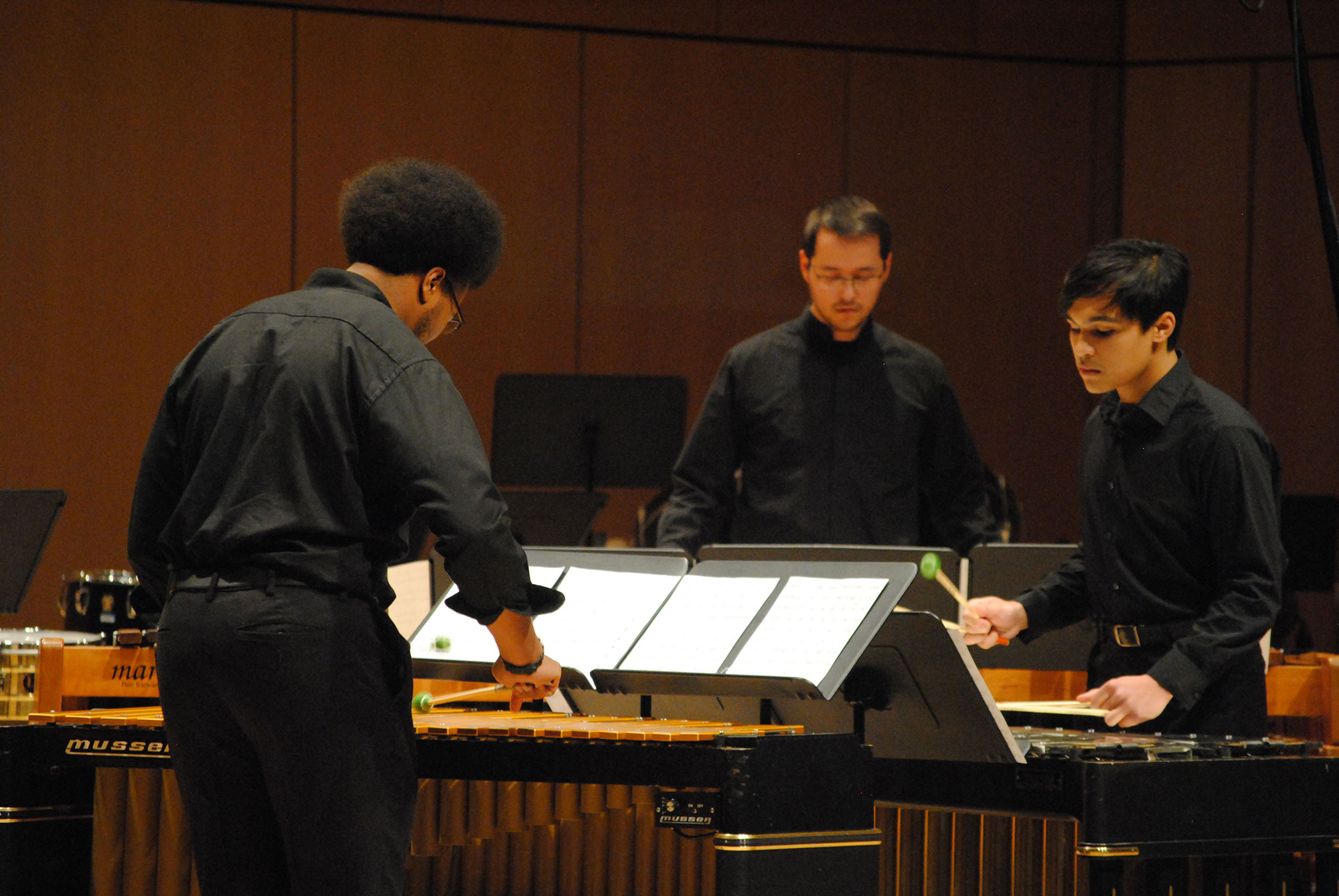 Percussion Ensemble
In existence for more than thirty years, the Percussion Ensemble is comprised of percussion majors and minors, and other department instrumentalists, in the Tell School of Music. The members find percussion ensemble to serve as an important part of their training and remain dedicated to the furtherance of percussion ensemble music as one of America's most exciting art forms. The ensembles perform several concerts each year featuring a wide array of repertoire, including classic percussion ensemble literature, jazz percussion, and world music styles, and is credited with the premiers of many new works and arrangements for the medium. The group is supported by MU's significant collection of western and non-western percussion instruments and outstanding ensemble library. MUPE has performed extensively on regional tours, at numerous Percussive Arts Society events, as guests at area colleges, and remains active in the community as part of Lancaster's Music For Everyone. The ensemble has premiered percussion works by Tony Miceli, Colleen Clark, and Thom Kozumplik, and in most recent years has shared the stage with She-e Wu, John Riley, Gordon Stout, Rolando Morales-Matos, Kevin Bobo, Christos Rafalides, Marassa Duo, LOOP 243, Gilmar Goulart, Daniel Glass, and other regional artists and ensembles.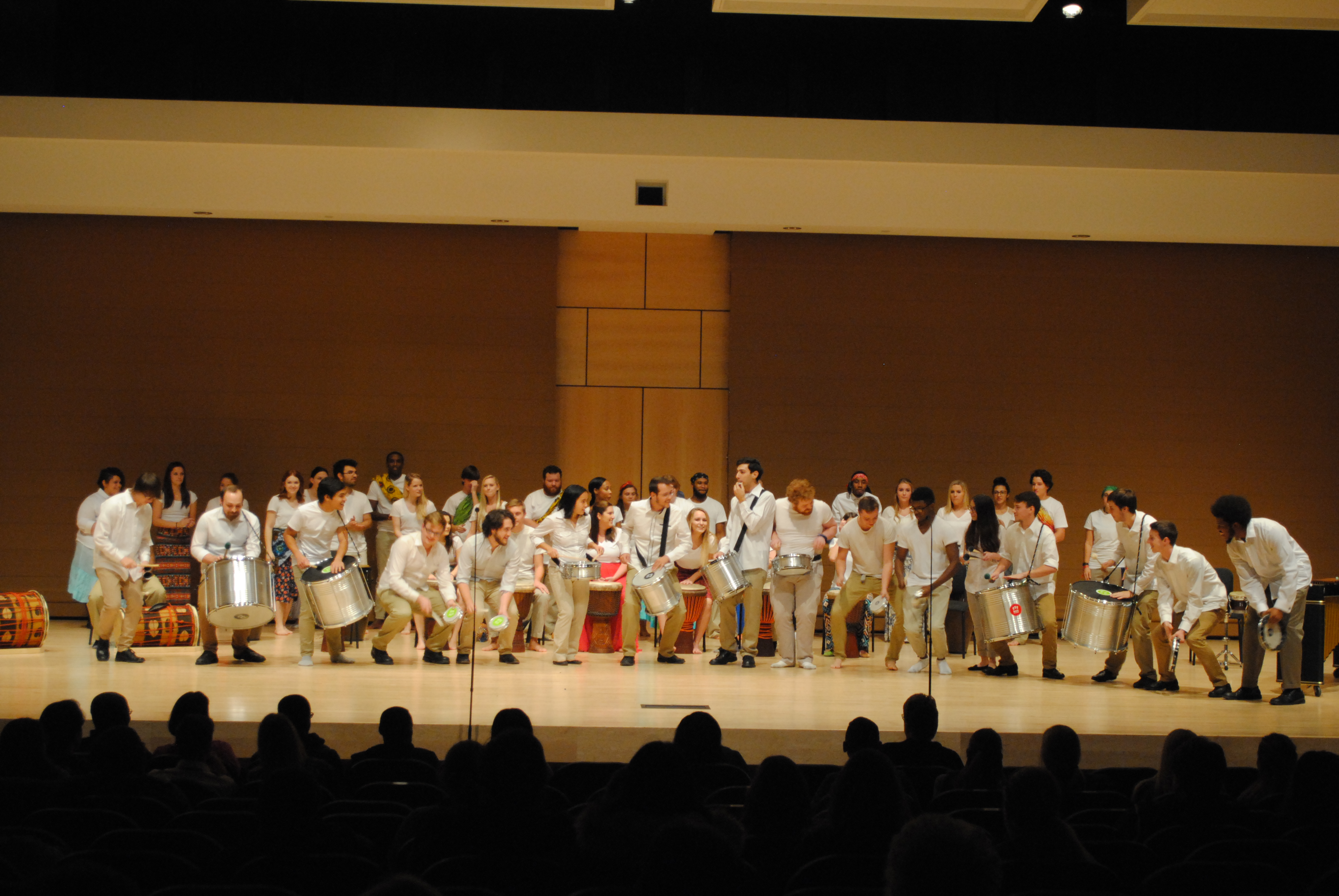 West African Dance and Drum Ensemble
West African Dance and Drum Ensemble is a product of a semester-long perspectives course designed to provide an in-depth analysis of West African culture and history focusing on musical traditions, pedagogical practices and musical aesthetics found in this region of the world. General introduction to the study of West African music and dance, the ethnomusicological approach and identification and symbolism of musical instruments is presented. Moreover, the process of musical innovation and acculturation in West Africa and the impact of technology and the communications media on traditional and contemporary musical styles are examined. A major component of the course is in its practical application of information learned. Students participate in learning traditional West African dance and drumming pieces studied in the room, thereby providing a unique opportunity for all students to understand experientially the unique musical styles and cultural aesthetics found throughout the region. 

Flute Ensemble
Flute Ensemble performs a variety of concerts and church services from Philadelphia to Gettysburg. Repertoire includes standard material arranged for flute ensembles and a number of compositions that have been written and published specifically for the ensemble.