2021 Tell School of Music Keyboard Division Piano Competition
Tell School of Music Keyboard Division International Piano Competition
Heartfelt congratulations to ALL participants!  Prizewinners are listed below!
ELEMENTARY:
1st PLACE: RUOLAN HAO
2nd PLACE: YI FENG
3rd PLACE: JINTONG HARDY WANG
HONORABLE MENTION (in no particular order): HOWL MACIUCA, EMMELINE HADELI, ZALE ZHANG, ARIEL HU, LAWRENCE LIN, LIANGQI CHEN
JUNIOR:
1st PLACE: ANH NGUYEN
2nd PLACE: EDDISON CHEN
3rd PLACE: KEIRA CHEN
HONORABLE MENTION (in no particular order): BRIAN OU, STANFORD YU, ELIZABETH CRAWFORD, DANIEL HUANG
SENIOR:
1st PLACE: MARIO BOBOTSOV
2nd PLACE: ALICE ZHANG
3rd PLACE: JIE LIANG
HONORABLE MENTION (in no particular order): MYROSLAV MYKHAILENKO, JIALIN SONG, KENNETH HE, NANGA LIN, ALEX CHEN, QIANXIANG MA
YOUNG ARTIST:
1st PLACE: AILUN ZHENG
2nd PLACE: SIYUAN XU
3rd PLACE: EUNA KIM – XINGZE JIANG
HONORABLE MENTION (in no particular order): CHARLOTTE TANG, SOOJIN KIM, JAMIE LOFTUS, NEIL KRZESKI, JUNWEN LIANG, SHUKKI WONG, GREG HARTMANN
**DUE TO ONGOING CONCERNS ABOUT COVID-19, THIS EVENT WILL TAKE PLACE VIRTUALLY**
The Tell School of Music Keyboard Division introduces the Inaugural Youth Piano Competition. Dr. Xun Pan and Dr. Amy Gustafson serve as directors for this event. 
---
 Download a full packet of information about the contest below:
Piano Competition Information Packet
Download student entry and teacher registration form below:
Application and Registration Form
Please email forms AND a resume, bio, and professional headshot to Dr. Amy Gustafson by January 22, 2021.
---
Guest Artist - Spencer Myer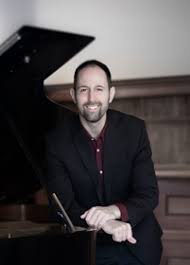 Lauded for "superb playing" and "poised, alert musicianship" by the Boston Globe, and labeled "definitely a man to watch" by London's The Independent, American pianist SPENCER MYER is one of the most respected and sought-after artists on today's concert stage.
Spencer Myer's orchestral, recital and chamber music performances have been heard throughout the United States, Canada, Europe, Africa and Asia. He has been soloist with, among many others, The Cleveland Orchestra, Boise, Dayton, Evansville, Louisiana and Rhode Island philharmonic orchestras, Pro Arte Chamber Orchestra of Boston, the Altoona, Baton Rouge, Bozeman, Canton, Chattanooga, Duluth Superior, Flagstaff, Grand Junction, Indianapolis, Juneau, Knoxville, Longmont, Macon, Missoula, New Haven, Phoenix, Ridgefield, San Juan, Santa Fe, Springfield (MA, MO, OH), Traverse, Tucson and Wyoming symphony orchestras, Indianapolis Chamber Orchestra, Ohio's ProMusica Chamber Orchestra, New York City's The Park Avenue Chamber Symphony, Mexico's Orquesta Filarmónica de Jalisco, South Africa's Cape Town and Johannesburg philharmonic orchestras and Beijing's China National Symphony Orchestra.
Spencer Myer's recital appearances have been presented in New York City's Weill Recital Hall, 92nd Street Y and Steinway Hall, Philadelphia's Kimmel Center and London's Wigmore Hall, while many of his performances have been broadcast on WQXR (New York City), WHYY (Philadelphia), WCLV (Cleveland) and WFMT (Chicago).
Spencer Myer's career was launched with three important prizes: First Prize in the 2004 UNISA International Piano Competition in South Africa, the 2006 Christel DeHaan Classical Fellowship from the American Pianists Association and the Gold Medal from the 2008 New Orleans International Piano Competition. He is also a laureate of the 2007 William Kapell, 2005 Cleveland and 2005 Busoni international piano competitions.
An enthusiastic supporter of the education of young musicians, Spencer Myer has served as a guest faculty at the Oberlin and Baldwin-Wallace Conservatories of Music, and in the fall of 2015, he was appointed Artist-Teacher of Piano and Collaborative Piano at Boston's Longy School of Music of Bard College.
Spencer Myer is a Steinway Artist.