Millersville University's Next Provost and Vice President for Academic Affairs
GAIL GASPARICH, PH.D.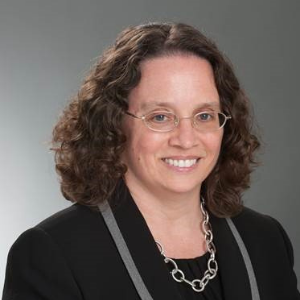 After an extensive nationwide search, Dr. Gail E. Gasparich has been selected as the next Provost and Vice President for Academic Affairs for Millersville University.
Dr. Gasparich will join us on July 1, 2021 and succeed Dr. Vilas A. Prabhu, who will retire this summer.
Dr. Gasparich has been the dean of the College of Arts and Sciences at Salem State University since Spring 2016.  Prior to that, she was a professor of biological sciences and associate dean for the Fisher College of Science and Mathematics and acting assistant provost at Towson University.
Her bachelor's degree is in biology from The College of William and Mary and she has a Ph.D. in microbiology from The Pennsylvania State University.  After doing a postdoctoral fellowship at the U.S. Department of Agriculture, she began her academic career at Towson University in 1996.  She has taught a wide range of courses, including courses for graduate students, majors (lower and upper level), non-majors (Core and General Education) and for Honors students.  Her research focus has been on microorganisms of the genus Spiroplasma. 
Dr. Gasparich is a strong supporter of both graduate and undergraduate research, having mentored seven M.S. graduate and more than 70 undergraduate students.  She has published over 65 peer-reviewed journal articles (many with students as co-authors).  She has received 22 extramural research and training grants totaling over $9.5M from NSF, NIH, the Maryland State Department of Education and the Massachusetts Department of Higher Education as principal investigator or Co-PI.  She has given over 75 invited talks and conference presentations (many with undergraduate and graduate student co-authors) on research results, STEM career paths, increasing diversity in STEM disciplines and professional development for faculty and postdoctoral fellows.
Dr. Gasparich will report directly to the president and oversee the deans of our four undergraduate colleges, the graduate school, the University's planning process, all academic programs and curriculum development, plus related support services such as assessment and budgeting. The University Library and University Honors College will also report to the provost.
Search Committee

Chair
Dr. Karen Rice, Associate Professor, School of Social Work

Committee Members
Dr. John Kaiser Ortiz, Associate Professor, Philosophy
Dr. Ollie Dreon, Professor, Educational Foundations
Prof. Scott Anderson, Associate Professor, Library
Prof. Duane Hagelgans, Associate Professor, Earth Sciences
Dr. Deborah Tamakloe, Associate Professor, Early, Middle and Exceptional  Education
Dr. Robyn Davis, Associate Professor, History
Diane Copenhaver, Director of Human Resources
Chris Steuer, Chief of Staff, Office of the President
Kathy Cody, Secretary, Mathematics
Renardo Hall, Associate VP for Student Affairs & Enrollment Management
Yang Zhang, Admissions Counselor

Human Resources Support
Andrea Hauri, Assistant Director of Human Resources

Timeline

Sept. 22
Search Committee meeting. President conveys formal charge. Process and timeline reviewed. Committee provides input for Leadership Profile.

Oct. 2
Consultants meet with President, cabinet, Deans and other representative constituent groups to gather input for Leadership Profile.

Oct. 12
Leadership Profile and ads finalized and approved by Search Committee. Ads placed. Position posted and website launched.

Mid Oct. - Early Dec.
Proactive outreach - consultants recruit candidates and solicit nominations. (Application Deadline: December 4)

Nov. 19
Search Committee receives update on recruiting activities and market feedback. Discuss interview process and questions.

Dec. 15
Committee reviews candidate files (posted electronically) and selects 8-10 for preliminary interviews.

Finalize interview questions

January
Committee holds confidential phone inquiries with 8-10 candidates. Committee finalizes list of 4-5 candidates to be invited for campus visits.

February - Early March
Finalist candidates are invited to campus for conversations with select groups of academic affairs and university constituents. Feedback provided to Search Committee as part of final due diligence.

Early March
Search Committee conducts candidate review with President

Late March - Early April
President finalizes and announces appointment of new Provost

Provost Assumes Office

July 1, 2021