Lauren Coca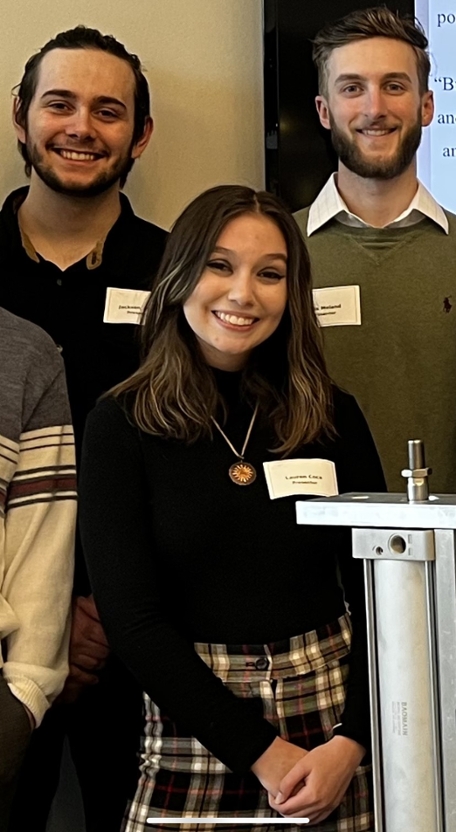 Name: Lauren Coca
Hometown: Mechanicsburg, PA
Anticipated graduation: May 2023
Major: Environmental and Spatial Sciences (B.S.)
Minor: Environmental Hazards and Emergency Management (EHEM)
Internships/Research/Projects:
Working with Society of Manufacturing Engineers (SME) to recycle single-use plastics on campus, presenting to the Council of Trustees:

Collect plastic from our own waste and the Millersville community

Shred plastic

Melt plastic

Extrude plastic into a mold to be upcycled into a new product

Presented at Made in Millersville (MiM) with published article for MiM Journal (Spring 2022): Injection Molder | mimjournal

Published article in the 2022 issue of Engage for Change
Co-op with the Student Success Network to manage the Sustainable Garden Plots

Worked as a garden assistant alongside the AmeriCorps Vista, Alan Snavely
Harvested 85lbs of food to donate to the HUB's Campus Cupboard
Worked with Dr. Geiger in the Geography Department to create a comprehensive map of the Millersville University campus in ArcGIS Pro
Inspirations (for major, research, internship):
            The inspirations for my major have stemmed from my love of science and passion for environmental advocacy. Sustainability is the key to keeping the world in balance, and I want to dedicate my career to doing just that. In the summer of 2021, there was an opportunity to work in the Sustainable Garden Plots on campus, and I was able to work with the Student Success Network to turn it into a co-op for credit. It was an incredibly eye-opening experience, as I combined my love for community service and passion for sustainability into one project. We were able to use integrated pest management techniques instead of using pesticides, as well as a green mulch or clover to put Nitrogen right into the soil. I loved the experience so much I decided to take Botany with Dr. Hardy, which is one of the BEST classes I have ever taken.
Another inspiration for my work is the long-term issue of microplastic pollution. Plastic pollution by itself is pervasive, but plastics break down into smaller pieces, easily ingestible by organisms and people. In addition, The process of recycling is inefficient. Looking at plastic specifically, it's estimated that less than 10% of plastics we put in the recycling bin end up recycled. In 2018, the EPA reported an "8.7 percent recycling rate," meaning that the rest of the plastics end up in landfills. Finding a way to reinvent what it means to recycle plastic would be a game-changer for the recycling industry, the waste management industry, and environmental protection as a whole. That is why working with SME has been incredibly rewarding, as we are able to take single-use plastics and upcycle them into new items instead of them reaching the landfill or the ocean.
Highlights (from courses/internship/research):
            Some of my favorite highlights from my co-op in the Sustainable Garden Plots were harvesting the crops we had planted so late in the season. We were able to get so much corn in such a little amount of time, as well as raspberries and strawberries. With all of our work, we donated 85lbs of food to the HUB's Campus Cupboard! In addition to the season's success, it was very rewarding for Millersville to write an article on our work, and for FOX 43 News to do a news story on the garden.
            One of the most remarkable experiences I have had in the classroom happened in Dr. Hardy's Concepts of Botany class. We had the banana tree demonstration where he cut down and brought a fully-grown banana tree into the lecture hall. It was so refreshing to have this experience in-person, as he handed out different parts of the tree to the classroom, like giant banana leaves and unripe bananas! Of course, he was able to connect it all back to what we were studying, but nothing is cooler than seeing your teacher bring in a tree twice as tall as him, and then cut it down with a machete in front of the whole class.
Finally, in terms of plastic research and recycling, we were able to present our work to the Council of Trustees during their public meeting in September and create recycled-plastic keychains for the group. It was incredibly rewarding to hear support from the members and hear their suggestions on how to keep the project moving forward.
Takeaway (from courses/internship/research):
            A big takeaway from my courses and projects is that there are many ways to approach a problem. In sustainability, there are three different pillars, economic, environmental, and social. If you focus on one pillar, like economics, the other two pillars, social and environmental, will often suffer. If you can include all perspectives, you can help solve a problem more effectively. A great example of this is my current work in the Society of Manufacturing Engineers (SME) Precious Plastics Project. While many of the people in the organization are coming at the plastics project from the engineering side, I can help with the environmental science side, and others can help with the social media side. Altogether, the project becomes a little more fluid, and everyone can bring their strengths to the table.
Advice (for incoming freshman in your shoes):
GET INVOLVED- After getting out of high school and being in so many clubs, I knew I needed to do some extracurriculars. One of the scariest nights was walking into the SMC, seeing the sign for Student Government Association (SGA), and walking into a meeting. I joined the fall of my freshman year and became the Sustainability Representative by my second semester. I have grown so much as a person and leader because of the clubs and organizations I joined, but I was also able to find some of my closest friends. Find what you love, and join it fast.
 Aspirations (upon graduation):
            Upon graduating, I would love to find an environmental agency to do fieldwork for, become a professional gardener, and/or pursue my master's degree in microplastic research.
What has been the most significant and/or exciting aspect of your work?
            The most significant part of working for the Sustainable Garden Plots was realizing how happy I was while doing the work. I was able to apply years of science, work with some fantastic people, and be in the sun every day! Being outside every day was so gratifying, as I had never felt healthier or happier in my life. Knowing this information, I now know that working outside will be an important factor when considering jobs and career paths. Additionally, SME plastic recycling initiative has been important in realizing my passion for microplastics research, which I would highly consider getting my master's degree in.
 Scholarships awarded while attending Millersville University
Two-time Miller-Averett Geography Scholarship awardee