Rebecca Drager
Name: Rebecca Drager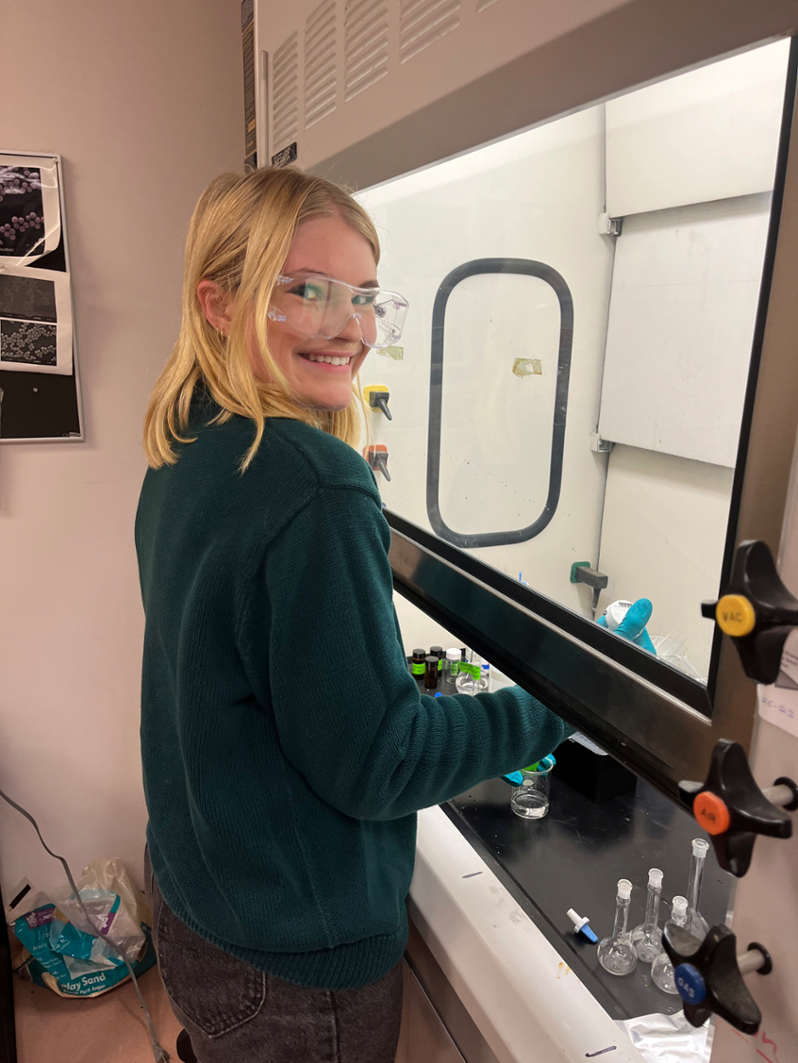 Hometown: Thorndale, Pennsylvania 
Anticipated graduation: May 2023 
Major: Chemistry 
Internships/Research/Projects: 
Over the summer, I got the opportunity to work in the Clinical Research Building at the University of Pennsylvania. I worked in a physiology/bio physics lab under Dr. Foskett and Dr. Wessenrieder, who was my advisor. I was recommended for this internship by Dr. Miller after Dr. Wessenrieder (a Millersville alumni) contacted her expressing interest in hiring a Millersville student. I studied pancreatic cancer cell metathesis, learned cell culture, and imaged calcium uptake of the endoplasmic reticulum as well as the mitochondrial calcium uniporter using PTI fluorescent spectroscopy. It was an amazing experience and furthered my interest in cancer research and going to graduate school. 
Currently, I am working on a research project at Millersville for my senior seminar project, department honors, and the thesis requirement for the Honors College. I am working with Dr. Schiza, and we are studying the Effects of β-Diketones and Green Solvents on the Critical Micelle Concentration of Surfactants. We are hoping to optimize several experimental systems using ecologically friendly solvents and identify/compare trends between the different systems.
Inspirations (for major, research, internship): 
I have been interested in chemistry since I was little and was truly inspired to pursue the science because of my dad. My dad is a chemist as well and took me to the labs that he taught at Millersville. He also encouraged me to take as many chemistry courses as I could in high school, which made my decision to pursue chemistry an easy one. Additionally, my personal motivations came from seeing the challenges that our society faces/will face in the future, be it a pandemic or green energy; they will be problems that can be solved with chemistry. 
Highlights (from courses/internship/research): 
My favorite experience when it comes to do doing research is being able to present my work and ideas to other scientists. I got the opportunity to present at three research conferences, one of them being Made in Millersville, during my Spring 2022 semester. It was a surreal experience, and I am very excited to present at the National American Chemical Society conference in Spring of 2023 at Indianapolis, Indiana. 
Takeaway (from courses/internship/research): 
The most important thing that I have learned from my courses is that practice problems are the key to success in STEM courses. From my research projects I have learned that teamwork, respect, and dedication are the keys to every accomplishment. 
Advice (for incoming freshman in your shoes): 
My advice to freshman students would have to be stay focused on your goals, seek advice if you need it (especially from professors), and that everybody wants to see you succeed. 
Aspirations (upon graduation): 
I plan to attend a PhD program for chemistry at a graduate school shortly after I complete my undergraduate degree. I have not yet decided what schools I want to apply to, but I know that I want to pursue organic chemistry. I eventually want to work with medicines whether that is creating new ones or optimizing them in terms of drug delivery. 
What has been the most significant and/or exciting aspect of your work? 
My favorite thing about chemistry is working in the lab and solving the puzzles that comes with the work. I will admit that some of my favorite moments in the lab is getting an experiment to work after a couple of previously failed attempts. 
Scholarships awarded while attending Millersville University 
Cecil M. Upton Organic Award