Julia Geesaman 
Name: Julia Geesaman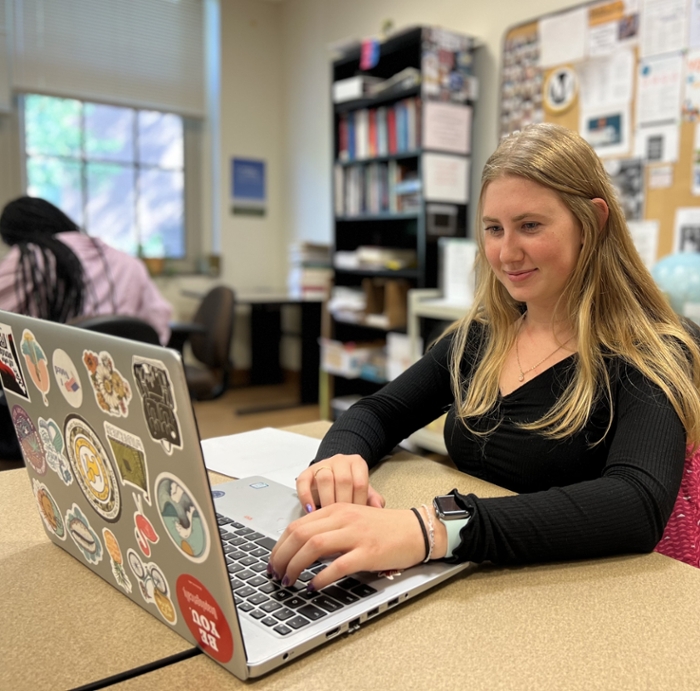 Hometown: Gettysburg, PA  
Anticipated graduation: May 2023  
Majors: Mathematics and Computer Science  
Internships/Research/Projects:   
Summer Institute in Biostatistics at the University of Colorado Denver (Summer 2021) where I completed a research project investigating data that explored the importance of guilds within microbiomes, and I performed analyses on Colorado Department of Public Health and Environmental Data 

 

Database Developer Internship for WebstaurantStore (Summer 2022) 

 
Inspirations (for major, research, internship):  
I am inspired by the development of technology that is possible through my fields. There are so many ways for math and computer science to help create new technologies in the world. The possibilities are endless and thinking about that inspires me to be a part of it. 
Highlights (from courses/internship/research):  
My biggest highlights include attending conferences and speaker sessions to learn about the different opportunities within my fields of study. I have never had one set career plan so having so many different chances to hear about other people's experiences was very meaningful for me. 
Takeaway (from courses/internship/research):  
One takeaway from my courses is how big of an overlap there is between math and computer science. To me, they at first sounded like two entirely different entities. However, a lot of things, such as a calculator, that do different kinds of math, were programmed by computer scientists. Also, on the other hand, so many different computer programs and artificial intelligence technologies rely on mathematical processes and computations to work. The way these two subjects overlap and work together never fails to amaze me.  
Advice (for incoming freshman in your shoes):  
My advice for incoming freshman is to work on building relationships with your professors. They can be super helpful with providing you with both academic and professional opportunities and connections. The professors really do care about you and your personal success and it's important to have those relationships. My professors have provided me with a lot of support and encouragement over the years. 
Aspirations (upon graduation):  
After graduation, I'm planning to continue working for my current company. Eventually, I hope to go to graduate school to get my Master's or PhD. 
If you are currently employed in your field, please provide professional information, where you work, when you started, etc.: 
I am currently employed at the same company I did my internship for – WebstaurantStore. I started working for them part time as a Junior Database Developer after my internship ended in August 2022.  
What has been the most significant and/or exciting aspect of your work?  
One of the most exciting things about being in mathematics and computer science is the challenges you will overcome. Doing math and computer science is hard, but the satisfaction of finally figuring out a solution to a problem is so rewarding in the end.  
Scholarships awarded while attending Millersville University 
Edna Myers Mathematics Scholarship

 

Class of 1928 Award

 

Lee Boyer Award