Evan Newman
Name: Evan Newman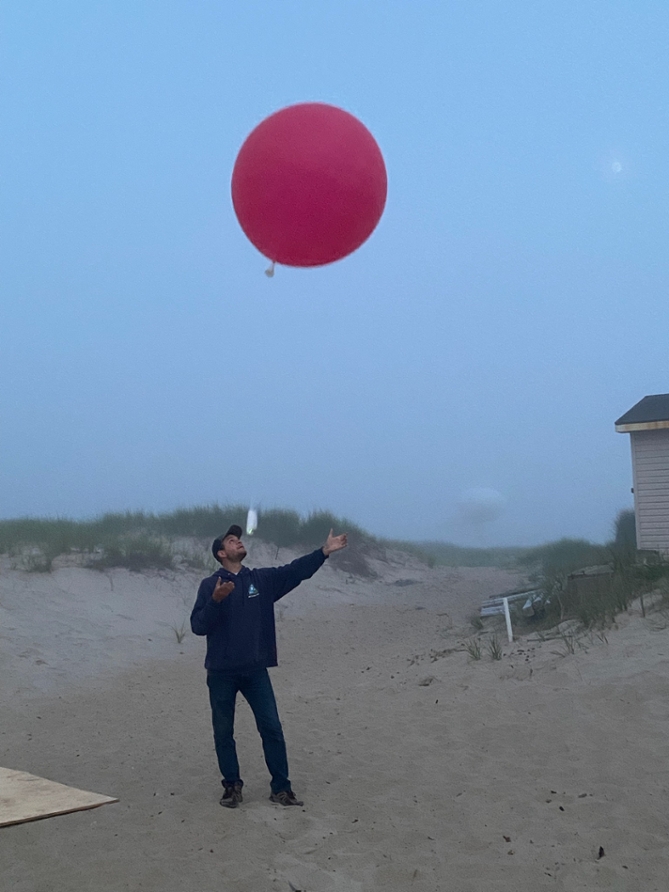 Hometown: Fleetwood, PA
Anticipated graduation: May 2023
Major: Meteorology
Minors: Heliophysics and Space Weather
Internships/Research/Projects:
This summer of 2022, I participated in the "Fog and Turbulence Interactions in the Marine Atmosphere" field study conducted by Notre Dame University, the Naval Postgraduate School, Utah University, and other partnered institutions. This field research was performed on Sable Island, Nova Scotia – a small 1 mile wide and 26 mile long crescent sand dune 200 miles off the coast of mainland Canada. While there, I performed countless weather balloon launches collecting important lower atmospheric data related to the formation of fog. I also helped in the building and maintenance of nearly 10 other meteorological instruments including: transmissometers, a cloud droplet probe, a fog monitor, differential temperature sensors, DIMM/WATT machines, and others. After collecting the data, analysis was conducted on the radiosondes and fog monitors to create summarized balloon launch and cloud droplet number size distribution plots on Python 3 and ArcGIS Pro.
Inspirations (for major, research, internship):
I have wanted to be a meteorologist ever since being a kid! I saw a funnel cloud once at a young age and it has intrigued me ever since.
Highlights (from courses/internship/research):
I think one of my favorite courses I've taken is the GIS Applications course for Earth Science majors. I learned so much useful stuff in that class, and it has allowed me to expand that knowledge into all of my different internships and projects I have conducted!
The highlight from my summer research on Sable Island was exactly that… being on Sable Island! There are wild horses that roam the island and countless seals that call the island home. Seeing wildlife all summer, and being on the beach all summer, was an experience I'll never forget.
Takeaway (from courses/internship/research):
My biggest take away from everything in the past 3 years, including school and internships, is that I am positive meteorology is exactly where I want to be.
Advice (for incoming freshman in your shoes):
Freshmen who are passionate about meteorology, earth sciences, or really anything in general… discover what you love specifically about your science or discipline! I could have never imagined enjoying researching fog, but now it's something I want to continue doing. So try new and different things – stretch yourself and see what you like.
Aspirations (upon graduation):
Go to graduate school to continue studying meteorology, specifically boundary layer meteorology, and conduct research.
Scholarships awarded while attending Millersville University
Millersville University Board of Governors Scholarship
George Stauffer Scholarship