Alyssa Tassia
Graduate Assistant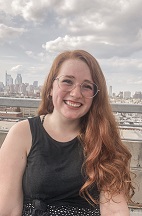 Contact Information
Office: Stayer 326
Phone: 717-871-4337
Fax: 717.871.7941
My name is Alyssa Tassia, and I'm from York, Pennsylvania. I just graduated in May 2020 from Lancaster Bible College with my Bachelors in Social Work. Right after graduation, I started my first summer semester at Millersville in the part-time advanced standing MSW program. Next year, I have the opportunity to participate in the OWEP program.
During my Internship at LBC, I spent the year at St. Anne's Retirement Community in Columbia, PA. I really enjoyed my time there working with the elderly and being involved in a healthcare setting. I loved being able to build relationships with the residents at St. Anne's and be their advocate. In the future, I hope to be able to continue working in a nursing home setting. However, I am also very open to another health care setting, which is why I chose to participate in the OWEP program hoping to gain more knowledge about the influence of opioids in our healthcare system currently.
Currently, I work full-time at Lancaster Bible College as our International Admissions Counselor, and I love getting to work with students from all over the world. In my free time, I love reading, watching true crime shows, and doing more creative projects like redoing furniture, painting, and other crafts. 
I am really excited to be continuing my education at Millersville, and I am looking forward to being a part of the Social Work department this year.