Danielle Hornung
OWEP Graduate Assistant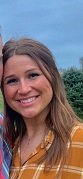 Contact Information
Office: Stayer 328
Phone: 717-871-7353
Fax: 717.871.7941
My name is Danielle Hornung, and I am from Dauphin, Pennsylvania. I graduated from Slippery Rock University in 2019 with my Bachelor of Science degree in Interdisciplinary Programs which includes Liberal Studies and Science, as well as a Concentration in Education. I began my Master of Education courses as well but further decided to pursue a Master of Social Work degree, instead.  At SRU, I worked as a Teaching Assistant (TA) for a professor and was in clubs for working with children with exceptionalities.
During my time in college and afterward, I worked at Aaron's Acres, working with children and young adults with special needs as a counselor and group leader, as well as at United Cerebral Palsy as a habilitation specialist. I love spending my time volunteering for a variety of organizations, such as Caitlin's Smiles, my mother's organization that gives crafts and toys to children in hospitals. I also love working at food banks, feeding the homeless population with ministries and Isaiah 61, and much more.
In the rest of my free time, I enjoy reading, going on mission trips, kayaking, and woodworking projects. I am very excited to be a full-time MSW student at Millersville, a Pennsylvania Council of Children Youth and Family Services intern, and the Opioid Workforce Expansion Program's Graduate Assistant. I am very interested in research, advocacy, and macro-level work, and am thrilled to take these experiences with me.