Register Now
Registration Information
Eligibility
Participants must be academically-talented students who will enter eighth, ninth, tenth, eleventh, or 12th grade in the Fall of 2018.  Students need not be formally identified as gifted.
How to Apply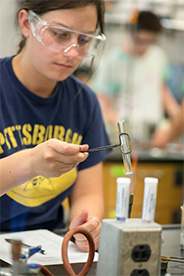 Thank you for your interest in the Summer Science Training Program. Application forms may be obtained by calling the Dean's Office, College of Science and Technology, at (717) 871-4292, between the hours of 8:00 a.m. and 4:30 p.m. They also may be printed from this web page by clicking on the links below for the appropriate parts. Completed applications are due by Friday, May 11, 2018, and may be emailed to: Marianne.Frantz@Millersville.edu.
All three parts of the application must be completed.
The student
His/Her guidance counselor
And his/her science or mathematics teacher
As part of the application process, the student will also be required to write a letter expressing interest in the program.
The student is responsible for assuring that the entire application is submitted by the deadline. Students who have previously participated in the program and who wish to be eligible for this year's program must re-apply.
Cost
A fee of $395 per student will cover supplies and instructional costs. Students are responsible for providing their own lunches. The fee is payable only when the student is accepted into the program.
Contact Information

Summer Science Training Program
College of Science and Technology
Caputo Hall, Millersville University
P.O. Box 1002
Millersville, PA 17551 - 0302

Phone: 717-871-4292
Fax: 717-872-3985

Email: sstp@millersville.edu