Alumni Spotlight
Athletic Coaching Alumni Spotlight
3/15/2021 Margaret Thorwart '17, among the most winning players in the history of the Millersville field hockey program, has officially returned to the sidelines as the program's assistant coach. 

Thorwart, the 2016 PSAC Tournament MVP and first team All-American, was part of two PSAC Championships and an NCAA Division II Championship in her four seasons as a Marauder. From 2013-16, Thorwart started 42 games, earned All-PSAC recognition twice and totaled 42 points. She scored the game-winning goal in the 2016 PSAC Championship game.

She was named the team's assistant coach following a nationwide search led by head coach Shelly Behrens.

"I am so excited to be coming back home!" said Thorwart. "Millersville University has given me so much, and I am thrilled for the opportunity to give back what was given to me, as well as continue to grow and learn myself. We are going to put in a lot of hard work and really push to challenge ourselves to think creatively and problem solve. I can't wait to jump back in with the team, coaching staff, trainers, athletics staff an compete for championships year after year."

An outstanding student who graduated with a 3.98 GPA in public relations with athletic coaching and entrepreneurship minors, Thorwart achieved PSAC Scholar-Athlete and NFHCA Scholar-Athlete status four times in addition to winning the NCAA Elite 89 Award in 2014.

After graduation, Thorwart earned a master's degree in communications studies from West Virginia University in 2018 and a certificate in Higher Education Policy and Student Affairs from West Chester University in 2020. At West Chester, she served as a primary instructor and taught communication courses while also serving as a graduate assistant in the Office of Student Conduct, volunteering as an intern in the Parent and Family Relations Office, and advising  students in the Academic Success Program. Her academic research includes a focus on the communication between college students and their parents as they transition to university life and on how the relationships between students and teachers impacts student learning and well-being.

"We are so excited after 13 months to have the right person join the program, and not just anyone, an accomplished MU FH alum," said Behrens. "As she always has, Margo stood out in the candidate pool in knowing what we as a program want to do and where we want to continue to go. She understands the value of having the right person in the assistant coach role and truly gets this about the players and our time with them--making their time as woman of Millersville field hockey and exceptional experience. The players are excited to have her back, and I for one am thrilled to have Margo back home with MU field hockey."

Thorwart gained coaching experience as a performance coach and marketing coordinator for Power Train Sports, and spent the fall of 2020 as a volunteer assistant with the program.
ALUMNUS TALKS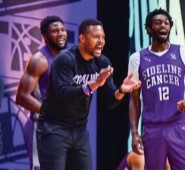 CHARLIE PARKER '09 and his SIDELINE CANCER team grabbed the nation's attention during the early days of the COVID-19 pandemic during The Basketball Tournament (TBT), which aired nationally on ESPN.  Parker served as the team's head coach as it pulled off an improbable run as the No. 22 seed in a 24-team tournament and finished as the runner-up, coming within five points (a 78-73 loss to a team of Marquette alums) of the $1 million prize.