Center for Health Education and Promotion
Center for Health Education and Promotion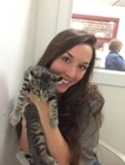 Karlie's Angels: Remembering Karlie Hall
On Sunday, February 8, Millersville University freshman, Karlie Hall, died tragically.  In honor of her memory, we have re-named our peer health educator team, which focuses on dating violence (in addition to sexual assault, stalking and domestic violence), "Karlie's Angels".   
Now Accepting Applications for Peer Educators for 2015-2016
Welcome
The Elsie S. Shenk Center for Health Education and Promotion provides lifestyle education programs, hosts awareness events and information tables, and provides educational resources to students on a wide collection of topics including: alcohol, body image, healthy relationships, nutrition, safer sex, sexual assault, and stress.  Students are trained as peer educators to reach out to the campus community and provide individuals with important information on the benefits of leading a healthy lifestyle, resources and services available at Millersville University, and how to safely make the most out of their college experience.
Mission Statement
The Center for Health Education and Promotion contributes to fulfilling the educational mission of Millersville University through empowering students to make informed decisions and develop life-long skills that enhance their personal well being.  The Center contributes to increasing the academic success, productivity and retention of students through providing current and relevant information about high risk behaviors; raising awareness about personal decision making and the impact decisions have on an individual and their community; and engaging students in meaningful opportunities to create a healthy community in which all students can achieve their personal and academic goals.
News
There is currently no recent news, please check back.
Events Calendar
01-26-2015

Mindfulness meditation helps individuals to become aware of habits of thought that interfere with experiencing life as it unfolds in the here and now. Heightened awareness of habitual thinking, greater acceptance of yourself and others, and deeper insight into behavioral patterns that create stress in your life are benefits of establishing a meditation practice. Dr. Ken DeLucca and Dr. Noel Heitmann will offer instructions for beginning a meditation practice and suggestions for continued practice.
Contact Information
Montour House
Millersville University
PO Box 1002
Millersville, PA 17551
Tel: (717) 872-3841
Email:  chep@millersville.edu
Interested in requesting one of our peer education programs?  Click on the request a program link above for additional information.