Office of the President
Welcome
Dr. John M. Anderson became the 14th president of Millersville University of Pennsylvania in April 2013. Throughout his career he has been a strong advocate for community engagement and sustainability. Read more.
Get the President's Perspective at SeizeItMU.com
Join President John Anderson in this interactive forum dedicated to real experiences being 'Made in Millersville.'
Read his personal insights and let him know what motivates you to seize the opportunity of Millersville!
Contact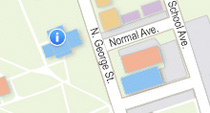 Office of the President
Millersville University
Biemesderfer Center
101 North George Street
Millersville, PA 17551-0302
Phone 717-872-3591
Fax 717-872-3968
mupresident@millersville.edu