Visit Campus!
We offer a variety of ways to see our beautiful campus. Click on a type of visit to register or to view more information.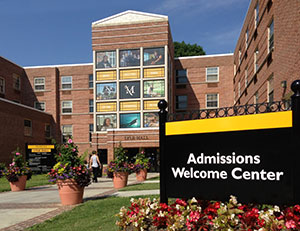 *If you would like to schedule a group visit of 7 or more prospective high school juniors or seniors, please email your request to admissions@millersville.edu two weeks prior to the visit.
Accommodations
Wondering where to book a hotel near our campus? Discover accommodations with comfort and convenience right at your fingertips. 
Blue Rock Bed & Breakfast
Amenities of a hotel, in the comforts of a home. This Bed and Breakfast is conveniently located two blocks away from campus and less than four miles from Lancaster City square. Family operated by Millersville alumni, it is an experience you and your family can enjoy. Start your day with a complimentary home-cooked breakfast. 
Book Online
Phone: (717) 872-7440
The Hotel Lancaster
Experience the convenience, excitement, cultural offerings of staying in Historic Lancaster, PA.   The Hotel Lancaster is located just 5 miles from Millersville University.  Come discover The Hotel Lancaster and enjoy our local Lancaster advantage! Stay the evening with us and enjoy dozens of neighboring fantastic restaurants and cafes, and rich, robust architecture.  Wander through eclectic shops, numerous art galleries or the year-round entertainment of the Fulton Theatre and Central Market.  You will love The Hotel Lancaster.  
Book Online
Phone: (717) 394-0900
The Inn at Leola Village
The Inn at Leola Village offers today's travelers the ideal blend of modern comforts, luxury and historic charm. Enjoy the AAA 4 Diamond refined services, delicious onsite Italian restaurant, complementary European style breakfast and the very best hospitality. The Inn's well equipped business rooms, signature suites, luxury whirlpool suites and relocation suits all offer WIFI, Keurig Coffee Makers and complete use of the fitness center, billiards room and 24/7 business center. 
Book Online
Phone: (877) 669-5094