Office of The President
Welcome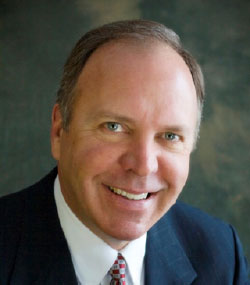 In November 2012, Dr. John M. Anderson was chosen as the 14th president of Millersville University.  Prior to his appointment at Millersville, Dr. Anderson was named the 11th president of Alfred State College, Alfred, NY, in March 2008.  Between 2004 and 2008, he served as executive vice president and provost at Hartwick College in Oneonta, NY.
In addition, Dr. Anderson has an established and recognized career as a professor and academic leader (faculty senate chair, convener of the State University of New York – SUNY – governance leaders), supplemented by more than twenty years in a variety of senior-level administrative posts (President, Executive Vice President, Provost, Vice President for Academic Affairs, Vice President of Institutional Advancement, interim Vice President of Student Services, and Dean of Student Development) at a variety of institutions.
Community involvement has been an important part of President Anderson's life, serving on a variety of boards in many communities.  One of his most rewarding experiences has been serving for the past twelve years as a board member, and at times an officer, of Springbrook, Inc. located near Cooperstown, NY.  Springbrook is a not-for-profit organization with approximately 1,200 employees that supports children and adults with developmental disabilities.  In the Lancaster community, Dr. Anderson serves as a Trustee on the board of Lancaster General Health.  Dr. Anderson also serves on the Lancaster Partnership Program Committee, a partnership between the University and the School District of Lancaster offering socioeconomically disadvantaged students the incentive to finish high school and a unique opportunity to obtain a college education; and Lancaster STEM Advisory Council, an organization that promotes K-12 STEM curricula across the region.  Previously, he served on the Lancaster SCORE Advisory Board and on the Board of Directors for the Economic Development Company of Lancaster County. 
Early in his career, Dr. Anderson's research interests were in the field of Proton Induced X-ray Emission (PIXE) spectroscopy and Neutron Activation analysis.  As a higher educational leader, his areas of expertise have more recently evolved to include, strategic planning, student civic engagement and sustainability.  He served as President of Pennsylvania Campus Compact and is an inaugural member of MomentUS Higher Education Leadership Circle, a strategic organizing and communications initiative to build public support for climate change solutions among mainstream Americans.  Dr. Anderson lobbied to form, and chaired, the Sustainable Development Committee of the American Association of State Colleges and Universities (AASCU).  Previously, Dr. Anderson chaired the AASCU Economic Development Committee; served on the Steering, Executive, and Adaptation Committees for the American College and University Presidents' Climate Commitment (ACUPCC); the Corporate Council of the ACUPCC, chaired the Strategic Planning Committee for the Pennsylvania State Athletics Conference, and served on the Executive Committee for the New York Campus Compact.  On the state level, Dr. Anderson served on the governors Tuition Account Programs Advisory Board.
Dr. Anderson has a Ph.D. in education from Cornell University, an M.A. in physics from SUNY Geneseo, a B.A. in physics from SUNY Brockport, and an A.S. in math and science from Westchester Community College.  He also received post-graduate education at Harvard University.