MU Closed Wednesday
With the forecast of "a wintry mix changing to snow," Millersville University has decided to close the campus for Wednesday, November 26.  It is important to note that ALL classes will be held, as scheduled, the remainder of today and tonight.  Only essential personnel are to report on Wednesday. 
 Have a safe and enjoyable Thanksgiving.
Physics Department
Welcome!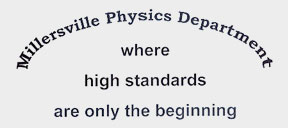 Welcome to Millersville University's Physics Department
Millersville University has consistently ranked high among undergraduate institutions in the country in the number of enrolled physics majors. This enables the university to offer an exceptionally wide variety of upper level and special topics courses. Furthermore, all physics lectures, recitations and laboratories are taught by experienced faculty, all of whom hold Ph.D. degrees. Physics majors at Millersville are each assigned an advisor within the department who advises them on course work, research projects, graduate school selection and careers.
The Roddy Science Center houses physics classrooms, laboratories, a departmental library, machine shop equipment, and microcomputers. Majors have access to the departmental library and computers. The department's well-equipped laboratories include separate rooms for optics, electronics and applied physics. They support teaching laboratories for introductory, intermediate and advanced work. In the student project area we have a small machine shop with lathe, drill press, break, end mill, and several saws. Our facilities provide students with large range of equipment, tools, and materials. Recent acquisitions include a high speed camera and two 10" telescopes with a CCD camera. We strongly support undergraduate research and work to provide students with everything they may need for their projects.
Please follow the links on the left to learn more about the physics program at Millersville University. You can examine our course work, see what seminar research projects our past students have performed, try out the Experiment of the Month (and see an archive of over 100 past experiements), learn about our faculty, and see what our alumni have to say about the value of a physics degree from Millersville.