Maintenance
Power Outage
Power is coming back to much of campus, however, the Internet and Outlook servers are still out in parts of campus.  Classes are being held at professor's discretion.    PPL and Millersville University are working on the problem.
Department of Earth Sciences
MU Home >
Student Resources and Links
Weather Cam
Click here for a larger image of the current weather at Millersville University.
Contact Us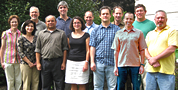 Department of Earth Science
717-872-3289
Millersville, PA 17551-0302