Center For Disaster Research & Education
About the Center
The Center for Disaster Research and Education (CDRE) takes great pride in its association with a number of educational and research projects across the nation. The CDRE has been involved in a variety of community-based research projects including the development of disaster plans, state hazard mitigation planning, business community branding and education. 
The Center's faculty and students conduct research on various issues related to disasters, mitigation and planning. The CDRE has been involved in research funded through the National Science Foundation, Federal Emergency Management Agency, Pennsylvania Emergency Management Agency and in collaboration with other academic research centers. 
CDRE Mission Statement
Provide Multi-Disciplined Education, Research, & Internship Opportunities
current students interested in the field of environmental hazards and emergency/disaster management
Contribute to the Education of the Next Generation
disaster researchers, emergency managers, and knowledgeable community members
Conduct Research
behavioral and organizational response to disasters and terrorism, including the media
risk and hazards assessment
Disseminate Research Findings
previous & new research literature, in a language and format that is useful to the general public, mass media personnel, and emergency management personnel-as well as researchers
Contribute to the Communities within the Region and Nation
pursuant to developing disaster resilient communities (FEMA)
Upcoming Events
_________________________________________________________________________________
This event is free and open to the public. Come and learn how you can be prepared for when disaster strikes
Student Chapter of the Year
_________________________________________________________________________________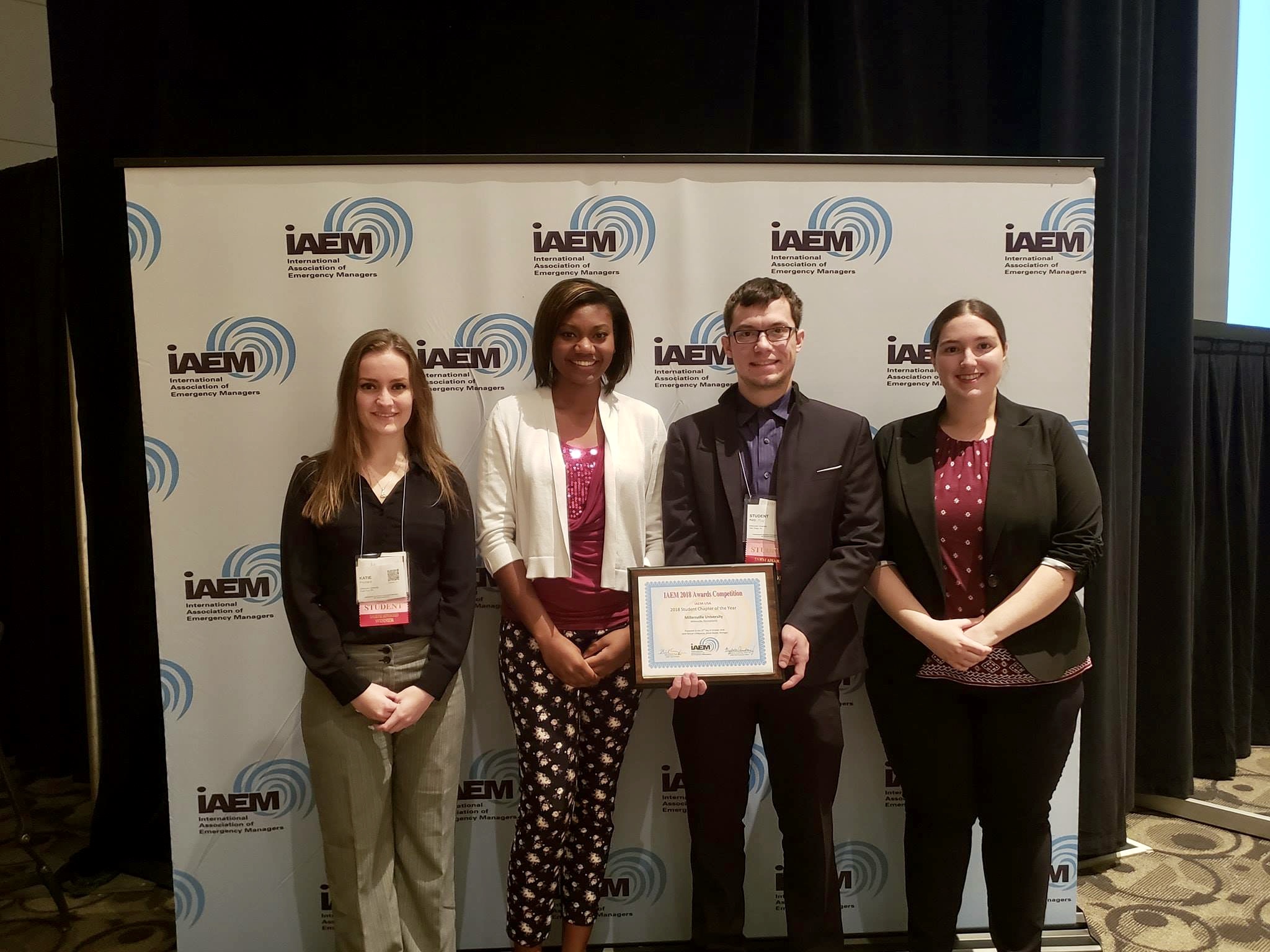 The Millersville University's Student Chapter of the International Association of Emergency Managers (IAEM) has been selected to receive the 2018 International Association of Emergency Managers Student Chapter of the Year Award. The Student Chapter of the Year Award recognizes an IAEM-registered student chapter which has made significant contributions in promoting IAEM, the Student Council and the field of emergency management through public awareness, increasing membership, showing leadership and initiative in education, and increasing the professionalism of emergency and disaster management. The Chapter will be presented with the award at the IAEM 2018 Annual Conference (Oct 19-24, 2018) in Grand Rapids, MI. Some of the officers including Amber Liggett Katie Prichard will attend the meeting to receive this award. This is the third time that the chapter has received this award since its establishment in 2010.  Dr. Sepi Yalda serves as the Chapter's faculty adviser. 
Emergency Management Program is "Best"
Millersville University topped the 2019 national rankings of Best Online Master's in Emergency Management...
Read More
Emergency Management Program named "Best Value"
Millersville University ranked 6th in the 2017 national rankings of Most Affordable Online Master's in...
Learn More
Emergency Management Program Named "Best Online"
Millersville University named Best Online Master's Program by BestColleges...