Student Emergency Preparedness
Is today the day before?
Are you prepared?
When a disaster hits, how you will get to a safe place; how you will contact one another; how you will get back together; and what you will do in different situations.
Identify a contact such as a friend or relative who lives out-of-state for household members to notify they are safe. It may be easier to make a long-distance phone call than to call across town, so an out-of-town contact may be in a better position to communicate among separated family members.
Be sure every member of your family knows the phone number and has a cell phone, or a prepaid phone card to call the emergency contact. If you have a cell phone, program that person(s) as "ICE" (In Case of Emergency) in your phone. If you are in an accident, emergency personnel will often check your ICE listings in order to get a hold of someone you know. Make sure to tell your family and friends that you've listed them as emergency contacts.
Subscribe to alert services. Sign up for MU Alert here.

Develop an emergency plan! Visit our site here to find out more.
Source: www.FEMA.gov
Sign Up for MU|Alert
From the MU|Alert Page:

Millersville uses MU|Alert to immediately contact you during a major crisis or emergency. MU|Alert delivers important emergency alerts, notifications and updates to you on all your devices:
-Email account (school, personal, other)
-Cell phone (via SMS)
-Pager
-Smartphone/PDA
When an incident or emergency occurs, authorized senders will instantly notify you using MU|Alert. MU|Alert is your personal connection to real-time updates, instructions on where to go, what to do, or what not to do, who to report to and other important information.
Sign up here!
Smartphone? Download the LiveSafe App today!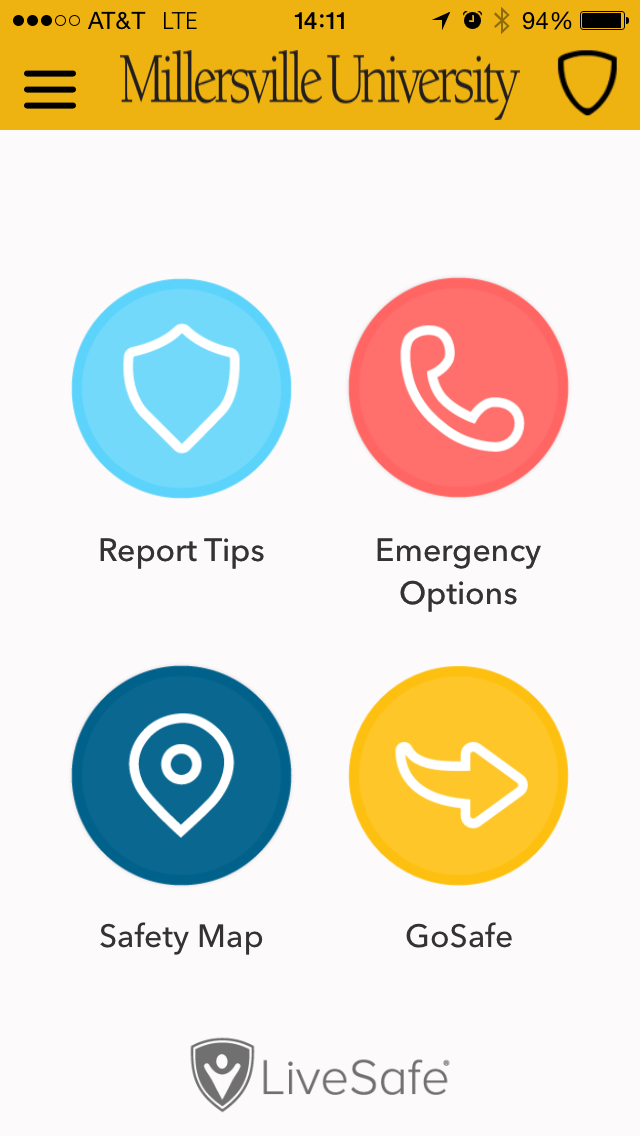 Millersville University has adopted the free LiveSafe app for smart phones.  The app allows you to reach police in an emergency as well as submit tips or campus concerns via call or anonymous text.  The app contains other safety features and options to provide a deeper safety net to users, especially students.
Just search for LiveSafe in your app store and then select Millersville University from the agency list to get started.