Prospective Online Students (Online Admissions)
Prospective Online Students (Online Admissions)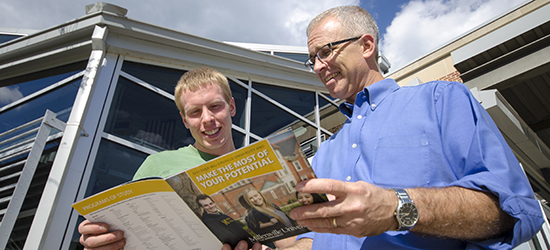 What will my online courses be like?
Online courses at Millersville Univeristy use a course management platform called Brightspace by D2L where you will login to access your online classroom. Through this platform you will be able to: 
Access your course materials, such as articles, videos, etc. 
Interact with your faculty and fellow students via discussion boards, chat, etc. 
Submit assignments. 
Review your grades and feedback from faculty. 
And more...
Our online courses are created by our expert faculty with support from instructional designers. You can expect a high quality, interactive, and engaging learning experience!
What type of support will be available to me as an online student?
As an online learner, you will have a dedicated Student Support Specialist in the Office of Online Programs who will serve as your go-to person for any non-academic needs, such as registration, help with accessing university resources, billing, and any other general questions. This person's job is to help make the administrative tasks of attending college as simple as possible, so that you can focus on learning!
In addition to your Student Support Specialist, you will also have access to the resources available to on campus students, including the following: 
If you have any questions about the resources available to you as an online student at Millersville University, feel free to contact the Office of Online Programs at (717)871-7200 or OnlinePrograms@millersville.edu. 
Am I ready for online learning?
If you are considering applying for one of our fully online academic programs, you may be asking yourself "Is a fully online program right for me?" This checklist can help you make that determination. If you agree with the majority of the statements listed below, great news! A fully online program is likely a good fit for you! If you disagree with most of the statements below, give the Office of Online Programs a call at (717)871-7200 to discuss your concerns and potential learning options.
You have access to a functional computer with reliable, high speed internet access.
You are comfortable using a computer to perform tasks such as downloading, installing, managing multiple windows, etc.
You are comfortable communicating electronically via email, chat, discussion boards, etc.
You are independent, self-motivated, and able to plan ahead to get things done on time.
You have strong reading skills and are able to figure out the meaning of what you are reading on your own.
You have strong writing skills and are able to communicate effectively through written text.
When you are presented with a problem, you seek to find the answers on your own first before asking for help.