Lombardo College of Business Online Bachelor's in Business Administration Degree.
You've earned the credits. Now earn your degree.
Through our innovative degree completion program, you can take the Associate's degree or college credits you've already earned and add our online business courses to them. The end result? A Bachelor's degree that can open doors to opportunities in any business, for profit, non-profit or public-sector organization.
Together, we can do great things.
Your location, your time, your desire teamed up with our expert faculty and flexible, 100% online program. Together we can help you achieve a Bachelor's degree in Business Administration— and greater success.
Please note, the online Bachelor's in Business Administration is typically completed part-time.
Program Pre-Requisites
This program is designed for students who want to complete a bachelor's degree in business and have as little as 30-45 college credits from an accredited institution.
Students entering with an associate degree in business can typically complete their bachelor degree in two academic years.
Program Requirements
The Bachelor of Science in Business Administration is a 120-credit degree completion program (including transferred credits).
63 credits in general education and electives
57 credits in business - all the major disciplines are represented - Accounting, Finance, Management, and Marketing.
Required Courses:
BUAD161 Principles of Accounting I
BUAD162 Principles of Accounting II
BUAD202 Legal Environment for Business
BUAD206 Business Research Methods
BUAD231 Principles of Marketing
BUAD251 Principles of Management
BUAD307 Management Information Systems
BUAD341 Managerial Finance I
BUAD352 Human Resources Management
BUAD358 Management Science
BUAD455 Strategy & Policy
ECON101 Macroeconomics
ECON102 Microeconomics
MATH151 Applied Calculus for Business
MATH235 Introduction to Statistics OR MATH130 Elements of Statistics I
General Business Courses:
MKTG 332 Consumer Behavior
MGMT 355 Business and Society
MGMT 357 International Management
MGMT 375 Business Web Development
MKTG 435 International Marketing
*An additional 9 credits in Business departmental electives will be required.
*Prior credits earned will be evaluated toward the 120-credit requirement for a bachelor degree.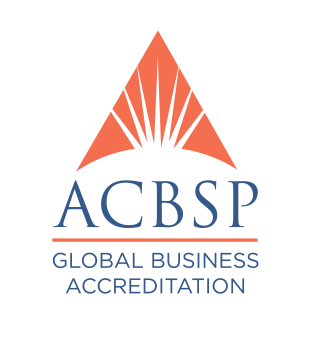 BUSINESS ADMINISTRATION ONLINE program information
ACCREDITATION
Millersville University's business administration program is internationally accredited by the Accreditation Council for Business Schools and Programs (ACBSP) to offer a Bachelor of Science (B.S.) in business administration.
PROGRAM BENEFITS
Flexibility – 100% online courses can be taken throughout the year
60 credit bachelors program with associates degree and required prerequisites
Cohorts start every August, January and May
Courses are offered year round.
STUDENT OUTCOMES
As a result of finishing this program, students will be able to:
Effectively analyze foreign markets and apply international competition strategies
Segment and market to groups of consumers using psychological models
Manage teams of employees in domestic and global firms
Make strategic business decisions through rigorous analysis of quantitative data
Communicate effectively with various business stakeholders including, consumer organizations, local communities and media
FACULTY
The diverse faculty of the business administration program have extensive real-world business experience and academic training. Our business administration courses are taught by qualified faculty, not teaching assistants or graduate assistants.
Our faculty members are experts in their fields. In addition to their teaching assignments, our faculty are active scholars who regularly publish their research and present at regional, national and international conferences. They are also active in community organizations, provide service to boards of professional organizations and are engaged in professional activities that enhance our students' classroom experience.
CAREER OPPORTUNITIES
Millersville's business administration graduates are competitive, and many succeed in landing their first postgraduation job in their chosen field in an increasingly complex job market. Recent examples include Cisco Systems; Dell, Inc.; Hershey Entertainment & Resorts; Lancaster General Health; Morgan Stanley, among others.
BUSINESS ADMINISTRATION ONLINE APPLICATION PROCESS
1.  APPLY!
To apply for admission to the Lombardo College of Business Online Program, please complete our quick and easy application!
2.  Send in official transcripts
Once you have applied, you can either have your official electronic transcripts emailed directly from the school to onlineprograms@millersville.edu or have mailed copies sent to the below address.  Electronic transcripts are typically the fastest way to get transcripts to us.

Office of Online Programs
Millersville University
Lyle Hall, Room 208
P.O. Box 1002
Millersville, PA 17551
*If requesting transcripts electronically please have them sent directly to OnlinePrograms@millersville.edu
**Please note, transcripts must be sealed, official copies sent directly from the university or college.  Any opened transcripts (electronic or mailed) are considered unofficial copies**
*Millersville University's Online programs offer rolling admissions and applications are reviewed for acceptance as they become complete.
BUSINESS ADMINISTRATION ONLINE ADMISSIONS PROCESS
Once all admission documents are received an official admissions decision will be made and a transfer credit evaluation will be completed.
If accepted into the program, a packet will be mailed with an official admissions offer letter, instructions to confirm acceptance including a response form and an official transfer credit evaluation.
To confirm acceptance, the admissions response form and a $150 check/money order must be mailed to the below address.  Deposit checks and money orders must be made out to "Millersville University"
Office of Online Programs
Millersville University
Lyle Hall, Room 208
P.O. Box 1002
Millersville, PA 17551
BUSINESS ADMINISTRATION ONLINE COHORT START DATES
| Cohort | Start Date |
| --- | --- |
| Fall 2020 Cohort | August 24th, 2020 |
| Spring 2021 Cohort | January 18, 2021 |
BUSINESS ADMINISTRATION ONLINE APPLICATION AND ADMISSIONS SUPPORT
From the time a prospective student inquires to the time they have confirmed their acceptance, the Office of Online Programs Admissions Counselor will work with the student to help answer questions and/or concerns regarding the application and admissions process, provide transcript updates, complete transcript evaluations, announce admission decisions and assist with confirming enrollment.
After a student has confirmed their acceptance, they will continue to work with the Office of Online Programs through an assigned Student Support Specialist.  The Student Support Specialist will be available to all online undergraduate students to assist with any and all non-advisement questions.
Please also feel free to visit our Online Student Support Resources page for more information and additional resources available to online students!
---
Get more Information on the General Business Administration Degree