Lombardo College of Business Online Bachelor's in Business Administration Degree.
You've earned the credits. Now earn your degree!
Our business administration curriculum is designed to provide the necessary skills and knowledge in all business disciplines. This well-rounded education prepares students to succeed in any business: for-profit, nonprofit, or public sector organization.
Taking classes completely online while you work allows you to prepare for your next promotion or continuing your education!
Students entering with an associate's degree in business can typically complete their bachelor's degree in approximately two academic years, part-time.
admissions requirements
To apply for admission, you must meet the following requirements:
At least 30 transferable college credits
A 2.0 or higher overall GPA
Completion of the MATH 101, ECON 101, and ECON 102 required pre-requisite courses (see pre-requisites below for more information)
You must also submit the following:
A completed online application 
An official transcript from ALL previous institutions of higher education attended
program pre-requisites
This online degree-completion program is designed for students who have as little as 30 college credits from an accredited institution.
Successful completion of the three below courses is also required before beginning the program:
MATH 101 College Algebra (C- or higher final grade)
ECON 101 Macroeconomics (C or higher final grade)
ECON 102 Microeconomics (C or higher final grade)
program major requirements
The Business Administration online program is a 120-credit degree-completion program (including transferred credits). 
Required Major Courses:
BUAD161 Principles of Accounting I
BUAD162 Principles of Accounting II
BUAD202 Legal Environment for Business
BUAD206 Business Research Methods
BUAD231 Principles of Marketing
BUAD251 Principles of Management
BUAD307 Management Information Systems
BUAD341 Managerial Finance I
BUAD352 Human Resources Management
BUAD358 Management Science
BUAD455 Strategy & Policy
MATH151 Applied Calculus for Business
MATH235 Introduction to Statistics (OR MATH130 Elements of Statistics I)
General Business Concentration Courses:
MKTG 332 Consumer Behavior
MGMT 355 Business and Society
MGMT 357 International Management
MGMT 375 Business Web Development
MKTG 435 International Marketing
*An additional 9 credits in Business departmental electives will be required.
*Additional general education or elective courses may be required depending on transfer credits.
*After applying, a transfer evaluation will be conducted to identify how many general education credits you will need to take to fulfill degree requirements.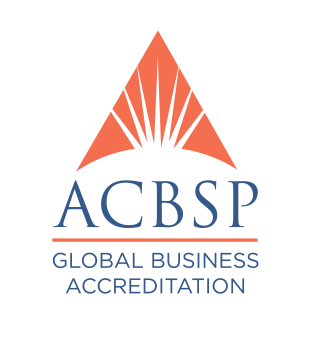 ACCREDITATION
Millersville University's Business Administration program is internationally accredited by the Accreditation Council for Business Schools and Programs (ACBSP).
Benefits of an ACBSP Accredited Program:
Accreditation affirms the relevancy and currency of faculty, programs and courses to best serve students by assuring a focus on quality performance. 
Employers seek and value graduates from accredited programs because of the experience they gain throughout their education.
PROGRAM BENEFITS
Flexibility – 100% online courses can be taken throughout the year
60 credit bachelors program (with associates degree and required prerequisites completed)
Cohorts start every August and January
Courses offered year-round
After completing this program, you will be able to:
Utilize the latest tools from all business disciplines to streamline organizational practices and improve policies, procedures or operations
Implement effective workplace solutions by advancing your decision-making and problem-solving skills
Sharpen your business communication ability to help you lead teams and work more effectively with company stakeholders
Design and implement cutting edge business strategies in the global marketplace
Lead and develop teams to implement strategic business decisions
Create an effective and productive company culture based on effective employment practices
CAREER OPPORTUNITIES
Lombardo College of Business graduates are competitive, and many succeed in landing their first post-graduation job in their chosen field in an increasingly complex job market.
Some examples of places our recent graduates work include:
Cisco Systems
Dell Inc.
Hershey Entertainment & Resorts
Lancaster General Health
Morgan Stanley
And many others!
FAQ's and online student resources
Visit the FAQ's page for the online Bachelor's in Business Administration program for more information on our frequently asked questions!
Please also visit our Online Student Support Resources page for more information and additional resources available to online students!
BUSINESS ADMINISTRATION ONLINE APPLICATION PROCESS
Apply!
To apply for admission to the Lombardo College of Business Online Program, please complete our quick and easy application!
Apply Now
send in all official transcripts
Electronic Transcripts-

Send electronic official transcripts directly from the school to our office at onlineprograms@millersville.edu.
Electronic transcripts are typically the fastest way to submit transcripts.

Mailed Transcripts-

Have mailed official transcripts sent directly to our office:

Office of Online Programs
Millersville University
Lyle Hall, Room 208
P.O. Box 1002
Millersville, PA 17551
**Transcripts must be sealed, official copies sent directly from the university or college to our office.  Any opened transcripts (electronic or mailed) are considered unofficial copies**
Millersville University's Online Programs offer rolling admissions and applications are reviewed for acceptance as they become complete.
ONLINE Acceptance PROCESS
Once all application documents are received, an official admissions decision will be made and a transfer credit evaluation will be completed. If accepted into the program, a packet will be mailed with further admissions information.
To confirm acceptance and secure a spot in the program, the admissions response form and a $150 acceptance deposit must be submitted either electronically or by mail.
Confirm Electronically:
Confirm By Mail:
Deposit checks and money orders must be made out to "Millersville University" and mailed to our office address:

Office of Online Programs
Millersville University
Lyle Hall, Room 208
O. Box 1002
Millersville, PA 17551
BUSINESS ADMINISTRATION ONLINE COHORT START DATES
The online Bachelor's in Business Administration program has cohorts beginning every August and January.
| Cohort | Start Date |
| --- | --- |
| Fall 2021 Cohort | August 23rd, 2021 |
| Spring 2022 Cohort | January 17, 2022 |
ONLINE APPLICATION AND ADMISSIONS SUPPORT
Our Online Programs Admissions Counselor will work with students from the point of interest until confirming their acceptance to help answer questions, provide transcript updates, complete transcript evaluations, announce admission decisions and assist with confirming enrollment.
Our Online Programs Student Support Specialists will then continue to assist online students throughout the entirety of the program to assist with any and all non-advisement questions.
Contact our office at (717)871-7200 or onlineprograms@millersville.edu for any assistance!
---
Get more Information on the General Business Administration Degree