Employee Giving
University Employees
Thank you for your generous support of Millersville University!
As we seek your support, please remember that your annual commitment to the University helps to make a Millersville education accessible and affordable for all students. It does not take much to make a difference! Our goal is not to reach a certain dollar amount, but to increase the percentage of faculty and staff who give to Millersville. In 2017, approximately 21% of current faculty and staff made a contribution to Millersville University. We challenge you to increase that percentage in any way you can.
Payroll Deduction
Millersville employees have the unique opportunity to give through payroll deduction. Payroll deduction gifts can be made conveniently by filling out a payroll deduction form (PDF). Your gift can be returned to the Development Office by campus mail or by emailing it to giving@millersville.edu.    
Payroll deduction gifts can also be made by clicking on the button below and filling out the online form.

The 2018 Lives Changed Campaign will run from April 1 through April 30.
Let's take a look at a few of our student success stories that are made possible by funded opportunities that current faculty and staff have supported financially.
---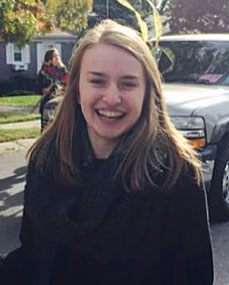 Jaclyn Belew '17
Major: Double Major in the Honors College
Recipient of the Biedeman Scholarship
"Since receiving the Biedeman Scholarship, my education experience here at Millersville has been positively impacted.  As a double major in the Honors College, I have a lot of coursework each semester while also trying to juggle activities and an internship.  Receiving this scholarship has helped to relieve some of the financial burdens college can accumulate.  I am able to spend more time focusing on my academic studies, internships, and participating in independent studies with faculty.  I am grateful for the opportunity to be recognized for my academic achievements!  Millersville University has so many opportunities both socially and academically, and I am honored to take part in them each and every day."
---
Morgan Speakman '17
Major: Business Marketing
Morgan is graduating in Spring 2017 with a degree in Business Marketing and thanks to a scholarship made possible by sustaining gifts, her future is much brighter.   She used her scholarship money to help pay for books for her business courses and contribute to her tuition costs.
"Before receiving the scholarship, I was concerned about the amount of college loans I would have to pay back after graduation," she says. "It is very encouraging that there are people who want to invest in me and help me attend college."
Morgan has accepted a full-time position at PepsiCo Inc. after graduation. She will join the company's Marketing/Sales/Management Leadership Team at the headquarters in Philadelphia.  
---
Caitlyn Bordon '16
Major: International Studies and French
Host University/Program: American Business School
Host City, Country: Paris, France
Time period abroad: 2015-2016 Academic Year

How has your perspective of International Studies changed after taking classes abroad? Were there any classes that you really enjoyed or helped you think about your field of study in a different way?

My classes have been quite euro-centric, a good change of pace from the US-perspective that we get so used to back home. My favorite class has been one on the art movement of Impressionism in France in the late nineteenth century. The movement is full of such important works and is responsible for a lot of the changes we see in the art world. Getting familiar with these works in the vary place they were created has been exciting for me. My international economics class has also been extremely fascinating in giving me an understanding basis for a lot of the institutions and economic dilemmas across the world today.

Why should other MU students study abroad?

There really is nothing else quite like it. It is an opportunity to be in a student environment, which is already unique, surrounded by customs and ways of life that are unusual and rich. If you are open to being uncomfortable for a few months the payoff is huge. Yes, I miss my family and friends. Yes, sometimes I just want to leave. At the same time, every day is something new. Every person I encounter is someone I never would have if I had not decided to come here, every friend I make, food I taste, place I go, the list goes on and on. Travelling opens the world up, my options for what I can do seem to broaden with every new place to which I go, even if that place is just a new neighborhood in this magnificent city.
---
Steven Rivera- Camacho '15
Major: Spanish and Anthropology with a minor in Latinos Studies
Recipient of the Dr. Rosario Caminero Scholarship

"The scholarship was really beneficial for me because right after graduation I had a month and half internship in the islands of Malta in Europe with Off the Beaten Track: Anthropology School. This money helped me towards my research and in networking. At the moment I'm not in grad school but I'm saving money and working on my application to move to Belgium and study in the Catholic University of Leuven. Thanks to this scholarship I was able to go to this internship and find the perfect graduate program."
---
Samantha Wilson '16
Major: Middle-Level Education
Recipient of the AFSCME Local 2421 Award

"This year was actually my fifth year in my undergraduate program, as I had to take an additional year to complete degree requirements. The grants that I received in previous years were not offered to fifth year students, and many of the loan amounts that I received through FAFSA had been lowered. At this point in my college career, my funds were running extremely low. Receiving the AFSCME Local 2421 Award took some of that financial burden off of me and my family. Now that I am just a few weeks away from finally turning the tassel, I can't express my gratitude enough to those who generously donated to my education."
---
Ivanny Jacome Ottati, Chemistry Major
Why did you choose to attend Millersville?
I made my decision during a school tour when Dr. Rajaseelan said that even students who attend small schools can go really far and be successful. It all depends on the student and how much he or she is willing to work. School must be a priority. His advice made a big difference for me, and I am happy that I decided to attend Millersville University. It is an affordable school with a great education. I know it will help me succeed.
What do you like best about Millersville?
I like the professors the best. They are always willing to help their students.
What are your plans after college?
I plan to attend graduate school, and to continue doing research.
---
Zoe Zetner, Biology Major
Zoe is a junior who is majoring in biology with a concentration in marine biology. Her passion for science and the ocean started at a very young age. While most little girls played with dolls, Zoe played with chemistry sets and collected bugs. Since that time, she has refined her interests to ichthyology, fisheries, and the behavioral evolution of fish. Zoe plans to pursue a career in fisheries biology or doing ichthyology related research. Soon, a team from Millersville will travel to Virginia to collect samples.

"This research is an important step in achieving my career goals by teaching me the necessary skills to conduct the research and about the shark species in the northern Atlantic Ocean. My favorite shark species is the wobbegong because of its ability to ambush prey using camouflage. We haven't been able to collect any samples yet, but our first trip is planned for April 23rd-24th and the team and I are all very excited!"
---
Christian Copeland, Internship at Excentia
"I benefited from this internship by being able to become knowledgeable about the importance of marketing in communications. Excentia is a non-profit organization that helps individuals with autism and developmental needs. The organization helps over 1,500 individuals daily and has 27 homes in Lancaster County. This internship related to my career goals because I want to have the ability to fundraise and organize events in a timely fashion. I gained an understanding of how to productively implement marketing plans and understand the communications field as a whole. During my internship, I helped establish the first Empower Jeans Day at Excentia."
---
Melanie Herbert, Internship with Girls on the Run
"As an intern at Girls on the Run of Lancaster, I had the opportunity to create programs and assist with activities that encourage youth development through creativity and exercise. Girls on the Run staff help to teach young girls to be healthy and confident young women through these empowerment programs. By planning events, training coaches, promotion, and data collection, I was able to apply my knowledge of different cultures and backgrounds learned in sociology to help the diverse Lancaster community and gained skills for the future. I hope that by helping that I made a change in just one young girl's life, and being a part of such a hardworking organization, this internship helped me to grow both personally and professionally."
Employee Giving Committee Members
D'Ann Ressler
University Library, Employee Giving Committee Chair
Kathy Cody
Department of Mathematics
Jennifer Hart
Office of the President 
Barry Kornhauser
the Ware Center
Kimberly Mahaffy, PhD.
Department of Sociology/Anthropology
Heather Morris
Advancement (staff liaison)
Melissa Wardwell
Office of Experiential Learning & Career Management