Office of the President
Mr. Geoffrey Beers
The CEO oversees the business operations for both Student Services, Inc., and Student Lodging, Inc. He is responsible for the affiliated off-campus student housing, the development of new on-campus student housing, and various service contracts with the University. He works with the corporate boards to articulate the organizations' vision and to develop strategies for achieving that vision. The CEO is a member of the President's Cabinet.
Dr. Aminta Hawkins Breaux

 Dr. Aminta H. Breaux
Vice President for Advancement
The vice president oversees the Division of Advancement with responsibility for alumni engagement, development, advancement information services and special events. The vice president is a member of the President's Cabinet.
Mr. Roger V. Bruszewski

Mr. Roger V. Bruszewski
Vice President for Finance and Administration and Interim Vice President for Information Resources
The vice president oversees the development and management of the programs and services that complement and support Millersville University's mission, including budget and finance, construction and facilities, University dining and conference services, and human resources. He also oversees the Division of Information Resources on an interim basis. The vice president serves on the President's Cabinet.
Mr. Tchet Dorman

Mr. Tchet Dorman
Director, Office of Diversity and Social Justice
The director supports the work of the President's three commissions – Commission on the Status of Woman, Commission on Cultural Diversity and Inclusion, and Commission on Gender and Sexual Diversity – in planning and implementing training and programming events related to the achievement of diversity, equity, inclusion and social justice.  The director also assesses campus needs and identifies opportunities for new or strengthened programs and activities to create an inclusive, welcoming campus environment.
Mr. Brian Hazlett
The vice president will foster the success and retention of our students by developing a comprehensive strategy for student achievement. The vice president's focus will be on building and creating new high impact practices to improve student recruitment and retention by creating a setting that provides academic, social and personal support. The vice president is a member of the President's Cabinet.
Dr. Vilas A. Prabhu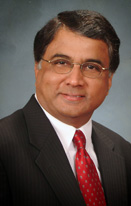 Dr. Vilas A. Prabhu
Provost and Vice President for Academic Affairs
As second in command to the University president, and as chief academic officer, the provost has overall leadership and general administrative responsibility for the University's academic programs, planning process, and related support services, including faculty, promotion, tenure and sabbatical leaves, academic budgeting, research, curricular planning and assessment. He is a member of the President's Cabinet and chairs the Deans Council.
Contact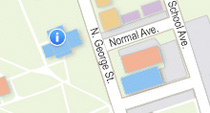 Office of the President
Millersville University
Biemesderfer Center
101 North George Street
Millersville, PA 17551-0302
Phone 717-871-7001
Fax 717-871-7930
mupresident@millersville.edu