Elementary & Early Childhood Education
Welcome
Our Changing Program
Major changes to the various certifications and to certification programs are anticipated at the direction of the Pennsylvania Department of Education. Please contact your academic advisor for more information.
Resources
Susan A. Walker Children's Literature Center
Conveniently located in Stayer Hall, the Susan A. Walker Children's Literature Center houses a collection of over 10,000 children's books available for students to borrow on a short-term basis. These books include picture books and novels of a wide variety of genres.
Highlights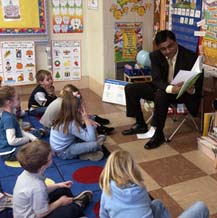 We welcome you as participants in our new Early Childhood and Middle Level Education programs that will begin with the incoming Freshman class of Fall 2009.  Many rewarding experiences and challenges await you.  We are looking forward to working with you to make this a successful and memorable learning endeavor.