Finals Rescheduled Again
 Due to inclement weather forecast for this Saturday, 12/14, the make-up exams from Tuesday 12/10 will be rescheduled (yet again) as follows:
- The exam period for classes that meet Tuesday-Thurs 1 p.m. is now rescheduled to Friday, 12/13/2013 from 2:45 p.m. - 4:45 p.m.
- The exam period for classes that meet Tuesday-Thurs 4 p.m. is now rescheduled to Saturday, 12/14/2013 from 8 a.m. - 10 a.m.  
  Click here for additional details.
Department of Earth Sciences
Research, Activities, and News
Students Return from Texas after Air Quality Project
Thirteen students and Dr. Richard Clark spent September on a spit of land that juts out into Trinity Bay east of Houston, TX studying air pollution in the regional air shed. Houston was the third location where a comprehensive suite of measurements was carried out in conjunction with the NASA project, DISCOVER-AQ; Edgewood, MD in 2011, and Central Valley, CA in January-February 2013 round out the other two. Millersville was one of six organizations conducting atmospheric chemistry research at Smith Point, TX. Other investigators were strategically distributed across the Houston area, including Ellington, TX, the base or the NASA P3B aircraft.
---
Congrats to our May 2013 Graduates!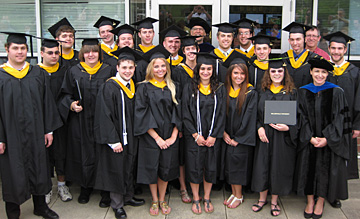 ---
Students Attend Northeast Storms Conference

In early March, 13 members of Millersville's student chapter of the American Meteorological Society attended the 38th annual Northeastern Storms Conference in Rutland, Vermont. At the conference, the MU students learn of recent research projects and  were able to network with other students and professors in their field. The conference is organized by Lyndon State College and is one of the largest undergraduate conferences in the nation.
---


Students Travel to Cali for Research Project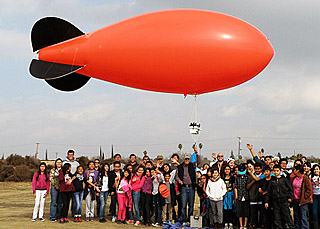 Eleven students spent parts of Jan-Feb in Huron, CA measuring meteorological conditions, air chemistry, and aerosols using an impressive suite of ground-based instruments, sensors onboard an aerostat, and remote sensing platforms. The project, known as DISCOVER-AQ, is a large NASA initiative designed to investigate the air quality in regional representative areas across the U.S. In summer 2011, the group, led by Dr. Richard Clark, focused on sea and bay breezes and their affect on the air chemistry in coastal Maryland. In California, the emphasis was more directed to aerosol transport over the San Joaquin Valley. In addition to carrying out fundamental research, the group interacted with the Huron Middle (photo above) and Elementary Schools, and is redesigning the City off Huron web pages. Students gain valuable skills and experience in the use of a wide variety of instruments. For a detailed description of our capability, please see http://www.millersville.edu/esci/maraf/index.php.
---
Weather Cam
Click here for a larger image of the current weather at Millersville University.
Contact Us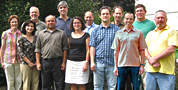 Department of Earth Science
717-872-3289
Millersville, PA 17551-0302