Department of Earth Sciences
Research, Activities, and News
Students Visit NASA Goddard Lab

A chance to visit our stellar alumni working at NASA Goddard Space Flight Center while there to give a talk on our 2015 NSF project, "Observations of Low-Level Jets during PECAN." In the background of the photo is the largest clean room in the world where a NASA team is working on the James Webb Space Telescope. (L-R: Patrick Selmer, John Yorks, Jim Limbacher, Rebecca Pauly, and Ryan Stauffer). View second photo >>
---
MU Students Attend Northeast Storms Conference
14 students traveled to Saratoga Springs, NY for the 41st annual Northeastern Storms Conference. They attended talks and poster sessions, listened to keynote addresses from a Boston TV meteorologist, an Antarctic weather researcher, and a Southwest Airlines staff meteorologist, and explored the town.
---
MU Students, Faculty, & Alumni Converge at 2016 AMS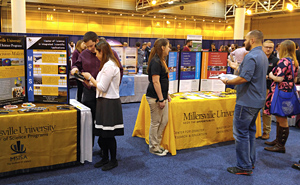 Millersville students from the meteorology program, and the M.S. programs in Integrated Scientific Applications and Emergency Management, 31 in all, converged on New Orleans in January to attend the 2016 Annual Meeting of the American Meteorological Society. Six students presented research. Over 140 people attended the Millersville Alumni Reception on Tuesday evening, and our President Dr. John Anderson and Vice President Dr. Aminta Breaux were there to greet the scores of alumni that attended the event. Students were able to network with peers and professionals, attend the career fair (photo above), and attend a steady stream of conferences and symposia, town halls and workshops, and a special conference dedicated to students for the full week that they spent in the Big Easy. Read more >>
---
Statistical Meteorology Class Visits the National Centers for Environmental Prediction
---
It's a Wrap: DISCOVER-AQ Winds Down after Five Years
It's been a great run involving 50 students, over $800,000 is NASA funding, multiple papers published and conference presentations, and unique contributions to our understanding of boundary layer pollution. Over the past five years, Dr. Richard D. Clark and his team of student research assistants investigated sea and bay breezes in Edgewood, MD and Smith Point, TX, particulates in Huron, CA, and most recently, upslope transport in Golden, CO (photo above). It was arduous (52-hour cross-country convoys, prairie rattlesnakes, swarms of mosquitoes and African killer bees) and it was awesome (sunrises and water spouts, the wonderful people and local cuisine of Huron CA, starry nights and a visit to Yosemite). We had over 500 student visitors to our field sites as part of our outreach to local schools. There is still plenty of work yet to be done. Students continue to analyze the data and upload QA/QC data to the NASA DISCOVER-AQ Data Portal. We are working on no fewer than three manuscripts for publication. The students will never forget their experience. They form a special group that have gone on to graduate school, the workforce, and even the Peace Corps. We meet at conferences were they are presenting their research, often times an extension of the interest engendered during DISCOVER-AQ. Opportunities like this are the hallmark of Millersville meteorology and help to bring national distinction to DES.
---
Contact Us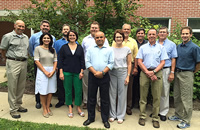 Department of Earth Science
717-871-4359
Millersville, PA 17551-0302