Department of Earth Sciences
Research, Activities, and News
Students Visit Space Weather Prediction Center

The entire class of ESCI 440, Space Weather and Environment, poses with Dr William Murtagh, Director of the Space Weather Prediction Center in Boulder, CO during their attendance at the Space Weather Workshop in April. Dr Murtagh supports student participation at the workshop by offsetting the costs of lodging and subsistence. The Dean of the School of Science and Mathematics and the Department of Earth Sciences helps to defray the cost of air travel. The workshop brings together all the partners and stakeholders that comprise the space weather and heliophysics enterprise to discuss the science, operations and prediction, observational systems, modeling efforts, and educational opportunities.
---
Students Visit NWS and NCEP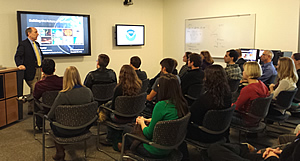 Dr. Louis Uccellini, Director of the National Weather Service, provides an overview of the NWS and NCEP during the annual visit by the students enrolled in our Statistical Meteorology course. In addition, this year seven graduate student in the M.S. In Integrated Scientific Applications went along.
---
Students Return from Texas after Air Quality Project

Thirteen students and Dr. Richard Clark spent September on a spit of land that juts out into Trinity Bay east of Houston, TX studying air pollution in the regional air shed. Houston was the third location where a comprehensive suite of measurements was carried out in conjunction with the NASA project, DISCOVER-AQ; Edgewood, MD in 2011, and Central Valley, CA in January-February 2013 round out the other two. Millersville was one of six organizations conducting atmospheric chemistry research at Smith Point, TX. Other investigators were strategically distributed across the Houston area, including Ellington, TX, the base or the NASA P3B aircraft.
---
Weather Cam
Click here for a larger image of the current weather at Millersville University.
Contact Us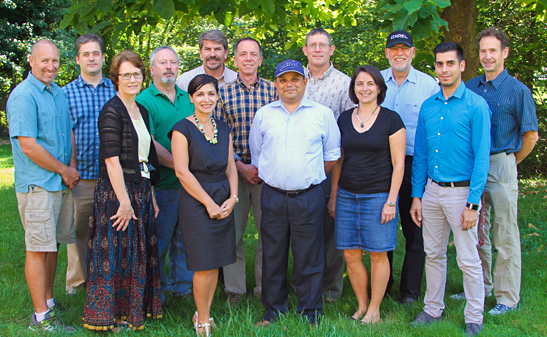 Department of Earth Science
717-872-3289
Millersville, PA 17551-0302