Department of Earth Sciences
Research, Activities, and News
Meteorology Grads Return for Homecoming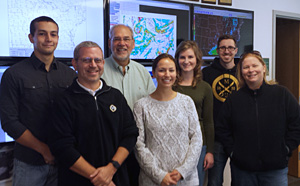 ---
MU Students and Alumni Make Their Mark in Phoenix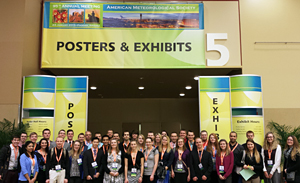 Shown in the photo above are the 40 undergraduate meteorology majors and graduate students in the Integrated Scientific Applications program that attended the 95th Annual Meeting of the American Meteorological Society in Phoenix, AZ in January 2015. This was the largest contingent of Millersville students to ever attend an annual meeting. Seven Posters were presented, which included many student coauthors and internship supervisors. Alumni were in full force at the annual meeting with many giving oral presentations and posters describing their research.
---
It's a Wrap: DISCOVER-AQ Winds Down after Five Years
It's been a great run involving 50 students, over $800,000 is NASA funding, multiple papers published and conference presentations, and unique contributions to our understanding of boundary layer pollution. Over the past five years, Dr. Richard D. Clark and his team of student research assistants investigated sea and bay breezes in Edgewood, MD and Smith Point, TX, particulates in Huron, CA, and most recently, upslope transport in Golden, CO (photo above). It was arduous (52-hour cross-country convoys, prairie rattlesnakes, swarms of mosquitoes and African killer bees) and it was awesome (sunrises and water spouts, the wonderful people and local cuisine of Huron CA, starry nights and a visit to Yosemite). We had over 500 student visitors to our field sites as part of our outreach to local schools. There is still plenty of work yet to be done. Students continue to analyze the data and upload QA/QC data to the NASA DISCOVER-AQ Data Portal. We are working on no fewer than three manuscripts for publication. The students will never forget their experience. They form a special group that have gone on to graduate school, the workforce, and even the Peace Corps. We meet at conferences were they are presenting their research, often times an extension of the interest engendered during DISCOVER-AQ. Opportunities like this are the hallmark of Millersville meteorology and help to bring national distinction to DES.
---
Contact Us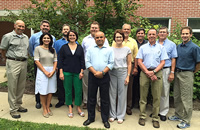 Department of Earth Science
717-871-4359
Millersville, PA 17551-0302