Department of Earth Sciences
Department News
AMS Publishes Space Weather Report by MU Meteorology Student
Meteorology student, Mike Cook, is interning this summer at the University of Colorado through a National Science Foundation Research Experience for Undergraduates program. Mike's Space Weather report (pdf) has just been published by the AMS. In addition, Mike serves as the student representative to the American Meteorological Society Science and Technology Committee on Space Weather.
---
3-2-1 Ignition
MU alums Dr. John Yorks (left), science lead on CATS, and Patrick Selmer, programmer and algorithm developer, pose in front of the ER-2 research aircraft. Dr. John Yorks (2006) and Patrick Selmer (2010), have played a major role in the development of NASA's Cloud-Aerosol Transport System (CATS) instrument and science algorithms. CATS launched on January 10, 2015 from Cape Canaveral, FL on a SPACE-X rocket. CATS is a Lidar (laser) remote-sensing instrument that will measure atmospheric aerosols and clouds from the International Space Station (ISS). The CATS payload will improve our understanding of aerosol and cloud properties and interactions, as well as improve climate change models. CATS is specifically intended to demonstrate a low-cost, streamlined approach to developing ISS science payloads. Read more on CATS >>
---
DES faculty and students participate in WACS II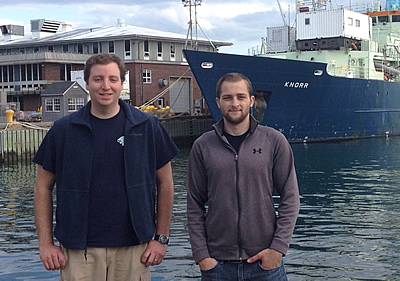 Dr. Robert Vaillancourt, Evan Ntonados (OSCS/MET) and Jeremiah Stone (BIOL/OSCS) participated in a NOAA-sponsored project, the West Atlantic Climate Study (WACS II) aboard the research vessel (RV) Knorr, a 279-foot global class research ship, from May 18 to June 7. The focus of WACS II was to determine the links between surface ocean phytoplankton and the production of freshly-emitted sea-spray aerosols, organic compounds produced by phytoplankton that are then ejected to the lower atmosphere and impact Earth's climate by attenuating incoming solar radiation and providing cloud condensation nucleii. The multi-investigator study site extended from just south of Nova Scotia Canada to the waters around Bermuda, and was headed by NOAA scientist Dr. Patricia Quinn, of the Pacific Marine Environmental Laboratory, Seattle WA. The Millersville University contribution was to measure phytoplankton biomass and species composition in the ocean's upper mixed layer.
---
Meteorology students take part in lake-effect snow study
Fierce wind speed at 50-60 mph, snow accumulation of 5 inches/hr, and a wind chill of ‐40 F, while launching sounding balloons at 3:00am were just a few of the challenges that a group of 22 students from Millersville University had to face during a two-month field project to study lake-effect snow systems in upstate New York. Read more & visit snow flake photo gallery >>
---
Dr. DeCaria Authors Book on Numerical Modeling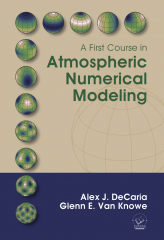 Dr. DeCaria has recently published a book titled A First Course in Atmospheric Numerical Modeling, along with co-author Glenn Van Knowe who was a full-time, temporary faculty member at Millersville during the 2001-2002 academic year. Their book is published by Sundog Publishing, and is based on a course that Dr. DeCaria developed and teaches at Millersville. Learn more >>
---
Events Calendar
There are currently no events.
Weather Cam
Click here for a larger image of the current weather at Millersville University.
Contact Us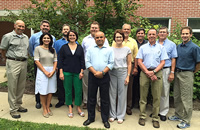 Department of Earth Science
717-871-4359
Millersville, PA 17551-0302