Bachelor of Science in Emergency Management
Bachelor of Science in Emergency Management Curriculum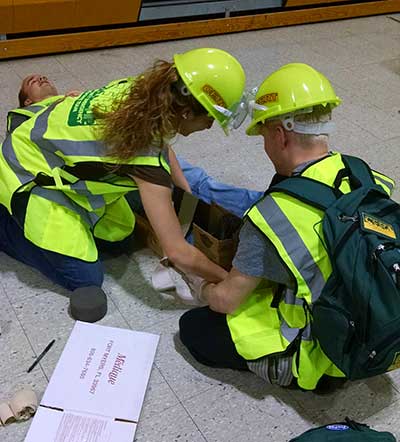 The field of emergency management has shown significant growth and continues to further develop as disasters and major emergencies become more frequent and costly and as response and recovery from these events require collaboration and coordination. This multi-disciplinary concentration of study with a focus on environmental hazards and emergency management will prepare the student to apply the theoretical underpinnings of emergency management to practice, obtain a knowledge of natural hazards from a scientific perspective and the global, national, regional, and local impacts of these events, interpret and analyze appropriate data and information technology related to natural hazards and emergency management, recognize the effective methods for decision making and problem solving related to emergency management, and exhibit competency in assessing risk susceptibility, resilience and vulnerability within a community or organizations. 
This degree prepares the student for in-demand job opportunities with the possibility to work across various sectors. The median pay for jobs in the field according to data pulled in 2019 from the U.S. Bureau of Labor Statistics is approximately $74,000 a year.  Emergency management professionals are employed at each level of government (e.g., local, state, and federal) and within various governmental agencies at each level (e.g., Departments of Emergency Management, Departments of Public Health, Departments of Transportation, Departments of Public Works), non-profit disaster relief organizations, domestic and international nongovernmental organizations, energy sector, private sector emergency management consulting, and information technology among others. 
Program Highlights: 
The program is offered as a regular on campus program as well as a fully online and hybrid program.
Prepares the students for a broad range of career fields in both the public and private sectors ranging from but not limited to jobs in emergency management but across other related fields from business to industry to education and community development. 
Includes an internship/applied experience that focuses on application of the theoretical information covered in courses. 
Courses are taught by faculty that have both the theoretical and applied experiences and have served as practitioners in the field of emergency management. 
Core Courses (21 credits):
EHEM 201: Introduction to Emergency Management (3 credits) 
EHEM 205: Natural Hazards Risk Assessment and Mitigation (3 credits)
EHEM 305: Disaster Management and Community Risk Reduction (3 credits) 
EHEM 309: Disaster Recovery and Response (3 credits) 
EHEM 315: Business Continuity and Continuity of Operations (3 credits)
EHEM 316: Introduction to Terrorism, WMD, and Homeland Security (3 credits)
EHEM 319: Emergency Management Planning (3 credits)  


Required Related (26 credits):
ESCI 101: Earth Systems and Natural Hazards (3 credits) (G2) 
ESCI 104: World Oceans (3 credits) (G2)
OR
ESCI 261: Introduction to Oceanography (3 credits) (G2) 
ESCI 107: The Atmosphere (3 credits) (G2)
OR
ESCI 109: The Atmosphere with Lab (3 credits) (G2, L)
ESCI 120: Environmental Geology (3 credits) (G2) 
ESCI 245: Environmental Meteorology (3 credits) (G2, L, 200-level)   
MATH 160: Precalculus (4 credits) (Math Foundations) 
(MATH 130 can be completed in place of MATH 160 in consultation with academic advisor)
OSEH 120: Fundamentals of Safety, Health, and Environmental Issues (3 credits) (G3)
Choose One of the below (3 credits):
ESCI 281: GIS Applications for Earth Sciences (3 credits)
GEOG 281: Maps and GIS (3 credits) (G3)
GEOG 295: GIS I: Vector Data Analysis (3 credits) (G2)
(Note: GEOG 281 is a pre-req course for GEOG 295)
Electives (Chose two of the below, 6 credits):
COMM 371: Crisis, Emergency & Risk Communication (3 credits) (P) 
OSEH 221: Industrial Fire Prevention, Protection and Control (3 credits)
GEOG 372: Urban and Regional Planning (3 credits)
GOVT 356: Disasters and Our World (3 credits) (P) 
Thesis/Capstone Experience (3 credits):
EHEM 300 or EHEM 498 Internship/Research Project
---
Please contact Dr. Sepi Yalda (sepi.yalda@millersville.edu) for more information and/or questions about the program.
Why study Emergency Management at Millersville?
Watch to find out!