Applied Engineering, Safety & Technology
Girls Careers in Engineering & Technology Seminar
The Girls Careers in Engineering & Technology Seminar was held on Thursday, October 27, from 5:30 – 8:30 pm in Millersville University's Department of Applied Engineering, Safety and Technology. The seminar was available to junior and senior high school girls who expressed an interest in pursuing a technical or engineering-related career.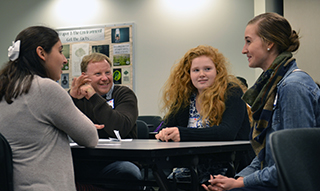 Twenty-eight high school girls attended with their parents and teachers to learn about the kinds of careers that are in high demand in engineering and technical fields, as well as degree programs offered in the Department of Applied Engineering, Safety, and Technology (AEST).  The seminar began with introductions by current AEST students— Abigail Barnhart , Morgan Darrah, Tiffany Edwards, Ashley Latz, Marie Leatherman, Brittany Myer, Amanda Piergallini, and Katie Remely—who shared experiences about their degree programs and career paths.
In addition to information about careers and educational opportunities, the seminar included a panel discussion with AEST graduates who are currently working in technical and engineering fields.  Panelists included:
Jana Bonds, Technology and Engineering Educator, Emory H. Markle Intermediate School

Katherine Miller, Environmental Health & Safety Manager, Armstrong World Industries

Colleen Moore, Product Designer, Brentwood Industries, Inc.

Erin Nuss, Associate Manager of Education, Speciality Graphics and Imaging Association

Heather Scheuring, Project Manager/Controls Engineer, Keystone Engineering Group, Inc.

Lexi Scrivano, Market Coordinator, Benchmark Construction Company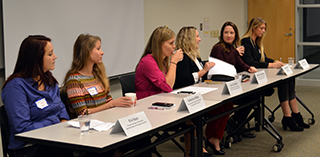 The evening also included dinner, a presentation about AEST degrees programs, and a tour of Osburn Hall. The seminar was developed and led by Dr. Sharon Brusic and Prof. Donna Painter in response to data showing that AEST degree programs have below average female representation. AEST faculty members Louise Manfredi, Amy Fasano, and Julie Keich also contributed to this event.
This seminar was free for participants and their mentors, and was partially funded by the Millersville University President's Commission on the Status of Women. Additional funding was provided by Vilas A. Prabhu, Provost and Vice President for Academic Affairs, and the Department of Applied Engineering, Safety and Technology
AEST Receives Donation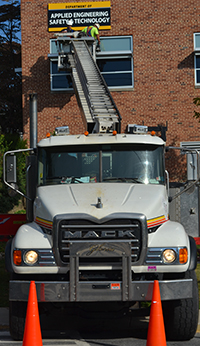 Finding the Department of Applied Engineering, Safety & Technology just got a whole lot easier thanks to the help of Bartush Signs. Two new signs were installed on Osburn Hall that clearly indicate what takes place in the building. "One of my goals as department chair," said Len Litowitz, "was to have some kind of signage installed on the building to let people know who we are and what we do."
The signs were donated by Chris Bartush (92), Kendra Keeport-Bartush (92), and Madelyn Bartush (2018). Chris and Kendra met here at MU while both were students in the AEST department. Kendra is a technology teacher and Chris is part owner of Bartush Signs. Dr. Litowitz commented "I approached Chris about a quote for fabricating exterior signage for Osburn Hall to indicate the name of the department about a year ago, and instead of providing a quote they offered to fabricate and install the signage for free as a donation to their alma-mater!"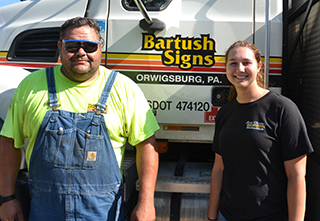 Chris Bartush '92 and Madelyn Bartush '18

PATT Conference

The AEST Department will be hosting a major international research conference this summer in Philadelphia, PA. The PATT Conference, short for Pupil's Attitudes Towards Technology will take place from July 10 - 14, 2017.
Colleagues from all over the world are invited to submit abstracts for presentation at the international PATT sessions in the ITEEA Annual Conference program. Presentations should be research-based and have international relevance. Preferably (but not exclusively) they should relate to the main theme of the ITEEA Annual Conference: Engaging and Empowering Decision Makers Through Integrative STEM Education.
For more information or questions, contact Marc de Vries at m.j.devries@tudelft.nl
Follow this link for conference registration information and costs. http://www.studentservicesinc.com/ticket-sales/patt/

Events Calendar
There are currently no events.
2015 EPT Inductees
2015 Inductees
Frank M. Caccavale
Matthew K. Dietrich
Kaila M. Funk
Steven E. Gillen
Benjamin D. Gochenaur
Jason L. Hess
Patricia E. McEvoy
Julianne M. Metz
Colleen M. Moore
Daniel A. Simms
Shane M. Waters
Nicole M. Whiitaker
AEST Graduates are...
With an AEST degree, you could have an exciting career as a...
STEM Educator
Control System Specialist
Industrial Trainer
Product Designer
CADD Draftsman/Estimator
Senior Quality Analyst
Product Design Engineer
CNC Programmer
Validation Specialist
Graphic Layout Designer
Account Representative
Industrial Control Designer
Technology & Engineering Teacher
Graphic Services Coordinator
Safety Inspector
Fire Safety Coordinator
Corporate Safety Officer
Innovations Manager
Process Flow Engineer
Design Engineer
Manufacturing Engineer
Industrial Hygienist
...and much, much more!
Accreditations

The Occupational Safety & Environmental Health degree is ABET accredited.

The Applied Engineering & Technology Management degrees are ATMAE accredited.


The Technology Education program is nationally recognized by ITEEA.