Maintenance
Power Outage
Power is coming back to much of campus, however, the Internet and Outlook servers are still out in parts of campus.  Classes are being held at professor's discretion.    PPL and Millersville University are working on the problem.
Department of Early, Middle, and Exceptional Education
Welcome
We welcome you as participants in our new Early Childhood, Middle Level, and Dual Early Childhood and Special Education programs. Many rewarding experiences and challenges await you. We are looking forward to working with you to make this a successful and memorable learning endeavor. 
Resources
Susan A. Walker Children's Literature Center
Conveniently located in Stayer Hall, the Susan A. Walker Children's Literature Center houses a collection of over 10,000 children's books available for students to borrow on a short-term basis. These books include picture books and novels of a wide variety of genres.
Digital Learning Studio
The Digital Learning Studio, located in Stayer Hall Room 210, offers technology support for faculty and students. There is a variety of technology available for use, such as audio recorders, video cameras, and digital cameras. The Digital Learning Studio is open for advice, technology help, and resources for projects.
Curriculum Resources
Located on the 3rd floor of the recently renovated McNairy Library is a collection of curriculum resources for all students. These current and frequently updated resources include teacher manuals, student resource books, learning center kits, and collections of leveled readers.
Program Highlights and Quick Facts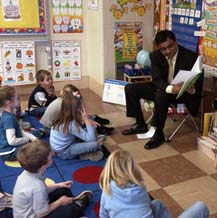 Early Childhood Education Program
Prekindergarten to Grade 4 Certification
Middle Level Education Program
4 Content Areas (Social Studies, Science, Math, and Language Arts)
Grade 4 through Grade 8 Certification
Early Childhood and Special Education Dual Certification Program
Dual Certification in Prekindergarten to Grade 4 Early Childhood and Prekindergarten to Grade 8 Special Education