Sociology/Anthropology Home
Sociology/Anthropology Home
Craft Of Sociology
As part of Dr. Schmitt's Craft of Sociology course she invites alumnae to return to MU to speak about how they use sociology in their current profession.  Featured here is Amy Bitner a 2001 MU graduate who is currently working at the Lancaster Youth Intervention Center, is a sociology professor at York College, and will be starting a PhD program in Administration and Leadership Studies soon. The interaction and networking between our current and former students is invaluable.
Dr. Glazier On Air
 

Smart Talk: Help for Children with a Parents in Prison
Smart Talk is a daily, live, interactive program featuring conversations with newsmakers and experts in a variety of fields and exploring a wide range of issues and ideas, including the economy, politics, health care, education, culture, and the environment.
Listen to the program here.
Sociology/Criminology
Two December 2014 graduates, Amy Rivera and Chris Mahrer, received Senior Sociology/Criminology Awards of Excellence. They were recognized for their outstanding academic performance as well as for serving as departmental tutors and conducting community-based research projects.
Degree Offerings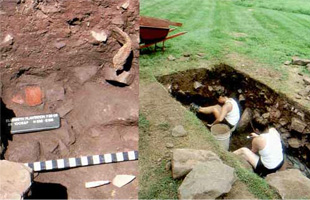 The department offers Bachelor of Arts degrees in Sociology and Anthropology. Majors who wish to concentrate in a sub-specialty can earn an option in either Archaeology for Anthropology majors or Criminology for Sociology majors. We also offer minors in Sociology, Anthropology, and Criminology. Many of the faculty members teach for the Women and Gender Studies, African American Studies, and Latino/a Studies programs.
4 Year Academic Plans
Contact Information
Barbara Dills
Department Secretary
Location
Mccomsey
Telephone & Fax
Tel: 717-871-7477
Fax: 717-871-7942
Email
Barbara.Dills@millersville.edu
Mailing Address
Sociology/Anthropology Dept.
Millersville University
P. O. Box 1002
Millersville, PA 17551-0302
  Like and Follow us on facebook
@ Sociology at MU

or follow this link to our page