Department of Earth Sciences
Department News
Meteorology students take part in lake-effect snow study
Fierce wind speed at 50-60 mph, snow accumulation of 5 inches/hr, and a wind chill of ‐40 F, while launching sounding balloons at 3:00am were just a few of the challenges that a group of 22 students from Millersville University had to face during a two-month field project to study lake-effect snow systems in upstate New York. Read more & visit snow flake photo gallery >>
---
Dr. DeCaria Authors Book on Numerical Modeling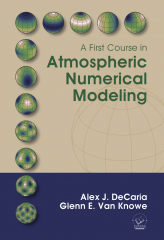 Dr. DeCaria has recently published a book titled A First Course in Atmospheric Numerical Modeling, along with co-author Glenn Van Knowe who was a full-time, temporary faculty member at Millersville during the 2001-2002 academic year. Their book is published by Sundog Publishing, and is based on a course that Dr. DeCaria developed and teaches at Millersville. Learn more >>
---
Millersville University Becomes UCAR full member
In 1991, the University Corporation for Atmospheric Research (UCAR) created the Academic Affiliates Program (AAP) to provide a mechanism for participation for non-Ph.D. granting institutions offering programs in atmospheric and related science. Millersville University was a founding member of the AAP and has remained an active member in good standing for the past 22 years, with our faculty serving in leadership positions in the organization as members and chairs of governing committees, including as member of the UCAR Board of Trustees. Our level of involvement in UCAR has been at a level equal to that or exceeding many of the most active Ph.D. granting institutions. Yet, the AAP institutions had no voting power within UCAR and our presence was not necessary for a quorum. All this changed on 9 OCT 2013 when, as part of an ongoing effort by many within the organization, full members and AAP members alike, passed by two-thirds majority a change in the bylaws in favor of a unified membership. As regular members, the former AAP institutions will now enjoy all the rights and privileges of the Ph.D. granting members, most notably the right to a vote, but more importantly, the deserved recognition that we are equal partners in the UCAR community.
---
Ocean Science Club students is helping in the cleanup of the beaches and planting trees near the MSC.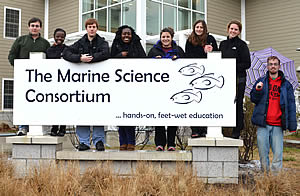 ---
Events Calendar
05-10-2014

Spring Commencement
Weather Cam
Click here for a larger image of the current weather at Millersville University.
Science News
Contact Us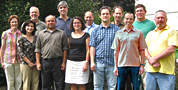 Department of Earth Science
717-872-3289
Millersville, PA 17551-0302