Sociology/Anthropology Home
Sociology/Anthropology Home
Sociology/Anthropology
Sociology professors Lawrence Rosenberg and Aaron Porter sponsored Millersville University student paper presentations at the 2013 Pennsylvania Criminal Justice Educators Conference. Nicole McBride-Bey, Jeanann Massa, Emily Eyre, James Glazier and Andrew Ortiz presented research papers based on work originally prepared for Senior Seminar: Urban Ethnography.
For more photos of Sociology, Anthropology, and Archaeology students and professors, click here.
Degree Offerings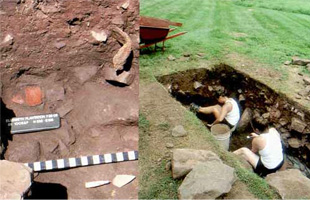 The department offers Bachelor of Arts degrees in Sociology and Anthropology. Majors who wish to concentrate in a sub-specialty can earn an option in either Archaeology for Anthropology majors or Criminology for Sociology majors. We also offer minors in Sociology, Anthropology, and Criminology. Many of the faculty members teach for the Women and Gender Studies, African American Studies, and Latino/a Studies programs.
Contact Information
Barbara Dills
Department Secretary
Location
Susquehanna House
Telephone & Fax
Tel: 717-872-3544
Fax: 717-872-3942
Email
Barbara.Dills@millersville.edu
Mailing Address
Sociology/Anthropology Dept.
Millersville University
P. O. Box 1002
Millersville, PA 17551-0302
  Like and Follow us on facebook
@ Sociology at MU

or follow this link to our page