The Millersville Parade
October 22, 2022 @ 8:30 A.M. | Animal Kingdom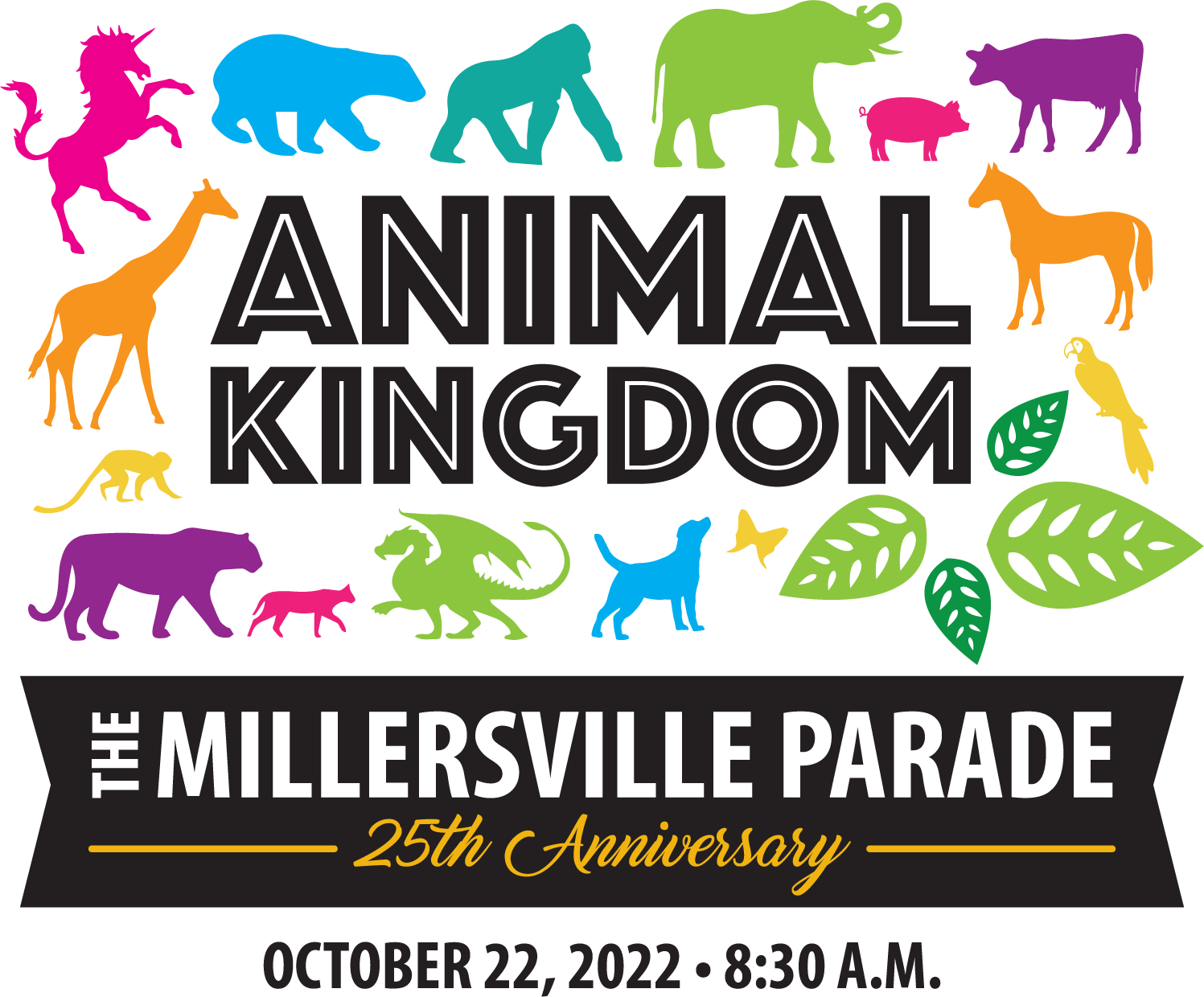 The Millersville Parade was started in 1997 by a group of volunteers dedicated to improving relationships between the Borough of Millersville, Millersville University, Manor Township and surrounding communities. Since then, the Millersville Parade has quickly evolved into one of Lancaster County's largest and most dynamic parades.
Parade entries range from Philadelphia Mummers in "full-plume" to handmade floats by area children's groups. The Parade Committee works hard to bring high quality bands to the parade each year from as far away as Baltimore and New York City. With antique cars, music, dancing, animals, floats and clowns, to name just a few of the many things entered each year, the Millersville Parade has something for every family to enjoy.
Interested in joining this year's parade? Review the links below.
---
Parade Entries (Final list)

Parade lineup information will be distributed to all entries by email no later than October 10th. Email packets will include parade lineup placement, parade regulations, shutttle and parking information, parade maps, etc.

As of our deadline on 9/23/2022, the following entries have been received and processed for inclusion in the parade:

1969 Antique Cadillac (Jeff Kirchner)
96.1 SOX Radio Station
Acorn Acres Wildlife Rehabilitation 
AH'mour Dance Academy
Alpha Xi Delta 
American Cancer Society 
American Red Cross of Central PA 
Antique Fire Engine - Len Litowitz
APSCUF MU
Blaze and Tessa
Building Bridges Foundation
Camp Cadet of PA State Police 
Central PA Jedi-Sith Alliance
Central York Middle School Fife and Drum 
Ceol Neamh Pipe Band 
Charles F Snyder Funeral Home 
Color of Teaching Mentoring Program "Wild about Teaching"
Conestoga Fire Department - 1 vehicle 
Conestoga River Girl Scouts on Safari
Conestoga Valley HS Marching Band
Dallastown HS Marching Band 
Delaware Military Academy Band 
Dixieland Express
Drummers with Attitude
Dutchland Derby Rollers 
Eshleman Elementary School 
Garrison Carida
Getz Steam Calliope
Ghost Base Rebel Legion
Girl Scouts in the Heart of PA 
Gospel Light Baptist Church 
GR Mitchell
Gregory Frey Memorial Coat Drive
Hanover Lancers 
JDog Junk Removal and Hauling
John Herr's Village Market Shopper Chopper
Keenen Contracting LLC
Kracker Beez 
Lancaster City Mounted Police
Lancaster County CB Radio Club 
Lancaster Twp Fire Department - 3 vehicles
League of Women Voters of Lancaster County
Libertarian Party of Lancaster County
Manor Township Police - Motorcycle Unit 
March Masters Band 
Marine Corps Reserve - Toys for Tots 
Members 1st Federal Credit Union 
Middle Creek Search and Rescue
Middletown Area HS Marching Band 
Military Officers Association of America  - Lancaster Chapter
Millersville Lions Club 
Millersville Univeristy Honors College
Millersville Univeristy President Wubah
Millersville University Alumni Association
Millersville University Cheerleading 
Millersville University Club Baseball
Millersville University Equestrian Club 
Millersville University Geography Club 
Millersville University International Programs and Services 
Millersville University Marching Band 
Millersville University Ocean Science Club 
Millersville University Women's Volleyball Club 
Millersville VFW and Auxillary Post 7294 
Millersville Women's Club
Miss Agriculture USA
Miss Berks County
Miss Mountain Laurel 2022
Mister Sparky LLC 
MJ's Starlights Baton and Dance Studio
Mount Joy Township Forest Fire Crew
MU - Asian Student Inclusivity Association
MU - Her Campus Millersville
MU - Slip and Score Society
MU American Meterological Society Chapter
MU American Society of Safety Professionals Student Chapter
MU Chromatic Acapella Group 
MU Dance Team 
MU First Gems of the Ville 
MU Gender and Sexuality Alliance 
MU Global Marauders Club
MU Her Campus Millersville
MU Homecoming Court & Mascot Team
MU Society of Manufacturing Engineers 
MU Student Sustainability Club 
National Association for Music Education
New Danville Fire Company
Octorara HS Marching Band
Oley Valley HS Marching Band 
Paloma Booster Club
Paws on Deck
Penn Manor Democrats
Penn Manor Girls Wrestling 
Penn Manor HS Marching Band 
Penn Manor Jr Comets
Penn Manor Youth Boys Lacrosse Club
Penn Manor/Marticville Middle School Aevidum Club 
Pennsylvania Wilderness Search and Rescue 
Perryville HS Marching Band 
Private Owned Tractors
Red Rose Blue Star Mothers
Republican Committee of Lancaster County 
Run Valley Express
Shine in the Appalachians
Social Justice Beyond Borders 
Studio12 Dance and Baton
Summit Hill Band 
The Snapper
United States Coast Guard Auxillary
Vietnam Veterans of America Chapter 1008
WGAL -TV 
Willow Street Fire Co - 3 vehicles
WIXQ 91.7FM
Woerth It Hollow
Xpogo
Yarn Friends/Therapeutic Peace 

 

Parade Committee Members

Jackie Aliotta

Carla Brodbeck

Rebecca Buchanan

Victor DeSantis

Steven DiGuiseppe

Phil Gerber

Phyllis Giberson

Kitty Glass

Fay Kramer

Phil Loht

Cynthia Darin

Nick Paulukow

Mark Phillips

Jim Pontz

Victor Ramos

Donna Ressler

Nathan Sterry

Madison Whitcomb

Bev Zbiek-Beam