Corporate University
The Corporate University...
Supports your business plan and strategic objectives
Supports your goals as a learning organization
Complements or supplements your in-house training resources
Provides a return on investment results
Programs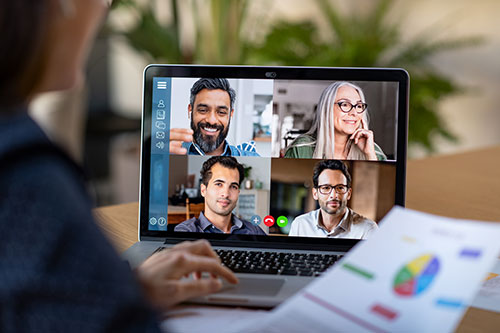 NEW PROGRAM! BECOMING A GREAT VIRTUAL TEAM PLAYER
Online Assessment and Training for Team Members Working from Remote Locations
Based on Patrick Lencioni's The Five Behaviors of a Cohesive Team® model, Millersville University is pleased to offer a new online training program: "Becoming a Great Virtual Team Player" designed for individuals and organizations whose team members are working from home… or from anywhere. Learn More 
FREE OSHA Pandemic Safety Training for Managers & Employees
Millersville University is pleased to offer FREE OSHA Pandemic Safety training workshops via Zoom on Friday, May 14, 2021. This program consists of various workshops and supporting components related to COVID-19 prevention and communicable diseases in general. These modules are intended to address employee level training for those that are responsible to help prevent disease transmission by their own actions and by implementation of engineering, administrative, public and personal protective equipment, and social change, respectively. The modules include PowerPoint presentations and employee training guides to help facilitate the learning process.

Please click here to register for the Employees Training.

Please click here to register for the Managers Training.

This material was produced under grant number SH 99049-SH0 from the Occupational Safety and Health Administration, U.S. Department of Labor. It does not necessarily reflect the views or policies of the U.S. Department of Labor, nor does mention of trade names, commercial products, or organizations imply endorsement by the U.S. Government.
Corporate University Training Needs Assessment – This free data analysis tool is available to nonprofit and for-profit organizations to help guide your decisions on training and professional development opportunities.
Contact Hope Schmids at Hope.Schmids@millersville.edu or 717-871-7642. 
OSHA HOST TRAINING ORGANIZATION
Millersville University's Corporate University is pleased to partner with Mid Atlantic OSHA Training Institute Education Center (MAOTIEC) to offer the following OSHA Courses at The Ware Center (42 N. Prince Street, Lancaster, PA 17603) and on-campus at Millersville University (1 S. George Street, Millersville, PA 17551):
| | | | |
| --- | --- | --- | --- |
| Course | Dates | Location | Fee |
| OSHA 503 - Update for General Industry Outreach Trainers | May 3 - 5, 2021 | The Ware Center | $795 |
| OSHA 502 - Update for Construction Industry Outreach Trainers | May 17 - 19, 2021 | The Ware Center | $795 |
| OSHA 500 - Trainer Course in Occupational Safety & Health for Construction | June 7 - 10, 2021 | The Ware Center | $845 |
| OSHA 3095 - Electrical Standards | July 12 - 15, 2021 | The Ware Center | $845 |
| OSHA 511 - Occupational Safety & Health Standards for General Industry | August 23 - 26, 2021 | The Ware Center | $845 |
| OSHA 501 - Trainer Course in Occupational Safety & Health for General Industry | September 13 - 16, 2021 | The Ware Center | $845 |
| OSHA 510 - Occupational Safety & Health Standards for Construction | October 4 - 7, 2021 | The Ware Center | $845 |
| OSHA 503 - Update for General Industry Outreach Trainers | October 11 - 13, 2021 | The Ware Center  | $795 |
| OSHA 500 - Trainer Course in Occupational Safety & Health for Construction | November 1 - 4, 2021 | The Ware Center | $845 |
| OSHA 502 - Update for Construction Industry Outreach Trainers | November 8 - 10, 2021 | The Ware Center | $795 |
| OSHA 521 - OSHA Guide to Industrial Hygiene | December 6 - 9, 2021 | The Ware Center | $845 |
RESOURCES
M.U. Resources for Business/Industry
Other Resources for Business/Industry