Applied Engineering, Safety & Technology
Robotics Team - National Champions!
The puzzle pieces fell together and Millersville University's (MU) Technology, Management and Applied Engineering Student Chapter (Robotics Team) won the national championship at the Associations of Technology, Management and Applied Engineering's (ATMAE) Robotics Competition.
The competition was held in Pittsburgh, Pa. from Nov. 11-14 and a team of 12 MU students created MAVIS3D (The Millersville Autonomous Vision Inductive Sorter with 3D Printed Technology) participated with their robot and captured numerous awards.
MAVIS3D was built on a piece of recycled aluminum and the team used 3D printing technology to create the plastic components of the robot. They began the construction of the robot in spring 2015. The robot competed in two performance-based events, an obstacle course and a relay race.
For the obstacle course, MAVIS3D went over two obstacles manually including a burlap bridge and teeter-totter, before using sensors along silver tape and collecting blocks into a carousel. After collecting the blocks, the robot sorted them to spell "ATMAE," which helped the team collect another award.
In the relay race, the challenge for MAVIS3D was to collect pieces of a logo puzzle and place them in an area marked for assembly. From there, the student team assembled the puzzle by hand. MAVIS3D led the team to win first place in the event.
"It is a great honor. It is a national recognition of our applied engineering, safety, and technology department and Millersville University, but more importantly, it is a recognition of our students and their ability to complete the project successfully," stated Dr. Mehmet Goksu, the lead advisor of the Robotics Team and associate professor of physics. "I really enjoyed working with the team on this project and I have learned a lot from them. I am so proud of our achievement."
The team won the following awards:
1st place overall
1st place performance (Relay Race)
1st place fan vote
1st place fabrication and innovation
1st place poster
1st place team presentation and technical report
2nd place performance (Obstacle Course)
2nd place in electronics / control methodology
In addition, Cody Martin, a sophomore majoring in applied engineering and technology management, won fourth place in the Haig Vahradian Technology Challenge quiz bowl. The quiz bowl is named in memory of the late Dr. Vahradian, who was a professor of industry and technology at MU. Drs. John Wright, Mark Snyder and Louise Manfredi from applied engineering, safety and technology department served as co-advisor of the team.
The MU Robotics Team has now won more than 35 awards in national and international robotics competition. This is the third time the team has won the ATMAE Robotics Cup, since its inception in 2002.
New Degree Launched: Automation & Intelligent Robotics Engineering Technology
The Board of Governors approved the Millersville University bachelor of science in automation and intelligent robotics engineering technology (AIRET) degree program on Oct. 8, 2015.  The study of robotics involves the design, modeling, optimization, documentation and automation of advanced control problems. The curriculum of the new robotics program includes in-depth technical content of electronics, control systems, mechanical systems and computer programming and applications to prepare professionals equipped to design, improve, maintain and manage robotic and automated process and control systems.
Combining coursework from the applied engineering, safety and technology and computer science departments, the robotics engineering technology program is designed to produce graduates with the ability to work with multiple types of technology to design and implement projects that have advanced programming needs. "This new Automation & Intelligent Robotics Engineering Technology Bachelor of Science degree will help companies in the region and beyond remain competitive in today's global market," said Dr. John Wright, AIRET program coordinator.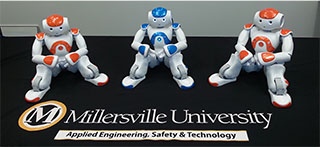 Millersville Offers STEM Endorsement
The Pennsylvania Department of Education approved Millersville University's application for the undergraduate integrative STEM education (iSTEM) endorsement for early childhood education majors. This is the first undergraduate iSTEM education endorsement program in Pennsylvania. AEST faculty members collaborated with faculty in elementary, middle & exceptional education (EMEE) to apply for this new endorsement. Early childhood education majors can take four courses – some which will be taught by AEST faculty – and apply for the iSTEM endorsement on their teaching certificate. The courses include ERCH 190 Introduction to Integrative STEM Education Pedagogy, EDTE/ERCH 290 Children's Engineering, EDTE 490 Integrative Learning Using Experiential Strategies, and EDTE/ERCH 495 Integrative STEM Education Practicum. Courses begin Summer 1 2015. For more information, contact Sharon Brusic at Sharon.Brusic@millersville.edu or 717-871-5548.
You can read more about it at Lancaster Online.
Events Calendar
There are currently no events.
2015 EPT Inductees
2015 Inductees
Frank M. Caccavale
Matthew K. Dietrich
Kaila M. Funk
Steven E. Gillen
Benjamin D. Gochenaur
Jason L. Hess
Patricia E. McEvoy
Julianne M. Metz
Colleen M. Moore
Daniel A. Simms
Shane M. Waters
Nicole M. Whiitaker
Prospective Students

We want to make sure you have all of the information that you'll need to make a good decision about the programs offered in our department. Please select the link above to visit our Information Request page. We'll work hard to answer your questions!
AEST Graduates are...
With an AEST degree, you could have an exciting career as a...
STEM Educator
Control System Specialist
Industrial Trainer
Product Designer
CADD Draftsman/Estimator
Senior Quality Analyst
Product Design Engineer
CNC Programmer
Validation Specialist
Graphic Layout Designer
Account Representative
Industrial Control Designer
Technology & Engineering Teacher
Graphic Services Coordinator
Safety Inspector
Fire Safety Coordinator
Corporate Safety Officer
Innovations Manager
Process Flow Engineer
Design Engineer
Manufacturing Engineer
Industrial Hygienist
...and much, much more!
Accreditations

The Occupational Safety & Environmental Health degree is ABET accredited.

The Applied Engineering & Technology Management degrees are ATMAE accredited.

The Technology Education program is nationally recognized by ITEEA.