Applied Engineering, Safety & Technology
AEST Receives Donation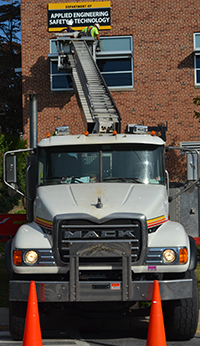 Finding the Department of Applied Engineering, Safety & Technology just got a whole lot easier thanks to the help of Bartush Signs. Two new signs were installed on Osburn Hall that clearly indicate what takes place in the building. "One of my goals as department chair," said Len Litowitz, "was to have some kind of signage installed on the building to let people know who we are and what we do."
The signs were donated by Chris Bartush (92), Kendra Keeport-Bartush (92), and Madelyn Bartush (2018). Chris and Kendra met here at MU while both were students in the AEST department. Kendra is a technology teacher and Chris is part owner of Bartush Signs. Dr. Litowitz commented "I approached Chris about a quote for fabricating exterior signage for Osburn Hall to indicate the name of the department about a year ago, and instead of providing a quote they offered to fabricate and install the signage for free as a donation to their alma-mater!"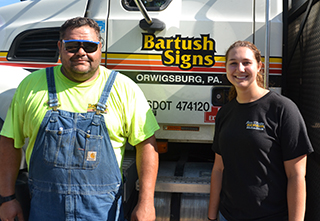 Chris Bartush '92 and Madelyn Bartush '18

Welcome Dr. Alex Johnson
Dr. Alex Johnson joined Millersville university as an Assistant Professor of Manufacturing Technology in the  Department of Applied Engineering, Safety & Technology in the fall 2016. Prior to joining Millersville, he served as an assistant professor at the University of North Dakota where he received his Ph.D. and taught various courses in the area of materials & processes, manufacturing and other technical subjects. Dr. Johnson brings extensive industrial consulting experience to MU and has been active with the ATMAE professional organization.
Please welcome Dr. Johnson to the Department.
PATT Conference

The AEST Department will be hosting a major international research conference this summer in Philadelphia, PA. The PATT Conference, short for Pupil's Attitudes Towards Technology will take place from July 10 - 14, 2017.
Colleagues from all over the world are invited to submit abstracts for presentation at the international PATT sessions in the ITEEA Annual Conference program. Presentations should be research-based and have international relevance. Preferably (but not exclusively) they should relate to the main theme of the ITEEA Annual Conference: Engaging and Empowering Decision Makers Through Integrative STEM Education.
For more information or questions, contact Marc de Vries at m.j.devries@tudelft.nl
Follow this link for conference registration information and costs. http://www.studentservicesinc.com/ticket-sales/patt/

Take Me Out to the Ballgame!
For the second year in a row the graduate students in the Technology & Innovation program and their family and friends went to see the Lancaster Barnstormers in their second home game of the season.  This year's outing went to see the Barnstormers play the Somerset Patriots at Clipper Magazine Stadium.  Twenty-six students and faculty were in attendance.  Three of the people with the group were from countries where baseball is not so common.  Two of them, Dr. Manfredi and graduate student Josephin Vincent, were more familiar with cricket but they learned fast and started to pick up the nuances of the game.  Sometime around the fifth inning the Technology & Innovation program was called out and welcomed to the game through the stadium's announcement system and up on the large score board in the outfield.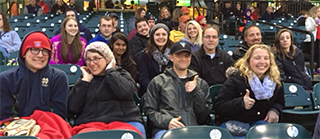 Two years in a row? Have we started a tradition?
Events Calendar
10-27-2016

Girls Career Choices in Engineering & Technology A seminar at Millersville University. Thursday, October 27, 2016, from 5:30 - 8:30pm
2015 EPT Inductees
2015 Inductees
Frank M. Caccavale
Matthew K. Dietrich
Kaila M. Funk
Steven E. Gillen
Benjamin D. Gochenaur
Jason L. Hess
Patricia E. McEvoy
Julianne M. Metz
Colleen M. Moore
Daniel A. Simms
Shane M. Waters
Nicole M. Whiitaker
AEST Graduates are...
With an AEST degree, you could have an exciting career as a...
STEM Educator
Control System Specialist
Industrial Trainer
Product Designer
CADD Draftsman/Estimator
Senior Quality Analyst
Product Design Engineer
CNC Programmer
Validation Specialist
Graphic Layout Designer
Account Representative
Industrial Control Designer
Technology & Engineering Teacher
Graphic Services Coordinator
Safety Inspector
Fire Safety Coordinator
Corporate Safety Officer
Innovations Manager
Process Flow Engineer
Design Engineer
Manufacturing Engineer
Industrial Hygienist
...and much, much more!
Accreditations

The Occupational Safety & Environmental Health degree is ABET accredited.

The Applied Engineering & Technology Management degrees are ATMAE accredited.

The Technology Education program is nationally recognized by ITEEA.