Applied Engineering, Safety & Technology
2017 Awards at ITEEA
Students from both the graduate and undergraduate programs in the department were recipients of significant awards at the 2017 International Technology and Engineering Educators Association (ITEEA) Conference in Dallas, Texas.  At the FTEE Spirit of Excellence Breakfast the annual Donald Maley outstanding student awards were given to both undergraduate and graduate students.  The awards, given in honor of Dr. Donald Maley of the University of Maryland, is presented to students who represent the spirit of excellence exemplified by Dr. Maley throughout his long and influential career in technology and engineering teacher education.  Millersville University's recipients were Shane Waters at the undergraduate level and Erica Roth at the graduate level.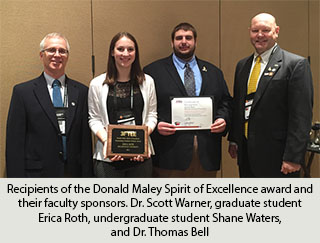 Epsilon Pi Tau, the international honor society for professionals in technology held its annual international breakfast at the conference.  At the breakfast EPT gives out its annual William E. Warner Awards for such things as undergraduate research, graduate research, essays, and chapter accomplishments.  The award is named after the founder of the organization.  This year Molly Miller won the Graduate Student Research Award for Region 1.  Molly's thesis, entitled The Impacts of Elementary STEM Curriculum on State Standardized Testing Performance: A Case Study, was the research for which she was awarded.  Molly, who is a technology and engineering education teacher in the Penn Manor School District, was unable to attend the conference.  Her thesis committee chairperson Dr. Scott Warner presented her with the award back at Millersville.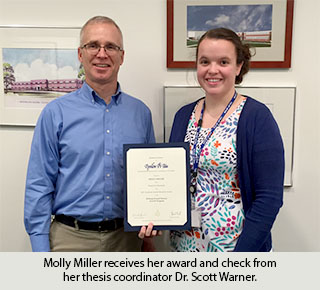 Airline Hydraulics Makes Donation to AEST
Airline Hydraulics, distributor of hydraulics, pneumatics, fluid connectors, and electrical/automation controls recently donated all new air regulators, fittings, and hose to the Automation/Robotics Laboratory in Osburn Hall. The components were needed to provide individually regulated air to each of the 12 new robots now located in Osburn.
The AEST Department is grateful for the support of Mr. Mark Steffens, General Manager Automation and Safety Divisions, at Airline for making the donation. Dave Smith, Automation Sales Engineer, delivered the components personally to the AEST Department. Dr. John Wright, Professor & ARET Program Coordinator pursued and received the donation for the Department.
 "Our students appreciate the support of Airline Hydraulics and I certainly hope they will give the folks at Airline a call when they are employed in the field as automation/controls and manufacturing engineers when they require assistance" says Wright.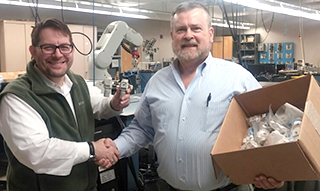 AEST Receives Donation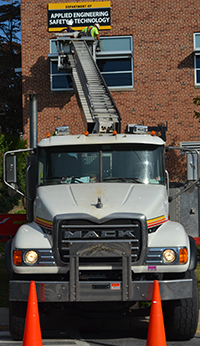 Finding the Department of Applied Engineering, Safety & Technology just got a whole lot easier thanks to the help of Bartush Signs. Two new signs were installed on Osburn Hall that clearly indicate what takes place in the building. "One of my goals as department chair," said Len Litowitz, "was to have some kind of signage installed on the building to let people know who we are and what we do."
The signs were donated by Chris Bartush (92), Kendra Keeport-Bartush (92), and Madelyn Bartush (2018). Chris and Kendra met here at MU while both were students in the AEST department. Kendra is a technology teacher and Chris is part owner of Bartush Signs. Dr. Litowitz commented "I approached Chris about a quote for fabricating exterior signage for Osburn Hall to indicate the name of the department about a year ago, and instead of providing a quote they offered to fabricate and install the signage for free as a donation to their alma-mater!"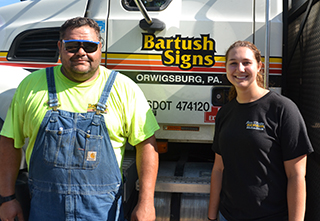 Chris Bartush '92 and Madelyn Bartush '18

Events Calendar
There are currently no events.
2016 EPT Inductees
2016 Inductees
Ricky L. Asplen
Daniel M. Close
Lauren M. Coker
Justin C. Egresitz
Tyler J. Gross
Savannah H. Hall
Marie H. Leatherman
Robert R. Nace
Daniel M. Zickler
John W. Zug
AEST Graduates are...
With an AEST degree, you could have an exciting career as a...
STEM Educator
Control System Specialist
Industrial Trainer
Product Designer
CADD Draftsman/Estimator
Senior Quality Analyst
Product Design Engineer
CNC Programmer
Validation Specialist
Graphic Layout Designer
Account Representative
Industrial Control Designer
Technology & Engineering Teacher
Graphic Services Coordinator
Safety Inspector
Fire Safety Coordinator
Corporate Safety Officer
Innovations Manager
Process Flow Engineer
Design Engineer
Manufacturing Engineer
Industrial Hygienist
...and much, much more!
Accreditations

The Occupational Safety & Environmental Health degree is ABET accredited.

The Applied Engineering & Technology Management degrees are ATMAE accredited.

The Technology Education program is nationally recognized by ITEEA.