Applied Engineering, Safety & Technology
2017 TEEAP Awards
The 65th Annual TEEAP Conference took place on October 27-28, 2017 in Lancaster, PA. This year's SEAM Conference theme was "Change Again: ESSA and Career Readiness."
TEEAP recognizes individuals for their contributions to the profession, organization, and for their potential for future excellence.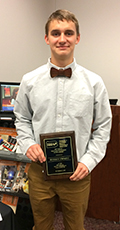 Jeffrey Swartz is a freshman Technology & Engineering Education major at Millersville University was awarded the William J. Wilkinson Scholarship. The scholarship is awarded to an outstanding high school graduate who has enrolled in an undergraduate Technology & Engineering Education program. The applicant submits a resume of noteworthy achievements, proof of academic excellence, and recommendations from three individuals.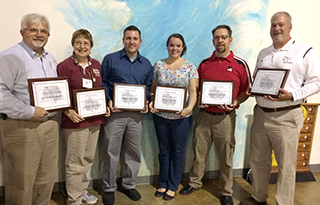 In-service TEEAP members also garnered some recognition:
• Jeff Seamans, Lifetime Achievement Award
• Joanne Trombley, Ambassador Award
• Phil Grigonis, Innovative Educator Award
• Molly Miller, Emerging Leader Award
• William Turner, Cooperating Teacher Award
• Chris Sauer, Cooperating Teacher Award
Read morning about the TEEAP STEM Conference 2017 on their Web site: www.teeap.org
EPT Inducts 27, Award 4 Laureate Citations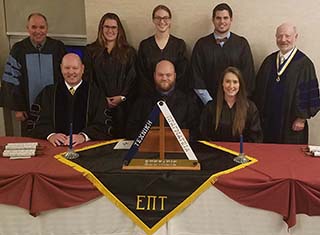 Epsilon Pi Tau (EPT) inducted 27 Applied Engineering, Safety and Technology students this semester. Those honored are Abigail E. Barnhart, Matthew M. Blackmon. Nicholas A. Bozzelli, Samuel Brennan, Weston B. Chambers. Michael C. Clappison, Joshua L. Handshaw, Rebecca L. Howell, Adam C. Kennedy, Quentin D. Kilgore, Cole Lefever, Betty-Jo Legutko, Cody A. Leisey, Ashley N. Lucabaugh, Patrick McCarty, Nicole L. McNerney, Andrew J. Miller, Brittany M. Myers, Kaitlyn N. Remely, Jacob B. Robison, Andrew M. Sellers, Abigail B. Sweeney, Daniel M. Vazquez, David R. Wacker, Michael P. Wiles, Lauren C. Woods, and Joseph R. Wright. Four Laureate Citations were also presented to Thomas J. Bechtold, Scott F. Farmer, Robert S. Swisher, Jr., and Daniel P. Quinn.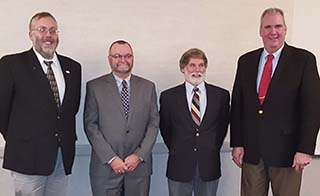 EPT is the Leading International Honor Society for Technology. Epsilon Pi Tau recognizes academic excellence of students in fields devoted to the study of technology and the preparation of practitioners for the technology professions. Epsilon Pi Tau also extends the honor of membership and advancement activities to outstanding practitioners in the technology professions, scholars with exemplary research interests in technology in society and/or persons who have significantly supported or advanced technology professions. All prospective members from these groups must meet Epsilon Pi Tau professional and leadership performance criteria.
AEST Welcome Dr. Betty-Jo Legutko
Dr. Betty-Jo Legutko joined the AEST faculty for Fall 2017. Her primary teaching responsibility will be in the Occupational Safety & Environmental Health program. 
Dr. Legutko earned a Ph.D. in Leadership in December 2016 from Alvernia University in Reading, Pennsylvania where she was awarded the "Ph.D. in Leadership Award" in April 2017.  She earned a master of business administration and a bachelor of science in environmental engineering technology from Penn State University and a post-baccalaureate certificate in medical studies from Drexel University.  Dr. Legutko has over 15 years of industry experience in environmental, health, and safety engineering and management positions at Johnson & Johnson, Cargill, Fairchild Semiconductor, and World Resources Company.  She also taught business, leadership, and math courses as an adjunct faculty member at Lycoming College, McCann School of Business and Technology, and Alvernia University.  Her research interests include ISO 45001/OHSAS 18001 and ISO 14001 management systems, construction safety, and leadership styles.
Airline Hydraulics Makes Donation to AEST
Airline Hydraulics, distributor of hydraulics, pneumatics, fluid connectors, and electrical/automation controls recently donated all new air regulators, fittings, and hose to the Automation/Robotics Laboratory in Osburn Hall. The components were needed to provide individually regulated air to each of the 12 new robots now located in Osburn.
The AEST Department is grateful for the support of Mr. Mark Steffens, General Manager Automation and Safety Divisions, at Airline for making the donation. Dave Smith, Automation Sales Engineer, delivered the components personally to the AEST Department. Dr. John Wright, Professor & ARET Program Coordinator pursued and received the donation for the Department.
 "Our students appreciate the support of Airline Hydraulics and I certainly hope they will give the folks at Airline a call when they are employed in the field as automation/controls and manufacturing engineers when they require assistance" says Wright.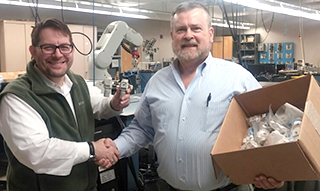 Events Calendar
There are currently no events.
2017 EPT Inductees
2017 Inductees 
Abigail E. Barnhart
Matthew M. Blackmon
Nicholas A. Bozzelli
Samuel Brennan
Weston B. Chambers
Michael C. Clappison
Joshua L. Handshaw
Rebecca L. Howell
Adam C. Kennedy
Quentin D. Kilgore
Cole Lefever
Betty-Jo Legutko
Cody A. Leisey
Ashley N. Lucabaugh
Patrick McCarty
Nicole L. McNerney
Andrew J. Miller
Brittany M. Myers
Kaitlyn N. Remely
Jacob B. Robison
Andrew M. Sellers
Abigail B. Sweeney
Daniel M. Vazquez
David R. Wacker
Michael P. Wiles
Lauren C. Woods
Joseph R. Wright.


AEST Graduates are...
With an AEST degree, you could have an exciting career as a...
STEM Educator
Control System Specialist
Industrial Trainer
Product Designer
CADD Draftsman/Estimator
Senior Quality Analyst
Product Design Engineer
CNC Programmer
Validation Specialist
Graphic Layout Designer
Account Representative
Industrial Control Designer
Technology & Engineering Teacher
Graphic Services Coordinator
Safety Inspector
Fire Safety Coordinator
Corporate Safety Officer
Innovations Manager
Process Flow Engineer
Design Engineer
Manufacturing Engineer
Industrial Hygienist
...and much, much more!
Accreditations

The Occupational Safety & Environmental Health degree is ABET accredited.

The Applied Engineering & Technology Management degrees are ATMAE accredited.

The Technology Education program is nationally recognized by ITEEA.