A Message from the Department Chair
Welcome from Dr. Barry David, Department Chair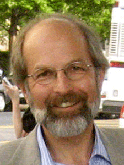 Thank you for considering a degree from the Department of Applied Engineering, Safety & Technology! Selecting an undergraduate degree is filled with a great deal of thought, personal reflection, and usually some degree of uncertainty. If your interests include technology, solving technical problems, working with people, and using the materials and processes of technology in a variety of interesting ways, you might well enjoy one of our many programs that lead to challenging career paths. With over sixty courses, three undergraduate majors, seven technical options, and plenty of opportunities to engage in special activities, you will surely find your niche.
Students in the Department of Applied Engineering, Safety & Technology are in the company of over 500 undergraduates with similar interests and goals. Included within this group are Applied Engineering and Technology Management majors, Occupational Safety and Environmental Health majors, Technology Education majors, and Applied Engineering and Technology associate's degree students. In addition, you will have opportunities to learn from nationally and internationally recognized faculty who are second to none in their disciplines in contemporary, state-of-the-art facilities.
We view our students' successes as our success. Only our full-time regular faculty server as academic advisors for our majors. Faculty are available and eager to assist students with their academic planning, helping to set career goals, and assisting with other matters to ensure a regarding educational experience here at Millersville University.
Millersville University offers students a wide variety of resources and opportunities. Within the Department of Applied Engineering, Safety & Technology, many extra-curricular opportunities are available to students including service projects, collegiate competitions, participation in local and national clubs and associations, social events, working with faculty on research projects, and conducting a departmental honors study. There are also many clubs and special interest organizations within the department. These are: The Technology and Engineering Education Collegiate Association (TEECA), The Association of Technology Management and Applied Engineering student association (ATMAE), The American Society of Safety Engineers (ASSE) student association, The Society for Manufacturing Engineers (SME) student association, and the Human Powered Submarine Team. Service opportunities include producing toys for needy children, volunteering as tour guide, creating exhibits for a local children's science and technology museum, participating in highway clean-up, mentoring secondary school students, and helping to judge local and regional competitive events.
I wish you the very best of success as you make decisions on your higher education endeavors. Please feel free to contact our office if you would like further information or to arrange a personal meeting with a program coordinator.
Department Contact Information
Please feel free to contact any of the people below with questions about our programs and activities.



Dr. Barry David
Department Chair, Applied Engineering, Safety & Technology
Email: Barry.David@Millersville.edu
Phone: 717-872-3327



Dr. Sharon Brusic
Program Coordinator, Technology Education

Email: Sharon.Brusic@Millersville.edu
Phone: 717-871-5548


Dr. Mark Snyder

Program Coordinator, Applied Engineering and Technology Management

Email: Mark.Snyder@Millersville.edu
Phone: 717-871-5547


Dr. Paul Specht

Program Coordinator, Occupational Safety and Environmental Health

Email: Mark.Snyder@Millersville.edu
Phone: 717-871-5547


Dr. Scott Warner

Program Coordinator, Graduate Program

Email: Scott.Warner@Millersville.edu
Phone: 717-871-3365
---