Applied Engineering, Safety & Technology
AEST Hosts First Tech Challenge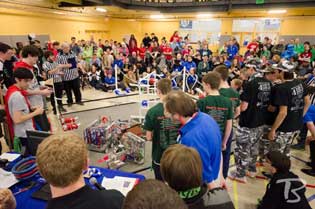 For the second time, the First Technology Challenge (FTC) Championship was held at Millersville University – with nearly 400 high school students visiting campus to participate in this robotics challenge. Hosted by the Millersville University Department of Applied Engineering, Safety & Technology (AEST), this event was held on Saturday, March 1 in Marauder Court of the Student Memorial Center.
The competition required teams of students to build and design robots following strict guidelines and size requirements. The teams competed in the Block Party, a challenge requiring the teams to work together or against each other in various rounds featuring a sophisticated field with 100 blocks, scoring areas and pendulums. The team whose robot  gathered the most blocks – with certain areas of a field worth more points than others – won.
FTC's goal is to encourage education and career opportunities in science, technology, engineering and mathematics.
"AEST invests a lot of time in bringing this program to Millersville," said Dr. Sharon Brusic, associate professor, AEST. "With that, MU's AEST hosted an Open House from 10 a.m. to 1 p.m. in Osburn Hall, which featured demonstrations and presentations, as well as admission and degree program information." 
As another way to share information with high schools students participating in the FTC, MU's AEST set up a booth in Marauder Court with information on all the AEST majors offered at Millersville.
The FTC is organized entirely by volunteers. "As a sponsor of this competition, many MU AEST students and faculty members will be present to serve as volunteers," added Brusic.
Photo courtesy of Tom Bacho, senior Technology Education major; story courtesy of theEXCHANGE.
Students and Advisor Show Well: 2013 ATMAE Conference
Lancaster Newspaper's Coverage - Click here -
The student chapter of the Association of Technology, Management, and Applied Engineering (ATMAE) traveled to New Orleans, LA to attend the 2013 annual conference. This year's theme was "Developing the Future Workforce," was highlighted by keynote speaker Dr. Tom Kurfess, a former White House fellow in the Office of Science and Technology Policy.
While at the conference, the students participated in the Student Robotics Competition - Robo-Hoops. The competition capped off a year-long effort by the students to build a robotic device that sorted ping pong balls by color and shoot them into a corresponding hoop of the same color. In addition to completing the challenge, the students also had to document their research and prepare a technical report and a poster to illustrate their efforts. The results are as follows:
1st Place: Technical Report
1st Place: Technical Poster
1st Place: Overall
In addition to the extraordinary student performances, chapter advisor Dr. John Wright was honored with the Charles W. Keith Award. This award is ATMAE's highest honor, given only when an individual is judged to have displayed exemplary accomplishments towards significant development of ATMAE. This award was last presented over a decade ago, and Dr. Wright is the eighth recipient to receive the honor.
TEECA Brings Home the Awards: 2013 Conference
The Technology & Engineering Education Collegiate Association (TEECA) held it's eastern regional conference in Virginia Beach November 10-12, 2013. Millersville's student chapter traveled to Virginia to participate in this event. The event aims at providing preparing Technology & Engineering Education teachers with professional development, networking, and a venue to show their competitive sides.
This year, Millersville's TEECA chapter placed seven of the ten competitions. The breakdown is as follows:
First Place: Elementary Design/K-5 STEM - Cortney Hauer, Darvie Jones, Andrew Glick, and Kaitlyn Mellon
First Place: Mechatronics - Brian Souder, Greg Schneider, Brandon Kostishak, Derek Hakes, and Amanda Osbun
Second Place: Communications - Tom Bacho, Alisha Gerhart, and Alanna Kelly
Second Place: Manufacturing - Travis Bisbing, Brandon Tarby, Thomas Anello, Kohl Orner, Matt Deitrich, and Nicole Wittaker
Third Place: Transportation - Korbin Shearer, Josh Grannetino, Russ Carey, Nick Aquilino, and Julia Young
Third Place: Problem Solving - Dan Lingle, Trevor Haney, Josh Smith, Shane Walters, Glendon Clark, and Laura Myers
Third Place: Teaching Lesson - Laurien Atkins and Dustin Keyser
Congratulations to all TEECA members for a strong performance!
Events Calendar
There are currently no events.
EPT Inducts 20 New Members
Epsilon Pi Tau is the honor society into which qualified women and men have been initiated since 1929 in recognition of leadership or leadership potential. Membership is by invitation when extended by one's peers and colleagues. This particular honor signifies recognition of one or more of the following: leadership potential, leadership accomplishments, or academic achievements.
Twenty current students were inducted into Epsilon Pi Tau, Beta Phi chapter based on a combination of their academic records, leadership abilities, and outstanding participation in department activities, The Beta Phi chapter also awarded co-trustee citations to Dr. Kenneth P. DeLucca, Dr. Len S. Litowitz, and Dr, Joseph M. McCade during the evening's events. These citations were awarded for exemplary service as chapter co-trustees, as well for his leadership in the fields of technology and technology education.
November 2013 Inductees

Lauren N. Atkins
Paul R. Cardinal
Thomas DeMatteis
Jordan P. Drexel
Vincent J. Fattorusso
Evan D. Geesey
Anton D. Gilpin
John Adam Griscavage
Cortney E. Hauer
Timothy D. Kachel
Elizabeth C. Kern
Dustin J. Keyser
Micah T. Moyer
Thomas F. Nikolaus
Scott J. Pearl
Zachary W. Pratt
Lisa R. Rich
Brian D. Souder
Joseph G. Steinmacher
Kelly A. Wingert
Prospective Students

We want to make sure you have all of the information that you'll need to make a good decision about the programs offered in our department. Please select the link above to visit our Information Request page. We'll work hard to answer your questions!