Applied Engineering, Safety & Technology
ATMAE Student Group Competes in St. Louis
The Association of Technology, Management, and Applied Engineering (ATMAE) Student Chapter at Millersville University (aka MU Robotics Team) recently competed in the 2014 National ATMAE Robotics Competition held in St. Louis, MO.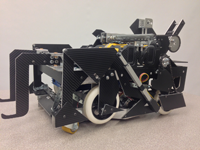 This year teams from around the country were challenged to develop a small robot that could do four different tasks: kick a football through a goal post, sprint a dash race event, lift a specified dumbbell weight, and collect as many golf balls as possible while traversing a marathon track event. This year's MU robot was named TOM (Tele-operated Marauder). The challenge this year was more of an mechanical engineering/design problem where the difficulty lied in how to design a custom robot to perform all four tasks in a small specified footprint/size. Each year the ATMAE National Robotics Competition issues a brand new competition challenging teams from around the country. 
Congratulations TEECA!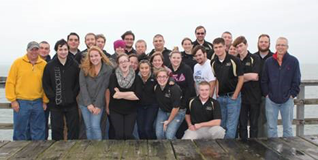 Twenty-five students and three advisors of the Technology & Engineering Education Collegiate Association (TEECA@MU) attended the TEECA Eastern Regional Conference in Virginia Beach November 9-11, 2014. TEECA@MU paricipated in nine skill competitions and placed in seven of them. 
First Place: Communications Contest -              Tom Bacho, Julia Young, Erica Roth, Amber Updike
Here's their winning video:
First Place: Mechatronics - Shane Walters, Will Brenzel, Derek Hakes 
Second Place Teams:
Problem-Solving: Matt Dietrich, Joshua Grannetino, Tom Anello
Manufacturing: Matt Dietrich, Damon Barreca, Nicole Whittaker, Ryan Haugh, Tom Anello, Bob Schumacher
Teaching Lesson: Lauren Atkins, David Levy
Third Place Teams:
K-5 STEM: Cortney Hauer, Grace Painter, Darcie Jones, Marie Leatherman
Technology Challenge: Ryan Haugh, Lauren Atkins, Joshua Grannetino, Cortney Hauer
Epsilon Pi Tau Inducts 22 New Members
The Beta Phi chapter of Epsilon Pi Tau inducted twenty-two new members on Friday, October 24, 2014. The auspicious occasion was attended by well over 100 people including three department faculty members Dr. Len Litowitz, Dr. Ken Delucca, and Dr. Tom Bell. Eighteen undergraduate students were inducted as well as four recently hired faculty members.
Membership in Epsilon Pi Tau Honorary is highly selective. Students must meet rigorous academic standards, display leadership achievements or potential, and be recommended by current Epsilon Pi Tau members. Please view the full list of this semester's honorees in the right-hand column of this page.

Click on the picture for a larger version.
AEST Homepage Archive Added
A new feature has been added to the Applied Engineering, Safety and Technology Web site starting this semester. Homepage stories will be archived on a Story Archive page. Up until Fall 2014, homepage stories would be replaced and lost to the ages. A "Quick Link" has been added to the navigation bar so you can come back and look up past events. If you would like to view ou archive now, please use this link.
Events Calendar
There are currently no events.
2014 EPT Inductees
2014 Inductees
Sarah E. Bomberger
Russell F. Carey
Cody G. Dye
Derek J. Hakes
Ebrahim Karan *
Mehdi Khalighi *
Thomas L. Luckenbaugh
Louise R. Manfredi *
Ashleigh B. Morgan
Russell J. Morrissey
Erin L. Nuss
Jack O. Ogutu *
Matthew T. Petrushka
Connor P. Ronan
Erica L. Roth
Gregory P. Schneider
Robert A. Schumacher
Korbin L. Shearer
Walter J. Simko
Paul J. Thom
Amber R. Updike
Kyle V. Wolfe
* Faculty inductee
Prospective Students

We want to make sure you have all of the information that you'll need to make a good decision about the programs offered in our department. Please select the link above to visit our Information Request page. We'll work hard to answer your questions!
AEST Graduates are...
With an AEST degree, you could have an exciting career as a...
STEM Educator
Control System Specialist
Industrial Trainer
Product Designer
CADD Draftsman/Estimator
Senior Quality Analyst
Product Design Engineer
CNC Programmer
Validation Specialist
Graphic Layout Designer
Account Representative
Industrial Control Designer
Technology & Engineering Teacher
Graphic Services Coordinator
Safety Inspector
Fire Safety Coordinator
Corporate Safety Officer
Innovations Manager
Process Flow Engineer
Design Engineer
Manufacturing Engineer
Industrial Hygienist
...and much, much more!
Accreditations

The Occupational Safety & Environmental Health degree is ABET accredited.

The Industrial Technology degrees are ATMAE accredited.

The Technology Education program is nationally recognized by ITEEA.