President's Commission on Cultural Diversity & Inclusion
About Us
The President's Commission on Cultural Diversity & Inclusion cultivates a campus community that embodies civility, mutual respect, and inclusion.  The President's Commission on Cultural Diversity & Inclusion engages the campus community in the creation of initiatives, programming, events and service learning opportunities that reflect our commitment to diversity, inclusion and social justice.
Mission Statement
The Mission of the Millersville University Commission on Cultural Diversity and Inclusion is to foster a university climate that promotes racial and cultural diversity.  The Commission actively supports university policies, practices, and programs that address the issues pertaining to cultural diversity and underrepresented racial groups.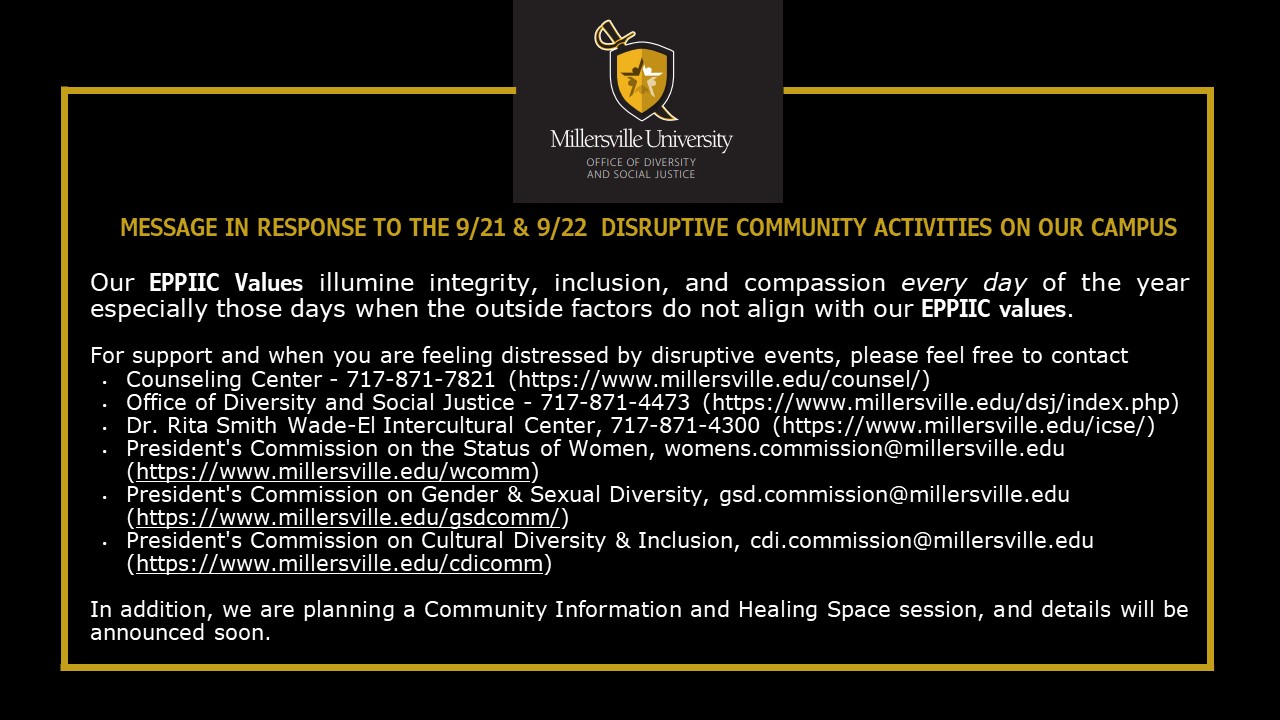 Contact Information

The President's Commission on Cultural Diversity & Inclusion

Sponsored Events

Announcing the FACULTY CURRICULAR CONNECTIONS IN THE ARTS - Fall Semester 2022

in conjunction with The ARTS at Millersville - click here to review upcoming cultural events!

2022-23 DEI-FOCUSED ARTS AT MILLERSVILLE UNIVERSITY

This season 85% of presentations hosted by the Millersville University Office of Visual & Performing Arts feature BIPOC artists and those from other marginalized, underrepresented communities. Titles, dates, full descriptions, and accompanying visual art exhibits are noted in the Faculty Curricular Connections in the Arts booklet, or you may go to ARTSMU.COM.  All MU students are invited to participate in any or all of these at no cost. 

Many guest artists offer workshops, discussions, or other forms of classroom presentations listed in the booklet. Since it's publication, there is one addition:  The creative team of DISTANT THUNDER IN CONCERT (an American Indian developed and performed theatrical work) is available to conduct a session on November 11, 2022.  

The Spring edition will be published later this semester.