Visiting International Faculty
Visiting International Faculty
In 2006, as part of the internationalization of the Millersville University campus, the International Studies Program, in conjunction with the Office of Global Education & Partnerships, created the Visiting International Faculty Program.  This program allows Millersville University students to enroll in an intensive, five-week course taught by a professor from a university abroad.  
International faculty members provide unique perspectives about both their home countries and the United States. From human rights in southern Africa to global trade in the European Union, the topics of the courses have also varied depending on the interests of the visiting professors.
International Faculty Members:
Dr. John Janzekovic from Queensland, Australia - Topics: Australia/Asia-Pacific Politics, Spring 2010.
Dr. Maria Enedina Lima Bezerra from Fortaleza, Brazil - Comparative Societies: Perspectives in Brazilian, Spring 2008.
Professor Suzanne Berry from Durban, South Africa - Human Rights in Southern Africa, Spring 2007; Southern Africa and HIV/AIDS, Spring 2009.
Dr. Maria Enedina Lima Bezerra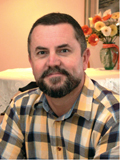 Dr. John Janzekovic is a lecturer of Australian Politics, International Relations, the International Studies programs, and Justice and Legal Studies at the University of the Sunshine Coast in Queensland, Australia.  He serves as guest editor for the theme of 'Humanitarian Intervention' in the Journal of Social Alternatives, and is on the Editorial Board and a contributor and reviewer for the Journal of Human Security (JHS).
Prior to entering academia, Dr. Janzekovic served as the Royal Australian Airforce (RAAF) Officer-in-Charge (Education Officer) and Head of School at the RAAF B707 and C-130 Hercules School at RAAF Richmond in New South Wales, Australia, and the F-111 Strategic Strike and Reconnaissance Aircraft School at RAAF Amberley, Queensland, Australia.  He has extensive experience in the military aerospace training environment, and has completed a tour in military intelligence where he was involved in joint Australian and US military exercises.
Dr. Janzekovic's research interests include international and humanitarian law, interventionist politics, peace and conflict studies, terrorism and military ethics, and Justice and Legal Studies. Dr. Janzekovic's publications include articles on democracy promotion, governance, humanitarian intervention, international humanitarian law, the ethics and politics of intervention, and case studies of the conflict in Bosnia Herzegovina and Kosovo.
Professor Suzanne Berry

As part of Millersville University's international exchange partnership with the University of KwaZulu-Natal in Durban, South Africa, MU welcomed Suzanne Berry to lecture on Human Rights in Southern Africa, during the spring 2007 semester. Thirty MU students enrolled in this 400-level class. Currently, Professor Berry is a permanent lecturer in the Political Studies Department at the University of KwaZulu-Natal.
Professor Berry received her BA Honors in Politics and her MA in Southern African Studies at the University of Leicester, England. There she completed her BA Honors Dissertation and MA thesis, 'The African National Congress: Transformation from Struggle Movement to Political Party' and 'Zulu Nationalism: the Inkatha Freedom Party.' Respectfully, Professor Berry is in the process of fulfilling her Ph.D. in Political Science at the University of KwaZulu-Natal in Durban, South Africa. She is currently working on a thesis, entitled 'The KwaZulu-Natal Provincial Legislature and the Formation of a New Political Elite.' Professor Berry's focus areas include Nation Building in a Post-Apartheid South Africa; Political Representation and Parliamentary Women in KwaZulu-Natal, and the Ideologies and Parties in KwaZulu-Natal.
During her career, Professor Berry has created a number of courses and curriculum in politics and governmental studies, including 'Democracy and Public Policy in South Africa,' 'The Politics of KwaZulu-Natal,' 'Contemporary Politics in Southern Africa,' among many others.
Professor Berry has also been honored with number of awards, including the Leif Egland Award for Excellence in Ph.D. research (2005), the KwaZulu-Natal Certificate of Excellence for Distinguished and Innovative Teaching (2004) from the University of Natal, Merit Award for Excellent Service (2000) from the Northern Educational Trust, and the Higher Education Award (1994 - 1995).