Dr. John Kaiser Ortiz
Associate Professor and Department Chair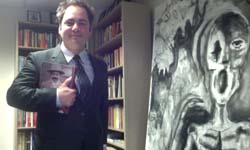 Office Hours
T: 8:00-9:30am
W: 8:00-10:00am
R: 8:00-9:30am
Comments: Please send your brief questions by email to set-up a phone or zoom appointment.

Kaiser Ortiz Biography
Dr. John Kaiser Ortiz's teaching, service, and publications merge at the borders and crossroads between social/political philosophy, human rights, and ethics.  
Before his arrival at Millersville University, John taught a range of courses in the Department of Ethnic Studies at Bowling Green State University. These courses focused on critical, interdisciplinary, and multicultural American/Popular Culture studies, working within and across Black Studies, Native American Studies, Chicano/a Studies, Latin American Studies, and Women's and Gender Studies. Among the courses he taught there were: Introduction to Ethnic Studies; US/Mexico Borderlands through Film; Mexican American Social Thought; Mexican Culture; Latina/o Cultural Studies & Philosophy; Chicana/o Literature; Third World Cinema; History of Mexican Americans; and Human Rights in the Americas.  John continues to build on these emergent and necessary frameworks. 
Courses taught in the Philosophy Department include: William James' Principles of Psychology, Global Ethics and Social Justice, and Philosophy of Law. Each spring, John teaches the Introduction to Women's and Gender Studies as an affiliated faculty member of that program of minor study here at Millersville. Other courses taught here include: Slave Narratives & the Black Civil Rights Movement; Simone de Beauvoir's The Second Sex; Native American Philosophy, Literature, and Film; Philosophy and Literature of Charles Dickens and Karl Marx.
In 2019, Dr. Kaiser Ortiz held a visiting professor appointment in the School of Humanities, Philosophy, & Social Sciences at the Universidad de La Salle in Bogotá Colombia where he taught a course on "Global Citizens Beyond Borders: Toward a Universal Ethic of Intersectional Belonging." John presently serves as the elected departmental representative to the faculty union council (APSCUF) and on both the Faculty Grants Committee and Promotion and Tenure Committee. He also served on the American Philosophical Association's Committee on Hispanics.
Forthcoming essays include "Ghosting Humanity: Prelude to an Ethics of the Disappeared" and "Todos Somos Joaquín: An Inter-American Elaboration on Chicanismo, or the Social and Political Philosophy of the Chicana/o Civil Rights Movement." Essays in progress explore trans-Atlantic existentialism in the work of Simone de Beauvoir, Octavio Paz, and Richard Wright; a Latin Americanist reading of Plato's Republic as a statement of how to build deliberatively nonviolent community while strengthening social ties through carnival and fiesta; "Love. Sex. Technology. City" which examines the amorous/sexual norms, mores, and metaphysics of online dating and the shifts this poses for urban modalities and city existence; the borderlands through film, including national identity narratives in Touch of Evil and scattered among a range of other films from the Golden Age of Mexican Cinema; topics in food ethics and philosophical gastronomy that bear on US/Mexico relations; and other moral and public + mental health problems in contemporary global society that arise in biomedical practice, business ethics, phenomenology, and philosophical psychology. 
Publications
"Octavio Paz and the Universal Problem of Mexican Solitude," American Philosophical Association Newsletter on Hispanic/Latino Issues in Philosophy, volume 11, number 2 (Spring 2012): 1-5. *This essay was awarded the American Philosophical Association's Best Essay in Latin American Thought Prize.
https://www.apaonline.org/page/hispanic_newsletter
"Hazel Barnes and Octavio Paz: Two Existentialist and Pan-American Philosophies of Education," Comparative Philosophy: An International Journal of Constructive Engagement of Distinct Approaches toward World Philosophy, volume 6, number 1 (2015): 60-77.
https://scholarworks.sjsu.edu/comparativephilosophy/vol6/iss1/
"Gloria Anzaldúa and the Problem of Violence Against Women," philoSOPHIA: A Journal of Continental Feminism, volume 6, number 2 (Summer 2016): 195-213.
http://www.sunypress.edu/p-6456-philosophia-volume-6-issue-2-12017.aspx
"Problems of Immigration & Warfare for the Pragmatist Pacifism of James & Addams"  The Pluralist: The Journal of the Society for the Advancement of American Philosophy, volume 11, number 2 (Summer 2016): 86-110.
"Sor Juana's Solitude: A Case Study in Existentialist Syncretism"
Inter-American Journal of Philosophy, volume 8, number 1 (Spring 2017): 17-34.
http://ijp.tamu.edu/blog/?page_id=690
"Jewels and Ladders: Visualizing and Resisting the Racialization and Dehumanization of E/Im-migrants and Refugees"  Critical Philosophy of Race, volume 7, issue 1 (2019): 187-211.
"Four Thinkers in the 20
th
Century Genealogy of Mexicanidad: Justo Sierra, Samuel Ramos, José Vasconcelos, and Octavio Paz"
Genealogy,
July 2020
Genealogy
 2020, 
4
(3), 75
https://doi.org/10.3390/genealogy4030075