Holocaust Conference
35th Conference on the Holocaust and Genocide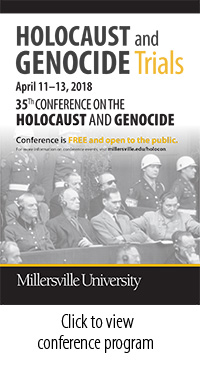 Conference Theme:
The Holocaust and Genocide Trials

April 11-13, 2018

Millersville University of Pennsylvania is pleased to announce the 35th Conference on the Holocaust and Genocide on April 11-13, 2018. The Conference will discuss international and national Holocaust and Genocide trials. The conference will explore the role of trials in exposing and punishing the crimes of Holocaust and genocide perpetrators and their collaborators, and the influence of trials on the formation of Holocaust and genocide history and memory. The Conference will commemorate the 85th anniversary of the Holodomor in Ukraine, the 80th anniversary of Kristallnacht, and the 75th anniversary of the Warsaw ghetto uprising. The keynote speakers for the conference are Lawrence Baron, San Diego State University and Lawrence Douglas, Amherst College.
The conference is free and open to the public.
Conference Proceedings

This book is a collection of seventeen scholarly articles which analyze Holocaust testimonies, photographs, documents, literature and films, as well as teaching methods in Holocaust education. Most of these essays were originally presented as papers at the Millersville University Conferences on the Holocaust and Genocide from 2010 to 2012.

You can order the book online at Cambridge Scholars or Amazon.com

---

This book brings together eleven essays that analyze different aspects of resistance to the Holocaust, which took many forms: armed and passive resistance, uprisings in ghettos and concentration camps, partisan and underground movements, the rescue of Jews, spiritual resistance, and preservation of Jewish artifacts and memories.

You can order the book at Cambridge Scholars or Amazon.com

Holocaust Memorial Night

Holocaust survivor Linda Schwab talks about her experiences and her immigration to the United States. After her talk, a panel of MU faculty discuss their immigration experiences.