Endowments
What is an endowment?
A donor makes a gift to the Foundation, typically in the form of cash, securities or other assets, to support the students and programs at the University,  The original gift is never spent, but rather invested in perpetuity as part of the total endowment.  On an annual basis (or other agreed upon terms), the fund values are calculated and a specified percentage, as set by the Foundation Board, is available for the purpose outlined by the donor.  When there are excess dollars, they are reinvested.
What does it take to create a named endowment?
An endowment can be created by investing or pledging a minimum of $25,000 with the Millersville University Foundation.  It is possible to fund this over a period of time, with a group, or through an estate agreement between you and the Foundation.  Once your fund reaches the minimum threshold, it must earn interest for at least six months before funds are available to award to a student or for the designated use.  Until that time, some donors choose to make regular annual gifts, restricted for the same purpose, so the fund begins to support Millersville students immediately.
Gifts to Endowment by Area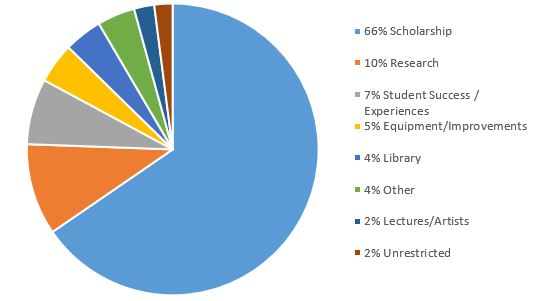 How is my gift invested?
The endowment fund works much like a mutual fund where endowed gifts buy units in the funds.  By pooling the gifts together, greater diversification occurs and, as a result, better long-term returns.  The Millersville University Foundation Board establishes investment policies and regularly reviews the fund's management and performance.
Give Now
Make a donation online, or download and print the forms you can use to mail or fax your contribution.
Make a gift now