Events
Upcoming and previous events at WETi
Upcoming Events
Flying WILD Educator Workshop
Flying WILD is an educational program focused specifically on birds! Flying WILD provides participants with innovative and ready-to-use activities for the classroom and outdoors! The program works to develop awareness concerning bird biology, conservation, and natural history. Use the link below or the QR in the flyer to sign up!
When: Saturday March 18th, 9AM to 2PM
Where: WETi at Creek Lodge, 198 Creek Dr., Millersville, PA 17551
Cost: FREE!
ONLY 7 SPOTS LEFT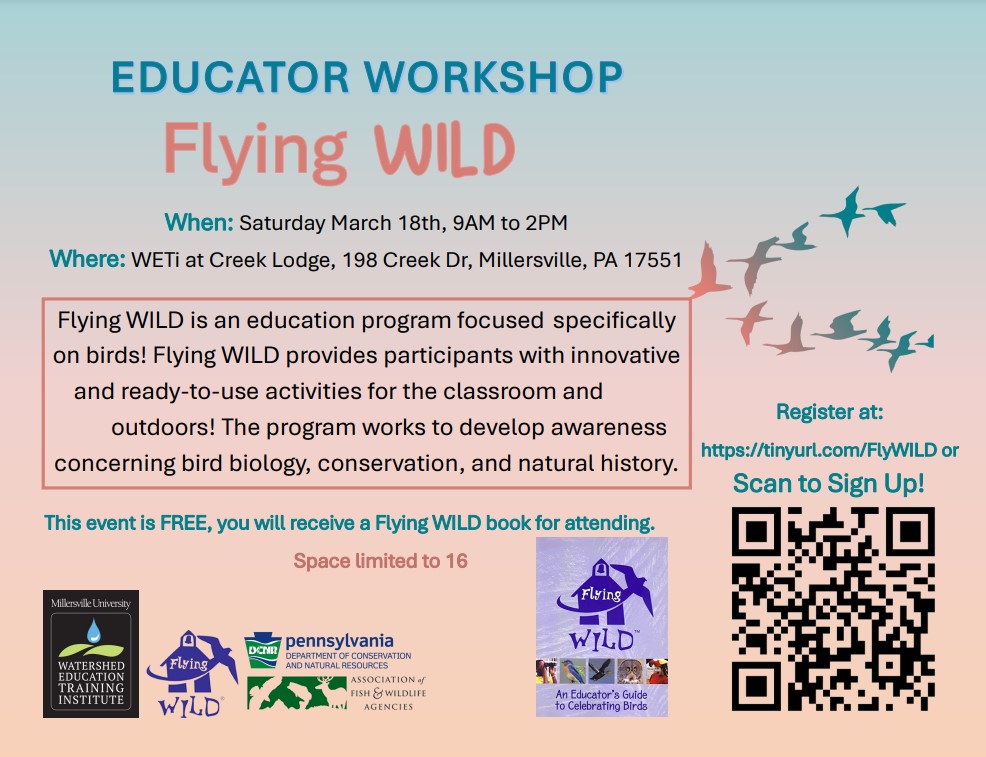 Previous Events
Growing Up Wild- Early Education Teacher Workshop
This workshop was an early childhood education program that, through a wide range of activities, built on a child's sense of wonder about nature and invited them to explore the world around them.
From Land to Stream
This work shop allowed students to participate in hands-on, secondary-level activities and discover resources from Stroud Water Research Center and Pennsylvania State Parks, including an introduction to Project WILD and WET curricula.
Land, Water, and the Chesapeake
The Lancaster Conservancy had an evening of special guest speakers and films that featured the amazing work being done throughout Lancaster County and the Chesapeake region.
Stream to Sky
This workshop focused on lessons and activities for early childhood environmental education from Stroud Water Research Center and Pennsylvania State Parks, including activities from Getting Little Feet WET and Growing Up WILD curricula.
The Water Landscape and You
A family friendly event led by Millersville University faculty and students.  Topics and activities included watershed conservation with a trip to an on-site stream study, making water filters using earth materials, and using scientific data and models to create positive changes in our water landscape.
MWEE Ambassador Training
This training program focused on teaching future educators about MWEEs. MWEEs are multi-stage activities that include learning both outdoors and in the classroom, and aim to increase the environmental literacy of all participants. 
Ruth Patrick Lecture: 
Dr. Ruth Patrick was a visionary ecologist, a champion of environmental protection, and a mentor and inspiration to future scientists for more than seventy years. Her 1948 Conestoga study, which combined biological and chemical data to assess the river's pollution level, was a major breakthrough in the study of freshwater science. Learn more about Dr. Patrick, her career as a scientist, and her pioneering research with distinguished research scientist, Dr. Bern Sweeney.