Skully's Circle Award Recipients
august 2023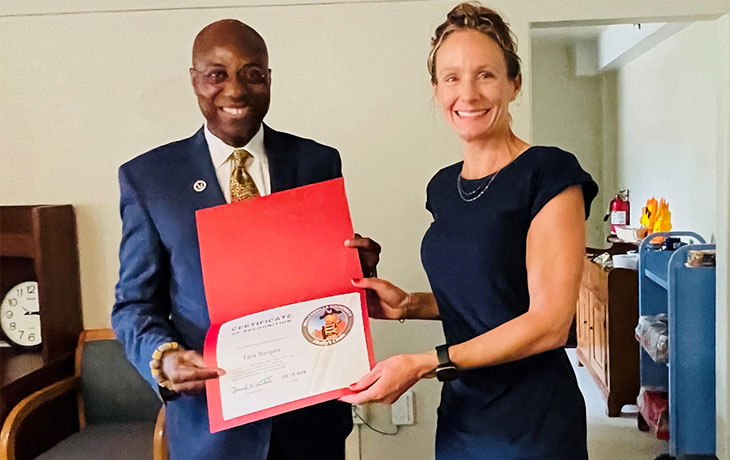 Millersville University's August Skully's Circle Award is presented to Tara Borgna, Director of Enterprise Applications in the Enterprise Applications and Digital Solutions department. Tara began her journey at MU in 2000 as an Associate Database Administrator. Over the years she grew into various roles, serving our IT Department as a Developer, Applications Services Manager and Director of Enterprise Applications.

Tara was nominated by Megan Jones, Senior Assistant Registrar, for satisfying "Work Performance", "Attitude and Commitment" and "Interpersonal Skills" criteria of the Skully's Circle award program.
"I've worked with Tara for a number of years closely as she manages the applications that our office works with. Through COVID-19, the network hack in March 2021 and the network issues in December 2021, she has always been available and responds quickly to the needs that impact our office and our students. Despite having a hefty workload, Tara is always responsive and helps to prioritize issues that affect students. Her skills at working with our office and with third party software consultants as well as her positive attitude and commitment to Millersville make her deserving of this recognition. She is the epitome of professionalism and integrity in her role and always prioritizes the projects and issues that most affect our students. With all of the projects currently underway, including the massive oneSIS project, it is an overwhelming time for many of our offices and the fact that Tara continues to work effectively and with a positive attitude is deserving of this recognition."
CELEBRATING prior recipients
July 2023

Jackie Aliotta, Assistant Director of Student Organizations & Leadership in the Campus Life Department, was selected as July's Skully's Circle award recipient.

A member of the MU community since February 2019, Jackie was nominated by Kelly Davis, Administrative Manager in the Office of the Dean of Education and Human Services, for satisfying all categories of the Skully's Circle award criteria.

"Jackie Aliotta is a strong advocate for students, faculty, and staff alike, and I believe she is very deserving of this honor. I've worked with Jackie in small ways over the years, but I've really come to know her as a member of the President's Commission on the Status of Women. She has a strong reputation as an advocate for students and has always presented herself with professionalism and great integrity in our work interactions. She and I have often worked together to resolve issues for student organizations using our space on campus, and she has modeled excellent interpersonal skills to those students in that correspondence. It is a beautiful way to help them build their soft skills in a very organic and authentic way. She teaches them to problem solve but also provides them support as we work together through those minor snafus and issues that may come up. Jackie's logistical skills shined bright as she and her committee organized a very successful International Women's Day at the Ware Center this March. Her work furthered the mission of the PCSW and the University as a whole that night. She is a kind and thoughtful person who works with integrity and compassion with all the members of our community - faculty, staff, community stakeholders, and students alike. She is well-deserving of this honor."

June 2023

Dr. Richard Glenn, Professor and Chair of Government, Policy & Law, was nominated as the "human embodiment of all that is good, just and worthy to be included within the Skully Circle and exemplifies all EPPIIC values. Dr. Glenn's efforts to explore novel teaching pedagogies inside and outside the classroom is to be applauded. His bar is set high because he is viewing the students not just in the moment but what they will need to be successful once they graduate. 

MU's public mission is to generate graduates who can not only think critically but they should also be able to read and write critically - these attributes epitomize a consistent thread in all of Dr. Glenn's courses. This effort may explain why his former students have attained such ranks as judges and various political offices. 

As Chair of the Government Department, he goes above and beyond the call of duty with respect to creating not only an inclusive environment within the classroom but also his efforts to include former successful students in the education and furtherance of MU's mission and vision to provide a living network between current and former students to enhance their training and future professionalism once they leave MU. His value in terms of customer service to MU and beyond is priceless.