Dining Hall
Upper Deck (Gordinier Hall)
The Upper Deck at Gordinier Hall is located near the South Residential Complex and is the main dining facility on campus.  The facility is comprised of numerous food stations, each offering a different type of food including char-grilled meats, stir-fry or pasta entrees, homemade casseroles and soups, oven baked pizza, oatmeal, yogurt and omelet bars, self-serve waffle bar, fresh salad bar, deli and MU Bake Shop dessert choices.
Accepts Marauder Dining, Marauder Gold, Visa and Mastercard and Cash
Dining Services is closed due to Coronoavirus until further notice
Sorry for the inconvenience but we will reopen as soon as it is safe to do so.
Upper Deck Dining Hall Hours
| | | |
| --- | --- | --- |
| Monday-Friday |   |   |
| Breakfast |  7:30am- | 10:30am |
| Lunch | 11:00am- |  1:30pm |
| Dinner |  4:30pm- |  7:00pm |
|   |   |   |
| Saturday & Sunday |   |   |
| Brunch | 11:00am- |  2:00pm |
| Dinner |  4:30pm- |  7:00pm |
Dining Hall Meal Prices
| | | | | | |
| --- | --- | --- | --- | --- | --- |
| Marauder Dining | Price | With University ID | Price | All Other Visitors | Price |
| Breakfast | $6.25 | Breakfast | $ 8.25 | Breakfast | $ 9.75 |
| Lunch | $8.25 | Lunch | $10.75 | Lunch | $12.25 |
| Dinner | $9.95 | Dinner | $13.25 | Dinner | $15.25 |
| Weekend Brunch | $8.25 | Weekend Brunch | $10.75 | Weekend Brunch | $12.25 |
|   |   |   |   |   |   |
EXECUTIVE CHEF                   
                                   Chef Louis Logan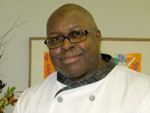 Louis.Logan@millersville.edu
         Office: Gordinier Hall
         Phone: (717) 871-7578