Department of Military Science
Welcome to the Blue Mountain Battalion - Bravo Company "Marauders"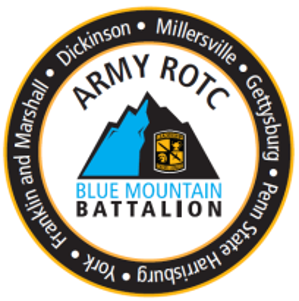 The Millersville University Army Reserve Officers' Training Corps (ROTC) program was established in 1974 and is a extenision of the host program at Dickinson College. Together we are known as The Blue Mountain Battalion. Students from Franklin & Marshall College can also participate in the ROTC program at Millersville.
 ROTC is a leadership development program that deepens the scholastic experience by cultivating the ability to organize, motivate, and lead others.  It is the cornerstone of Army officer training that develops students, known as Cadets, into future officers in the U.S. Army.
 Any interested student may participate in military science courses without incurring a military obligation.
Men and women who choose to contract and successfully complete the commissioning program receive a commission as a Second Lieutenant in the United States Army, Army Reserves, or Army National Guard upon graduation. 
Information for prospective cadets:
Cadet Testimonial
Student, Athlete, and Future Army Leader
ROTC Living-Learning Community (LLC) Residence Hall

Reighard Hall

The ROTC Living-Learning Community (LLC) provides students the opportunity to live in a community with other students who are interested in military service from the first day they arrive on campus. While living in the ROTC LLC, students will be exposed to resources, skill-building and current members of the Millersville ROTC program. The LLC will facilitate contact with ROTC student leaders, ROTC faculty and staff, and military professionals. Formal and informal professional development opportunities will help students learn about military service opportunities. The LLC will provide a basis for a supportive student network that will benefit students while at Millersville and after graduation.

ROTC LIVING-LEARNING COMMUNITY APPLICATION

https://www.millersville.edu/housing/llc-special-interest/rotc-housing.php

Minor in Military Science