Department of Military Science
Welcome to the Blue Mountain Battalion - Marauders Detachment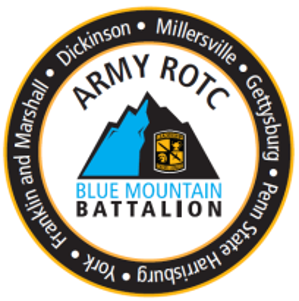 The Millersville University Army Reserve Officers' Training Corps (ROTC) is a partnership program with Dickinson College and together are known as The Blue Mountain Battalion.  ROTC is a leadership development program which deepens the scholastic experience by cultivating the ability to organize, motivate and lead others.  It is the cornerstone of Army officer training that develops students, known as Cadets, into future officers in the U.S. Army.  Any interested student may participate in military science courses without incurring a military obligation. Men and women who choose to contract and successfully complete the commissioning program receive a commission as a Second Lieutenant in the United States Army, Army Reserves or Army National Guard upon graduation.
The Millersville Army ROTC consists of students from York College, F&M and Millersville.
ALL CLASSES ARE HELD AT MILLERSVILLE UNIVERSITY
Partnered / Affiliated Schools
If you think you have what it takes and the desire to be a future leader, take the first step by signing-up for a Military Science class or contacting the ROTC staff.
Request More Information about Millersville University.