Special Schools
Special Schools
The following schools are available for cadets to participate in fun, challenging, and exciting training. With Army ROTC, you can experience the thrill of jumping out of a plane or helicopter, learning how to climb mountains and survive under the most grueling conditions, or leading soldiers all around the world.
Airborne School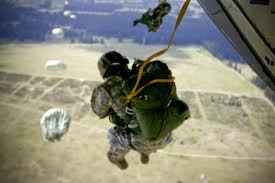 The US Army Airborne School, located at Fort Benning, Georgia, is available to cadets that are enrolled in the program. The course is three weeks long, consisting of a ground week, tower week, and jump week. With each week comes a different type of training designed to teach you how to parachute out of airplanes and helicopters. "Jump School" can be the first step in the journey of a lifetime. Whether running through Fort Benning at daybreak or parachuting from a C-141, Airborne School will be an experience you will never forget. Once you've successfully completed your fifth jump, you earn the coveted silver wings of an airborne soldier.
Air Assault School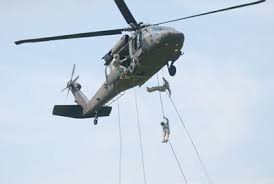 Air Assault training is available at different Army posts across the country. Your adventure begins with Zero Day: an obstacle course designed to exhaust even the most physically fit, followed by a brisk run of two miles in the summer sun. Then the real fun begins. Over the next two weeks, you learn to establish helicopter landing zones, execute a night air assault mission, rig and sling load helicopters for cargo missions, and rappel from a UH-60 Blackhawk hovering 100 feet above the ground. Cap it off with a three-hour, twelve mile road march and you'll understand why the soldiers of the 101st Airborne Division walk with a distinctive swagger of confidence. They've earned it, and so can you.
Mountain Warfare School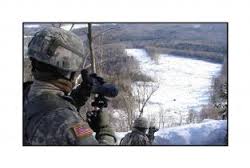 This school is not for the faint of heart. Mountain Warfare is a two-week school taught at Ethan Allen Firing Range in Jericho, Vermont. The course covers rappelling, rock climbing, mountain survival, land navigation, first aid, and knots. Both a summer and a winter phase are offered. Its mission is to develop and conduct resident mountain warfare training under both summer and winter conditions. The mountain warfare course develops the leadership and technical skills of Army personnel by requiring them to perform mountaineering tasks in a realistic tactical mountain environment. It provides the student with the practical hands-on experience in the application of tactics and techniques needed for mountain operations.
Cadet Troop Leadership Training (CTLT)
CTLT increases each cadet's leadership experience. Each cadet is assigned to a platoon leader position and given an opportunity to lead soldiers in a regular Army unit. It familiarizes cadets with the command, training, administration, and logistical functions of active duty units. It also exposes cadets to the on-duty and off-duty environment of the junior officer.