James Pannafino
Professor in Interactive & Graphic Design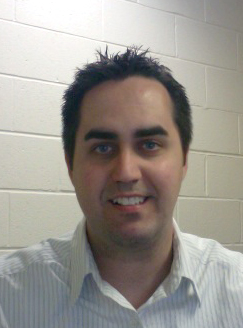 Contact Information
Office: Breidenstine Hall I Room 210
Phone: 717-871-7259
Fax: 717-871-7929
Office Hours
M: 2:30 - 4:30 pm I Face to Face or virtual
T: 9:00 - 10:00 am I Face to Face or virtual
W: 9:00 - 11:00 am I Virtual Only
Comments: Email to schedule an appointment. A link to connect remotely through Zoom will be provided.

About
James Pannafino is an associate professor at Millersville University, Pennsylvania in the Art and Design Department where he teaches graphic and interactive design courses. Before teaching at the college level, James worked as both a graphic and interactive designer in the professional field.
---
 Education 
Rochester Institute of Technology, Rochester, NY
MFA in Graphic Design, Minor in Digital Illustration
Kutztown University, Kutztown, PA
BFA in Communication Design
---
Research Interests
James research interests include interactive design fundamentals, interdisciplinary design, interaction, visual storytelling and digital narrative forms. His recently published Interdisciplinary Interaction Design: A Visual Guide to Basic Theories, Models and Ideas for Thinking and Designing for Interactive Web Design and Digital Device Experiences. The book is a starting point for creating a visual language to enhance the understanding of interdisciplinary theories within interaction design. The book uses concise descriptions, visual metaphors and comparative diagrams to explain each term's meaning. Many ideas in the book are based on timeless principles that will function in varying contexts.
www.interdisciplinaryinteractiondesign.com
---
Courses Taught
ART 142 2D Design
ART 144 Digital Theory & Skills
ART 246 Intro to Sequence, Motion & Vis. Communication
ART 247 Intro to Experience and Interaction Design
ART 340 Interaction Design
ART 341 Motion Design
ART 343 Experience Design
ART 344 Visual Communications & Graphic Design I
ART 346 Introduction to Computers in Design
ART 348 Packaging Design
ART 444 Visual Communications and Graphic Design II
ART 447 Advanced Design II
ART 486 Understanding Comics
---
Professional Affiliations 
American Institute of Graphic Arts (AIGA)
Society of Design (SOD)
Interaction Design Association (IXDA)
International Institute for Information Design (IIID)